This article includes advertising content from American Express.
When you run a fast-growing business, supplementing cash flow can be an everyday challenge. While there are plenty of financing options out there, one of the most simple is often overlooked: a traditional charge card.
A flexible tool, a business charge card has no pre-set spending limit. And while this doesn't mean unlimited spending, your purchasing power may adjust with your use of the card, your payment history, credit record, financial resources known to the issuer, and other factors.
On top of this, one of the biggest benefits to a charge card is the ability to delay payments for any goods or services. This gives your business some breathing room to pay for these purchases after you've received payments from your own customers.
The key with a charge card is that payment is required in full each month. In fact, no interest is charged because it is expected you'll pay your balance in full. And if you don't? A late payment will apply—and a credit card might end up being the better product for you as you can carry over a balance each month with a minimum payment. (You can learn more about the differences between a charge card and a credit card here). 
So if you have a business charge card or are considering one for your business, it is important you understand how to optimize your use of the card. I've taken a look at the American Express OPEN® (a Fundera advertiser) Charge Cards and devised a six-step plan to help you do just that.
Let's get started.
1. Shop for a welcome bonus.
If you're in the market for a new business charge card, getting your hands on a great welcome bonus is one of the best ways to rack up rewards. Just make sure that the spending thresholds are in line with your anticipated spending needs—it's better to get a card that has a welcome bonus you're likely to reach. For example, both the Business Platinum Card and the Business Gold Rewards Card from American Express OPEN have welcome bonuses that offer a certain number of points if you reach specific spending thresholds—different for each Card—in a set time frame. It's important you choose a card that you're confident you can hit the spending thresholds for a bonus, otherwise you will have wasted your opportunity to get welcome bonus rewards. Compare welcome bonuses and explore which may be best for you.
2. Get rewards on as much of your spending as possible.
For cards that are generous with rewards, you want to earn as much as you can on what you're already spending. Otherwise, that's value you're leaving on the table. For example, with an American Express OPEN® Charge Card, you can receive a base level reward, which is typically a point or a percent cash back for every dollar you spend on eligible purchases. And it doesn't stop there—with some cards, you can receive additional rewards for purchases in specific categories.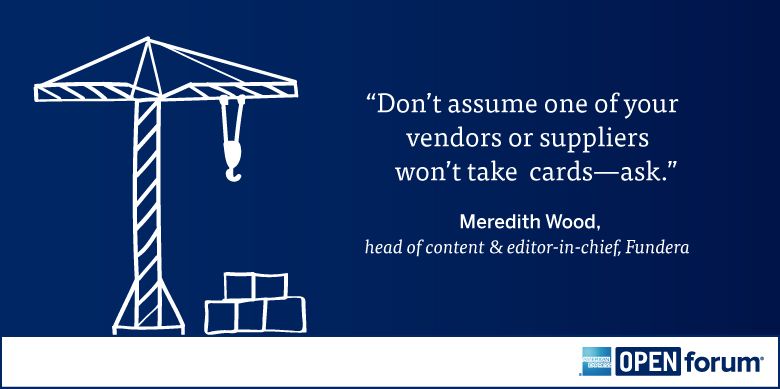 For every business transaction you choose to pay with cash, you're losing out on the opportunity to earn rewards. In fact, there may be some transactions you don't realize you can put on your charge card. For example, if you're a contractor, you could see if your lumber supplier will let you use your card. Or, if you're utilizing a marketing firm for your company, you could make their payments on your card. Who is supplying your inventory or your equipment? Will they let you use your card?
Many billing systems make it easier than ever to process cards, so don't assume one of your vendors or suppliers won't take cards—ask. 
Try to pay as much of your expenses with your charge card to get points for your spending—just be sure you can pay your balance in full every month so you don't end up having to pay a late fee. It's a good idea to understand what you can afford to pay off every month, and cap your spending there.
3. Add authorized users.
If you have employees filing expense reports for charges on their personal cards, it could be time to consider adding them as authorized users on your business charge card to charge reimbursable business expenses. You'll be liable for the charges they make on the account, but if you're reimbursing them for the expenses, you already bear liability for those expenses. Why reimburse them with your business's cash when they could be earning you rewards on their business expenditures? If your card comes with rewards or cash back for every dollar you spend on eligible purchases, you want to make sure you're getting rewards or cash back for your employees' purchases, too. And, if you're worried about your employees spending too much, American Express OPEN® Cards allow you to set spending limits for employees1.
4. Pick an issuer with a flexible rewards program.
If you have a certain card for personal use, it might make sense to go with the same issuer, too. Many issuers have branded reward programs, like the Membership Rewards® program from American Express2, so you get to combine the points earned from both personal and business purchases. You're doubling your earning potential by using the same issuer, and working with a rewards program with multiple redemption options.
Instead of limiting point redemption options to a specific airline or hotel, a rewards program with multiple redemption options allows you to use the points for gift cards, flights, taxis, hotels and more. You have more options and with points coming in from both personal and business charges, you'll reach meaningful redemption levels faster.
5. Know how to get the most out of rewards.
With some cards, you can get extra points for spending in certain categories, which is a huge way to get even more value out of your card. For example, with the Business Gold Rewards Card from American Express OPEN, you can get extra points for spending in certain categories.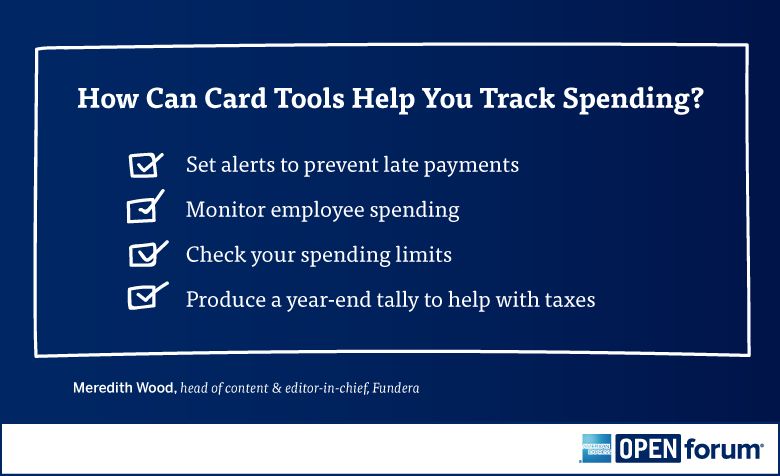 Start by strategically thinking about where you spend the most. Do you drive from client to client and spend a ton on gas? Do you have to ship products to customers? How many points could you earn there if so? Where else do you spend the most? Do your research on open.com to see what Membership Rewards points come with what Cards and see if you can find one that will give you points for that category.
6. Take advantage of spending insights.
Yes, using a charge card for your purchases helps you earn rewards.  Additionally, with more of your purchases on your card, you'll also have more transparency into your spending and streamlined cash flow management. How so? Many cards offer tools that make it simple to track expenses and merge them with your business's larger financials.
For example, with American Express OPEN® Cards, you have tools that can help:
Set alerts to prevent late payments
Monitor employee spending
Check your spending limits
Easily match receipts to purchases with the ReceiptMatchSM Mobile App3
Integrate with your QuickBooks account to make accounting more streamlined
Produce a year-end tally to help with taxes
Successful businesses need a strong hold on their cash flow. Your charge card can help you strengthen that grip.
From Cash to Card
The key to getting the most out of your card is to treat it just as you would cash—don't spend more than you have. With a charge card, you need to know what you can afford to pay back every month and not spend more than that. Monitor your balance weekly so you know when to cut off spending. If you're not careful and you can't pay off your balance, you'll be hit with late fees—and before you know it, all your efforts to earn rewards and maximize value will be overshadowed by fees.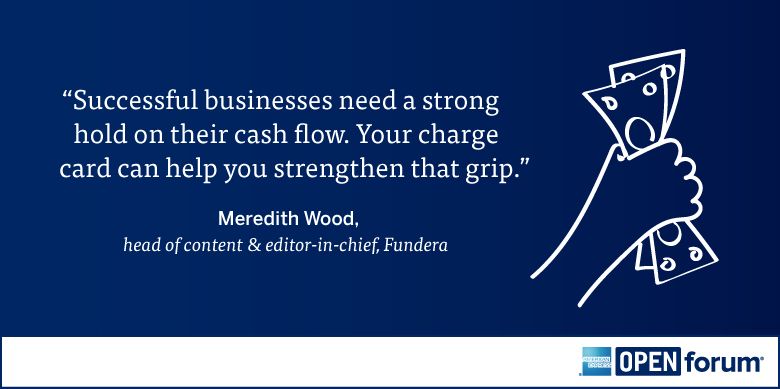 But with "smart spending" top of mind, a traditional business charge card can be a huge asset to your business. Get to know the card's rewards inside and out, using it as much as you can, and you'll be well on your way to getting more bang for your buck.
Find the American Express® Card that's best for your business.

Illustrations: Erin Choplin
 


1Employee Card Spending Limits may be set up online or by calling the number on the back of your Card. The Spending Limit is not a guarantee that the Employee Card Member will be able to make purchases up to that limit. There are certain purchases where the limit does not apply, such as, for example, restaurant tips and hotel stays extended beyond their original reservation period, and the overall Account capacity is taken into consideration. You agree to pay all Charges without regard to whether any Charges exceed a limit, and you agree that we are not liable to you or any other person when a limit is not applied to any Charges and/or when Charges are incurred and billed that exceed a limit. For more information on the application of the limit, please refer to the Employee Card Spending Limits Terms and Conditions at www.americanexpress.com/spendlimits/terms, which will also be provided when you enroll Employee Card(s) in this feature.
2Terms and Conditions for the Membership Rewards® program apply. Visit membershiprewards.com/terms or call 1-800-AXP-EARN (297-3276) for more information. Participating partners and available rewards are subject to change without notice.
The value of Membership Rewards points varies according to how you choose to use them.  To learn more, go to www.membershiprewards.com/pointsinfo.
3 The ReceiptMatchSM Mobile App is only available with Business Cards from American Express OPEN. The ReceiptMatch Mobile App is only available on iTunes and Google Play. Apple, the Apple logo, iPhone and Mac are trademarks of Apple, Inc., registered in the U.S. and other countries. App Store is a service mark of Apple Inc. Google Play is a trademark of Google Inc. 
The information contained in this article is for generalized informational and educational purposes only and is not designed to substitute for, or replace, a professional opinion about any particular business or situation or judgment about the risks or appropriateness of any financial or business strategy or approach for any specific business or situation. THIS ARTICLE IS NOT A SUBSTITUTE FOR PROFESSIONAL ADVICE. The views and opinions expressed in authored articles on OPEN Forum represent the opinion of their author and do not necessarily represent the views, opinions and/or judgments of American Express Company or any of its affiliates, subsidiaries or divisions (including, without limitation, American Express OPEN). American Express makes no representation as to, and is not responsible for, the accuracy, timeliness, completeness or reliability of any opinion, advice or statement made in this article.