This article was originally published on Mashable.
First released in 2011, iCloud is Apple's cloud offering that allows users to keep files synced between their Mac, iPhone, iPad and iPod touch.
In addition to acting as a way to backup your iPhone or iPad, iCloud also works as a way to save your contacts, calendars and notes. Beginning with iOS 7 and OS X Mavericks, iCloud also acts as a way for users to keep their passwords synced between iOS and the Mac.
Although iCloud is often compared to other cloud services such as Microsoft's SkyDrive, Dropbox and Google Drive, its deep integration with iOS and OS X gives it some unique features.
We've come up with some of the best ways to be extra productive using iCloud.
1. Use iCloud Keychain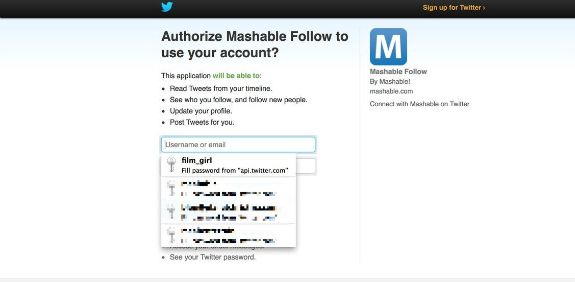 Starting with iOS 7 and OS X Mavericks, Apple introduced a new way to keep passwords and important bits of information (like a credit card number or home address) synced between Safari on the Mac and Safari on iOS 7.
We outlined the basics of iCloud Keychain back in June, but now that the feature is officially available, we have more information to offer.
The best part of iCloud Keychain is that it makes it easy to create and store safe passwords for all of the websites you visit. Additionally, iCloud Keychain can store login data for specific applications if those apps want to take advantage of the feature.
That means that instead of having to reference a document to remember your password—or even worse, using the same password everywhere—iCloud Keychain lets you fill in your details automagically on the Mac and iOS 7.
The only caveat with iCloud Keychain is that it only works with the Safari web browser on the Mac. That means that if you often use Google Chrome or Firefox or another web browser, you can't access those same passwords as seamlessly. For those users, 1Password is a fantastic, robust password manager that has apps for iOS, Windows and Mac.
2. Share Documents and Files Across Macs With iClouDrive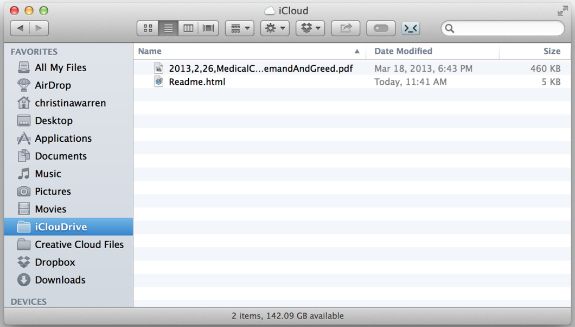 Apple has made some strange omissions with its iCloud service, but no omission is more surprising than the ability to easily sync files from Mac desktop to Mac desktop, a la Dropbox.
Fortunately, the free app iClouDrive makes it easy to create a folder that syncs with iCloud and lives on your Mac. iClouDrive works by creating a special iClouDrive folder inside the folder where all iCloud files reside on your Mac. It then puts an alias to that folder inside your Documents folder.
Simply install iClouDrive on all of your Macs, and as long as you are logged into your iCloud account, files will show up in both places. This is great for users who have a Mac at home and at work and want an easy way to send documents or files back and forth.
3. Use Cloud Mate to Manage iCloud Files
Apple chose not to include direct access to iCloud on the Mac via the Finder. If you go to the "Mobile Documents" folder inside the "Library" folder in your user account, you'll see something that looks like this: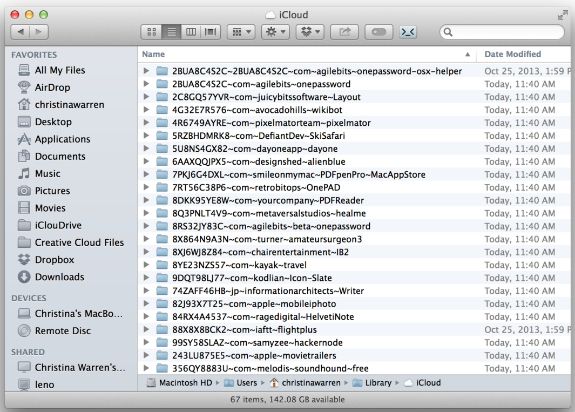 If you click inside those folders, you can find your various files saved from Mac and iOS apps, but it's convoluted and complicated.
This is where the excellent app Cloud Mate comes into play. At $6.99, Cloud Mate is an affordable way to have visual access to all of your iCloud files.
This is what my iCloud account looks like in Cloud Mate: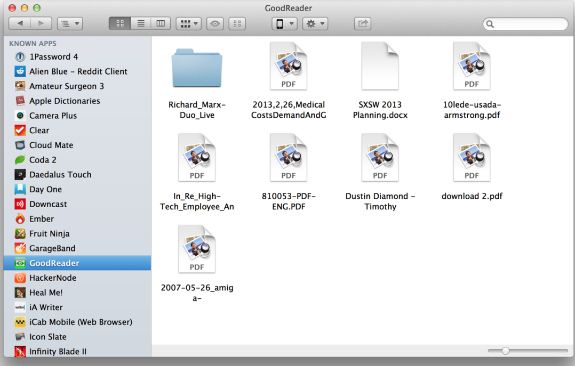 I can access all of my GoodReader for iOS iCloud documents directly from my Mac. Moreover, if I want to add a file to that folder for access in GoodReader (say, a PDF), I can do that too.
Cloud Mate also includes an option to view your Photo Stream without having to use iPhoto or Aperture.
4. Use With Compatible iOS and Mac Apps for Seamless Integration
There are hundreds of apps for iOS and Mac that take advantage of iCloud for storing documents and data. Some of my favorite writing apps, including iA Writer and Byword use iCloud to sync data from device to device. This means that if I start a document on iA Writer for iPad, I can continue writing it on iA Writer for iPhone or Mac. Likewise, I can open up my Byword files on the Mac that I created in iOS.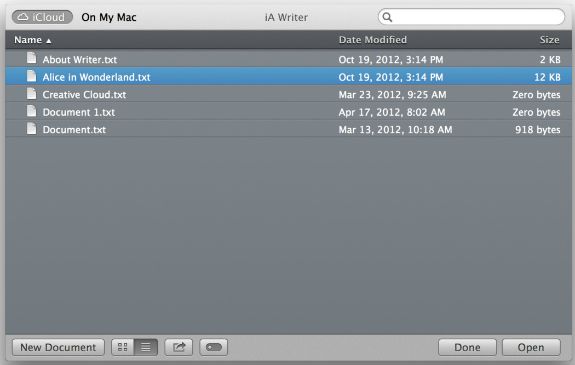 Other apps, including the iOS text editor PlainText 2 work with iCloud too. And even though there isn't a Mac version of PlainText, using Cloud Mate, I can access those text files, make edits in my favorite editor and save back.
My go-to podcast app is Downcast, which works on iOS. It has the option of saving your settings (which can be altered per-podcast), play/unplay count and where you are in a stream to iCloud. This means if you start listening to a podcast on the iPhone, you can pick up where you left off on the iPad. It also means that podcasts you add from either app show up both places.
Even better, with the fantastic Downcast Mac app, you can bring all those podcasts—complete with your settings and playlists—to the desktop too.
5. Create and Collaborate Using iWork and iCloud.com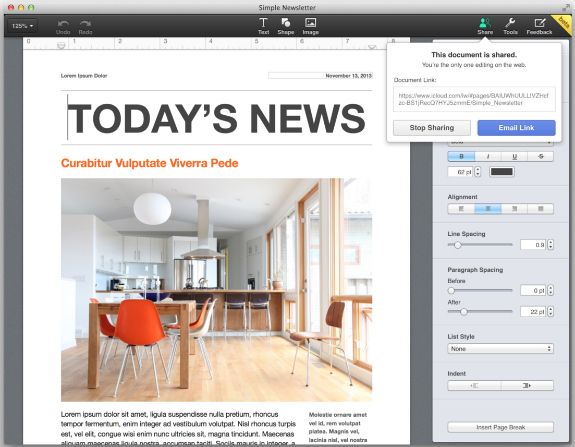 Apple is now offering all of its iWork apps for free on the Mac and free on iOS with any new device purchase. That means that the productivity apps including Pages, Numbers and Keynote are all free for everyone to use.
Even better, iWork for iCloud, which is still in beta, brings the iWork experience to the web. This means that you can create, edit and collaborate on documents simply by logging into iCloud.com. Users can even be invited to collaborate on a document without having an iCloud account (which is free anyway).
The result is something similar to what Microsoft offers with Office 365, but within Apple's ecosystem.
The best part is that you can also make changes or create files with the desktop iWork apps and have those changes automatically appear online or in the iOS versions of the app.
I most frequently use this when creating presentation in Keynote. Inevitably, I wind up needing to make a change to my presentation just before presenting. Using iCloud, I can edit the file on Keynote for iOS and then download a copy from a web browser or use the updated copy from my Mac.
6. Keep Track of Your Devices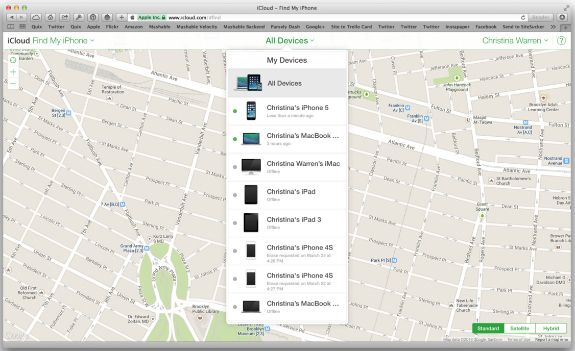 Find My iPhone and Find My Mac are built into iCloud.com. Logging into the service lets you locate your Apple devices, send messages or request that it play a sound. You can even do a remote wipe of one of your devices if something is amiss.
Your Tips
Let us know some of your best iCloud tips in the comments.
Photo: Shutterstock