E-mail marketing can be a powerful and effective tool to help your business...if executed properly. The success of an e-mail campaign isn't just based on the design or even the message. Rather, it's a combination of several critical background components that help you improve deliverability and avoid being flagged as spam. So I've come up with a list that will help you get the most out of your e-mail marketing campaign. Run through this list before you hit send!
1. Avoid spam words
Mail servers and e-mail clients scan the subject lines and content of your e-mail messages, looking for phrases and sending techniques that indicate spam. That's good for reducing junk e-mail, but it could hinder your legitimate e-mail marketing campaign if you're not careful about how you craft your message. To ensure deliverability, avoid using spam words in your content, especially in the subject line. You may think that since you're not sending spam, you would never use spam terms. However, using the word "free" or all uppercase letters with exclamation points could land you on the wrong side of the spam filter. For more info on writing effective subject lines, read 3 Tips to Better Email Marketing.
2. Create a sender policy framework (SPF) record
An e-mail gets routed through several other mail servers on the Internet before it ultimately arrives in your recipient's inbox. To ensure that your message doesn't get trapped in these relay or delivery servers—or with third-party services like Postini—create an SPF record for the sending domain (from-address@your-domain.com). If that's not feasible, your best bet is to let your e-mail services provider specify a "from" address on your behalf.
Microsoft has provided a wizard to help you create an SPF record for your sending domain.
3. Use the right techniques for sending to multiple recipients within the same organization
Sending legitimate messages to multiple recipients within the same organization can be tricky. When these messages arrive in short bursts over a few seconds or minutes, they get tagged as spam. If you find yourself in this situation, try the following:
If possible, contact the company and inform them of the messages so they may make an exception.
Throttle your e-mails by sending them over a period of time in multiple bursts.
4. Comply with CAN-SPAM
In 2003, the U.S. Congress passed the CAN-SPAM Act. What's that got to do with your e-mail messages? Basically everything. Among other things, the law requires that every commercial e-mail message include an unsubscribe link and the physical address of the sender, publisher or advertiser. So make sure you comply!
5. Take a litmus test
Let's face it. E-mail clients are quirky and content can appear different, depending on which client is displaying it. Before you send your e-mail out to the universe, take some time to run it through Litmus, an awesome e-mail compatibility checker. It lets you preview your e-mails as they'll appear in different e-mail clients (Outlook, Gmail, Hotmail, etc.), across different versions of browsers and on mobile e-mail clients. I'm sure tablet previews will follow soon. I am not suggesting you test every e-mail client, but at least shoot for the most popular, depending on your target audience.
6. Don't forget text e-mails!
Text-only emails are often overlooked when creating and deploying email campaigns. Although you'll get a better ROI sending HTML emails, it's important that you create a text version and send it in tandem. Depending on the recipient's ability to receive such e-mails, the correct format is automatically delivered. Just remember the following for text-only e-mails:
Hyperlinks and special HTML characters (copyright, trademark) are not supported.
The default line-break appears 76 characters, so restrict your line-width to conform.
Include a physical address and an unsubscribe link.
Note: It's tricky to test a text-only version of your e-mail even with the most sophisticated testing tool, like Litmus. We suggest using a plain-text e-mail client, like Popcorn, to test such e-mails. Although the e-mail client is no longer supported by its creators, it will still do the job.
7. Understand bounces
A bounce actually means that your message was received by a mail server for further handling. This is generally a good thing, since it's the last step before delivery. A bounce indicates that the mail server that received the message has sent it back for one or more reasons. Refer to the chart below to understand the types of bounces.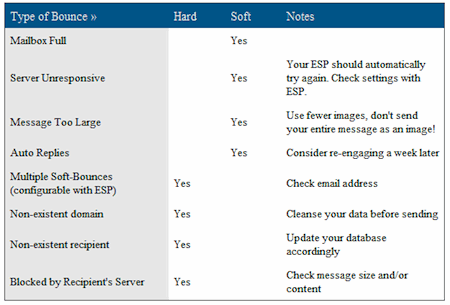 Follow these helpful steps and you'll be poised to get optimal results from your e-mail marketing campaign.
OPEN Cardmember Nirmal Parikh is the founder and CEO of Digital Wavefront, a Boston-based technology-driven company with a performance-focused approach to marketing. He frequently shares expert ideas, unfiltered opinions and best practices via their Performance Marketing Blog.