We've heard for years now that "content is king"—yet so few marketers seem to understand how to create useful content that isn't overly promotional for the brands supporting it.
Even for those who understand the importance of rich content, though, it can be costly to get a content strategy up and running. Michael Durwin, director of user experience at Boston Technologies, has nailed down a simple step-by-step process for creating buzzworthy content on a shoestring budget. Durwin spoke about the importance of creating shareable content during his presentation at Geekend Roadshow, a technology-focused portion of the DMA2011 conference, presented by BFG Communications.
Here are his seven essential steps for creating buzzworthy content.
1. Leverage your resources
Leverage your resources on your staff, coworkers, customers and fans," says Durwin. "If you can find the people in your company that love to do things like tweet, update Facebook and take pictures around the office, grab those people and deputize them. Empower them to publish more content about your brand."
2. Assign tasks around existing interests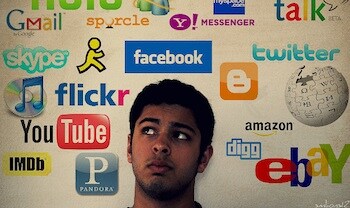 Once you've found the individuals within your organization that are already participating in or are very excited about creating content, assign tasks to those people based on what they are interested in and would like to contribute.
Common tasks could including taking pictures, shooting video, tweeting, updating Facebook, blogging and updating the company's website.
Durwin offered up an example of a woman at his company who loves to take candid photos around the office. He talked to her about being the official office photographer, and every now and then she sends him entertaining photos to post to the company's social sites. He also identified a Twitter-loving co-worker and put him in charge of tweeting on behalf of the company.
3. Identify outposts
Figure out which social sites are a fit for your company, or better yet, find individuals within your company that already use particular social sites and get their feedback on whether those sites are a fit for the business.
Once you've identified where your company should be—whether that's Facebook, Twitter, Google+,YouTube, Flickr,Vimeo or somewhere else—get your team involved.
"All of these social outlets become your outposts," says Durwin. "Find the people at your company—or your fans—who love to generate content, put them to work, point them to these places and say 'Go.'"
4. Identify ambassadors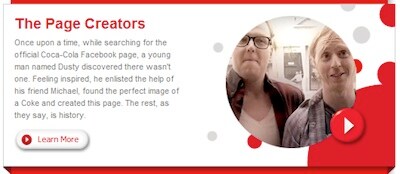 Sometimes the best candidates for representing a company aren't your employees, but your biggest fans.
Identify the most passionate section of your company's user base. Sometimes these fans are already creating content about the company.
For example, one of the most popular Facebook Pages—Coca-Cola—was created by two fans. Instead of demanding ownership of the Facebook Page, Coca-Cola invited the two creators, Dusty Sorg and Michael Jedrzejewski, to visit them in Atlanta and let them remain a large part of the page, through videos and other content.
In the case that these fans are not creating content, think of a way to inspire fans. A perfect example is MTV's 2010 search to find a Twitter Jockey.
5. Supply your outposts
"Set up your blog, set up your YouTube channel, make sure your Twitter account is set up—and then start pushing content." This could come in the form of blogs images, videos, tweets, status updates or even infographics, one of the most shareable types of content on the Web right now.
It's important to keep a steady supply of content on each social platform, so make sure the individuals in charge of each social channel have a clear strategy for maintaining a constant flow.
6. Make your stuff shareable
Make sure you are making your content as shareable as possible. The first step is to implement social sharing buttons.
"Make sure you add buttons to everything. Every page on your website should have a Like button, a Google+ button, a tweet button, an e-mail button—any conceivable way of sharing."
There are tons of blog plugins out there to help minimize the difficulty of adding social sharing buttons. You just have to get out there and look.
While you're at it, share your company's content with your own audience. "Everyone is a potential ambassador," says Durwin.
7. Monitor and respond
Durwin stressed the importance of monitoring your social sites and responding to user feedback. "Don't just put content up and leave," he said. "You need to go back, see what everybody's saying about it and respond. Don't wait a week, don't wait a day, don't wait a month. Be checking it every single day. Do it again and again until it becomes second nature. When you wake up in the morning, check your Facebook and Twitter pages, send out a couple of responses. Before you know it, you'll be doing it two or three times per day, and you won't even notice how it impacts your day."
These seven steps are a basic guide to kicking off content creation at a business. How has your company gone about the content creation process? Let us know in the comments below.
Image credit: iStockphoto, ra2studio