It's that time of year. We're buying employee gifts and taking clients out for holiday celebrations. The accounting department wants everyone to submit their expenses before year-end. We can't procrastinate any longer. Besides, getting our expense reports submitted means some extra money for the holiday season.
But I think we can all agree that expense reports are possibly the last thing any of us want to be doing at this time of year (or any time of year, for that matter).
Luckily, there are plenty of mobile apps that make it easier to track and submit expense reports. Here are seven handy apps specific to the iPhone.
1. Expensify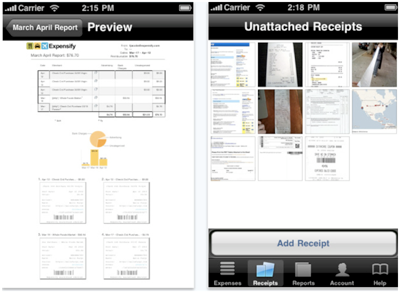 Expensify offers the ability to create photo receipts and iPhone expense reports, and it integrates with Expensify's website for instant reimbursement. It also can connect with QuickBooks. Great for people who travel and want to record expenses as they are incurred. 
Price: Free
Fresh Xpense Capture allows you to record your expenses (including photo receipts) as they occur. Expenses can be submitted using a variety of different formats such as SMS, IM, Twitter and e-mail. They are stored on the Xpenser website, where they can be imported to Excel, Quicken or MS Money.
Price: Free
Out of Pocket allows you to record your out-of-pocket expenses including photo receipts. Then you can export your expenses to FreeAgent or IRIS OpenBooks (optional). Out of Pocket also provides search capabilities, for those times when you're trying to remember a date or expense description.
Price: $1.99
Want more App recommendations? Check out these stories:
After you snap a photo of your receipt, Shoeboxed Receipt Tracker automatically enters the date, total, payment type and category. It generates expense reports that can be sent from your iPhone as well as exported to QuickBooks and Quicken.
Shoeboxed also provides a fee-based service that enables you to mail in receipts (and other documents) to be scanned and uploaded to your online Shoeboxed.com account.
Price: Free
ProOnGo Expense allows you to not only track receipt and mileage expenses, but it also enables you to time expenses. This is very useful for consultants or professionals that operate on a billable hour basis. ProOnGo also integrates with Quickbooks. For an extra cost, a receipt reader service is available.
Price: Free
Another app that offers billable expense recording is JetSet Expenses. It allows tracking of billable expenses, reimbursable expenses and non-reimbursable expenses. JetSet focuses on business travelers by offering international settings along with airline, hotel and rental car databases.
Price: Currently on sale for $4.99
7. iReceipt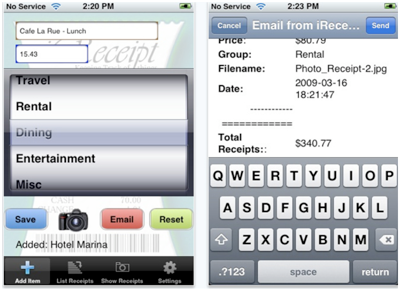 Don't need a bunch of fancy options? iReceipt provides a simple, basic service. Record your expense details or take a photo of your paper receipt. Then e-mail yourself a text-generated expense report.
Price: $1.99
Your Picks
Do you manage your business expenses on a mobile device? If so, let us know which services you use in the comments below.
Image courtesy of Flickr, Jo Jakeman