Sperm bikes, electric cars and biodiesels, oh my!
Converting your company's transportation fleet to an environmentally friendly one can be a daunting and costly process, but the change can bring significant cost savings–and you're helping preserve our planet, which is a noble cause not to be taken lightly.
These seven companies have introduced innovative ways to make their companies' transportation more eco-friendly. Read on for more details and let us know about interesting alternatives you've seen around your neighborhood.
1. Nordisk Cryobank's Sperm Bike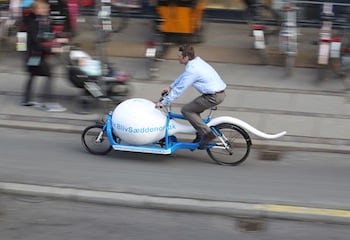 Nordisk Cryobank, a European sperm bank, recently launched its "Sperm Bullitt," a sperm-shaped bicycle with a custom cooling system for transporting sperm samples to nearby fertility clinics.
The Sperm Bullitt is also a moving advertisement for the Copenhagen-based sperm bank. The website URL written on the side of the bike translates to "Become a sperm donor." Users visiting the website are greeted with information on how to get started with sperm donation.
The bike serves as an environmentally-friendly method of transporting sperm, as well as a way to attract new donors. We applaud the creative thinking that went behind this idea.
2. Gowalla's Employee Bikes
Gowalla CEO Josh Williams issues all employees Gowalla-branded bikes complete with the employee's name painted on them.
Over half of all Gowalla employees use these bikes to travel to and from work every day. "The decision to do this was a way to be both eco-friendly and also to promote Gowalla's mission of being active and exploring from inside the company as part of its culture," a company representative explains.
The bikes were created by Pro Cycle Works, an eco-conscious bicycle shop in Austin, Texas.
3. Scotts Valley Police Department's Electric Motorcycle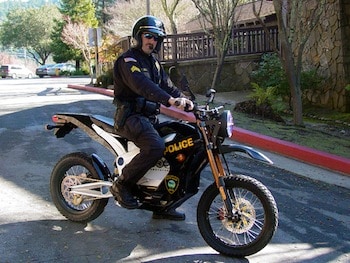 The Scotts Valley Police Department of Santa Cruz County, California, is the first police department in the United States to add an electric motorcycle to its fleet, according to a Zero Motorcycles representative.
Zero Motorcycles, a Santa Cruz-based electric motorcycle manufacturer, recently donated the Zero DS motorcycle to the police department.
With a top speed of approximately 67 mph, the Zero DS isn't well suited for high speed chases. The Scotts Valley Police Department uses it for special events, such as a recent bicycling race fundraiser, where it made its first policing appearance.
Lieutenant John Hohmann explains that the motorcycle's small build makes it perfect for off-road patrolling, enabling the department to reach park and trail locations that it couldn't otherwise reach with its current cars and larger, gas-powered motorcycles. The department has uncovered marijuana groves in places it previously couldn't reach, for example.
4. Radio Taxis' Carbon Neutral Cars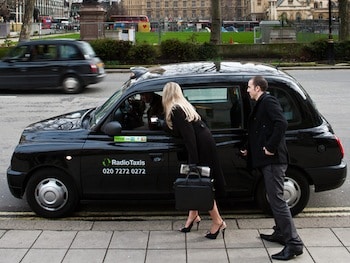 Radio Taxis Group calls itself "the world's first carbon neutral taxi company."
With 2,500 traditional London black cabs, the company took the step several years ago to offset all of its carbon emissions. The offsets, purchased through The CarbonNeutral Company, allow for the funding of environmentally friendly projects around the world.
The company is audited every year on its emissions as part of its effort to reduce its carbon footprint. It has experienced cost savings in other areas as a result of going carbon neutral. "The more you save in emissions/electricity, the less you pay in offsets," explained a Radio Taxis Group representative.
5. Rent-A-Green Box's Delivery Truck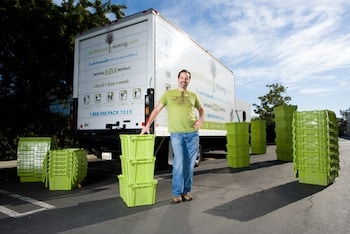 Rent-A-Green Box is an eco-friendly company with the mission "to change the way America packs and moves without trashing our planet."
The company's primary product is called the Recopack (Recycled Ecological Packing Solution). Crush- and tear-proof, these rentable green moving boxes are the center of Rent-A-Green Box's ecological solutions.
The company also prides itself on its entire green delivery system. Its delivery trucks use both waste vegetable oil and bio-fuel on a dual-tank system. Running on alternative fuels has helped the company reduce its CO2 emissions by up to 78 percent. The total cost savings from running on alternative fuels for the past 6 years exceeds $700,000, says Spencer Brown, founder and "chief tree hugger."
"We also use pure nitrogen air in our tires and aerodynamic cab air-?ows and optimize our city engine idle settings to complement our delivery and pickup logistics to increase and maximize our gross fuel consumption," says Brown.
6. Einstein Bros. Bagels' Chevy Volt & Free Charging Station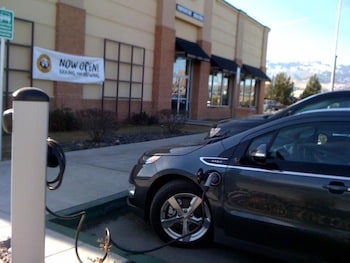 Steve Reimer, an Einstein Bros. Bagels franchisee, opened up shop in Reno, Nevada, in December, making sure to install a free electric charging station. His business is the first to offer free electric vehicle charging to Renoites.
Reimer's shop also uses a Chevy Volt, a plug-in hybrid electric vehicle produced by Chevrolet, to complete all catering deliveries.
Reimer hopes to go completely electric in the near future. He has put an order in for the new Ford Transit Connect Electric, an all-electric, commercial van. "We thought the extra space and the ability to have the van wrapped with our restaurant name and with information that it is a fully electric vehicle would serve both deliveries and advertising efforts," says Reimer. "We are very excited about being a pioneer in the green initiatives of restaurants and catering."
7. Maine Root's Vegetable-Powered Diesels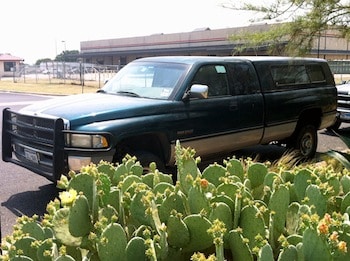 Matt Seiler, co-founder of Maine Root, an all-natural, handcrafted soda company, decided to convert his Volkswagen Jetta into a biodiesel vehicle that would run on recycled fryer oil collected from local restaurants. With boat-making experience, Seiler had the mechanical know-how to convert the Jetta on his own.
Since those early days, Maine Root has added another biodiesel to its fleet. The Dodge Ram 12-valve Cummins Diesel (pictured above), is used for general deliveries and transportation to meetings with potential customers and events. It runs on a dual-tank system.
Mark Seiler, co-founder of Maine Root and brother of Matt Seiler, estimates that the company saves approximately $5,000 per year by operating on alternative fuels.
Image credit: Keegan Jones, European Sperm Bank, Spencer Brown of Rent-A-Green Box