All successful leaders and entrepreneurs know the value of lifelong learning to support them in their careers. As Brian Tracy puts it, "Those people who develop the ability to continuously acquire new and better forms of knowledge that they can apply to their work and to their lives will be the movers and shakers in our society for the indefinite future." This is the season where accomplished individuals deliver commencement speeches to graduating classes. Whether you've been out of college for a few weeks—or a few decades—everyone can benefit from these inspiring speeches to pursue their dreams and to reach higher levels of success. We can all learn from the life lessons of others.
In that spirit, here are eight key takeaways from some of the best commencement speeches this year:
1. Persevere.
Steve Case, former CEO of AOL, reminds us not to stifle our entrepreneurial impulses or rest on our laurels. As he says in his commencement address at the University of North Carolina, "Other countries now realize that entrepreneurship is the secret sauce that has powered our economy, and they are working hard to replicate it. We need to double down on entrepreneurship if we are going to maintain our lead." America has always been "a startup nation." In the last three decades alone, new startup companies created 40 million jobs—that's nearly all the net jobs created during that period. He advises us to be attackers, not defenders. Defenders are those who try to defend what they have. "Attackers," Case says, "are the people with bold, innovative ideas, who are trying to disrupt the status quo, and usher in a better way." Success comes to those who step up and persevere in their belief of what they can accomplish.
2. Be a Kirk rather than a Spock.
Alex Kipman, inventor of Kinect for Xbox, delivered his keynote at Golisano College. In it, he exhorts us not to neglect the emotional side of our life: "Being a Kirk, rather than a Spock, is the most important and hardest lesson I have learned in my life. As most, I had to practically lose everything I ever loved before I paid attention to this side of life." Despite achieving his lifelong dream, he was empty inside and his life had no meaning. "I had to contrast the short-term excitement I was feeling," Kipman says, "with the impact it was having on my relationships, family and character. I concluded that nothing in life compares to the warmth and care of spending a lifetime with a soul mate, watching a daughter grow and become involved in worthwhile endeavors and behaviors." As we doggedly pursue business success, let's not neglect the importance of finding meaning in life.
3. Venture out of your comfort zone (regularly).
From Dick Costolo, CEO of Twitter, to Carson Kressley, fashion celebrity, most successful individuals stress the importance of getting out of your comfort zone and taking risks in the pursuit of what you love. As Kressley puts it in his commencement address to the Philadelphia University, "Not a single successful person … has ever done great things because they played it safe." Let your heart guide you and be true to yourself; choose the path that leads to the life and world you want. Costolo tells the University of Michigan graduates to approach the improvisational part of the rest of their lives by being bold, and not always worrying about what their next line is going to be: "If there's ever an example of the importance of making bold bets and focusing on what you love, it's Twitter." 
4. Stay curious.
There is a Chinese proverb that says, "Learning is a treasure that will follow its owner everywhere." The pursuit of continuous learning and maintaining an open mind is a recurring theme in some of the commencement speeches. This is perhaps best articulated by Charlie Denson, president of NIKE Brand, when he tells Utah State University grads to "remain curious ... always ask the question, why or why not?" We should never settle for the status quo, but seek a different path, solution or direction. Always strive to know more in order to make it better.
RELATED: How to Jump-Start the Creative Process for an Unforgettable Presentation
5. Value human connections.
Melinda Gates, co-chair of the Belinda and Bill Gates Foundation and alumnus of Duke University, stresses the importance of establishing a human connection with others. As she said to Duke graduates, "Humanity in the abstract will never inspire you the way meeting another human being will. Poverty is not going to inspire you to do something, but meeting people—that will inspire you." This is a timely reminder not to neglect the human touch, while we get absorbed in our virtual worlds—and not to build networks with others just for the sake of having a network, but to network and connect because it inspires us to do something, to take action and to make a difference in the world.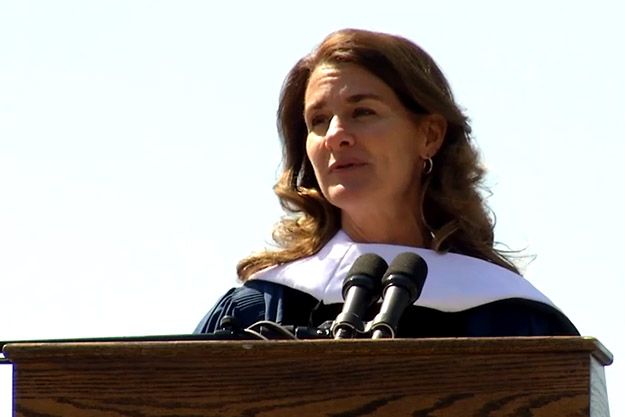 6. Join in the dance of uncertainty.
Another recurring theme in some of the commencement speeches is the certitude of uncertainty. It is a mark of our time, but we needn't see it as an obstacle. On the contrary, uncertainty compels us to unfold our power. As Jim Yong King, president of World Bank, states at Northeastern University, "Uncertainty means that the future is yours to shape—with the force of your will, the force of your intellect and the force of your compassion. Uncertainty is freedom. Take that freedom and run with it." Success comes from being creative and continuously adapting to the constantly changing times. Stay nimble. Or as Jeff Immelt, CEO of GE, says in his commencement speech at University of Connecticut: "We can't wait for the economy to stabilize. We can't wait for a time when there is more certainty. It used to be that you only had to manage momentum. Today, you have to create your own future. And that means change."
7. Redefine success.
Arianna Huffington, editor in chief of The Huffington Post Media Group, delivers a message relevant to all entrepreneurs in her commencement speech at Smith College: "Remember that while there will be plenty of signposts along your path directing you to make money and climb up the ladder, there will be very few signposts reminding you to stay connected to the essence of who you are, to take care of yourself along the way, to reach out to others." In the pursuit of achievement, and business success, we sometimes get disconnected from our internal compass. As Huffington pleads, we need to redefine what we value and what we consider to be a successful life. "There should be a third metric of success behind money and power," and it needs to be based on "well-being, wisdom, our ability to wonder and to give back ... Money and power by themselves are a two-legged stool—you can balance on them for a while, but eventually you're going to topple over." She also advises to get enough sleep, which is an important reminder in our sleep-deprived society.
RELATED: 7 Habits of the World's Best Business Leaders
8. Make the world a better place.
Walter Isaacson, biographer and CEO of the Aspen Institute, organizes his moving commencement speech around stories from the life of Steve Jobs, Albert Einstein and Benjamin Franklin. He discusses an important point that's often overlooked: Being smart is not enough for achieving success. As he candidly says, "Smart people are a dime a dozen, and they don't usually amount to much ... What really matters is those who are creative, those who are imaginative, those like Steve Jobs, who can think different." Success is using these gifts to improve the world. Jobs, Einstein and Franklin had something in common: "They all realized," Isaacson said to Pomona College graduates, "that they were part of something larger than themselves." Most commencement speeches reinforce the importance of connecting to one's passion, but Isaacson emphasizes that "it ain't about your passion; it's about being a part of something larger than yourself ... Because at the end of your days when you look back—it's not just about saying how successful you were, how many toys or trinkets or how much power you accumulated, it's about what you created, about what you did to make the world a slightly better place because you were here." It's about being good and doing something that gives benefit to mankind. And with this, Isaacson gives us the most important lesson of all.
Bruna Martinuzzi is the founder of Clarion Enterprises Ltd., and the author of two books: Presenting with Credibility: Practical Tools and Techniques for Effective Presentations, and The Leader as a Mensch: Become the Kind of Person Others Want to Follow.
Photos: iStockphoto