When traveling to Chicago for business, it's easy to get swept away in meetings, alternating between your hotel and the office, without ever leaving the Loop.
It doesn't have to be that way.
This is, after all, the City of Neighborhoods, and those neighborhoods are where all the action happens. With a little advanced planning, and the help of tools like the Shop Small Map, local shops and services can help you take care of business on your next work trip to Chicago.
No need to rush around your hometown before you travel when you can get equally convenient service in the Windy City. Forget your prescription at home? Get it filled in an old-world apothecary. Schedule a pick-up and drop-off to have your business attire cleaned. And make a dinner reservation at a beloved Italian restaurant inside a 100-year-old factory, where the tables offer plenty of privacy for talking shop.
We've compiled a list of stops to help you take care of business—and have some fun—on your next trip to the Windy City.
1. Check into the independently owned Ivy Boutique Hotel.
In a sea of chain hotels, the Ivy Boutique Hotel, with 63 elegant rooms and suites, stands out as one of the smallest independently owned hotels in the city. "A lot of business travelers that we deal with want a no-nonsense, simple approach," says general manager James Cazares.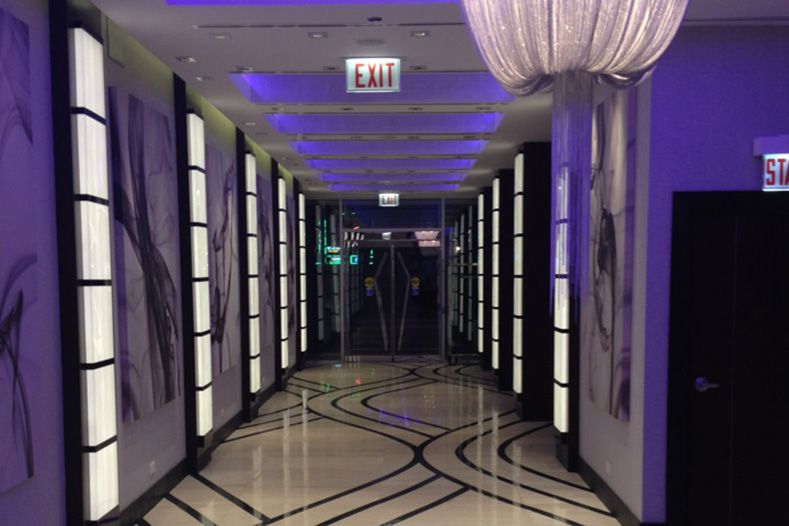 The Ivy, which is located just steps away from the shops and restaurants of the Magnificent Mile, offers that through its top-notch customer service from a staff familiar with every aspect of the hotel. Despite its boutique size, guests still have access to everything they'd expect from a larger hotel, including a lounge, sky terrace, in-room spa services and an off-site gym. 233 E. Ontario St., Chicago, IL 60611; 312-335-5444; exploreivy.com
2. Fill your prescriptions (and more) at Aaron's Apothecary.
Fill your prescriptions, luxuriate in lotions from around the world or buy a marionette (really!) at this old-world-inspired apothecary. Owner and pharmacist Aaron Pietrykowski fell in love with the apothecaries while traveling across Europe and decided to open up his own in the Lincoln Park neighborhood.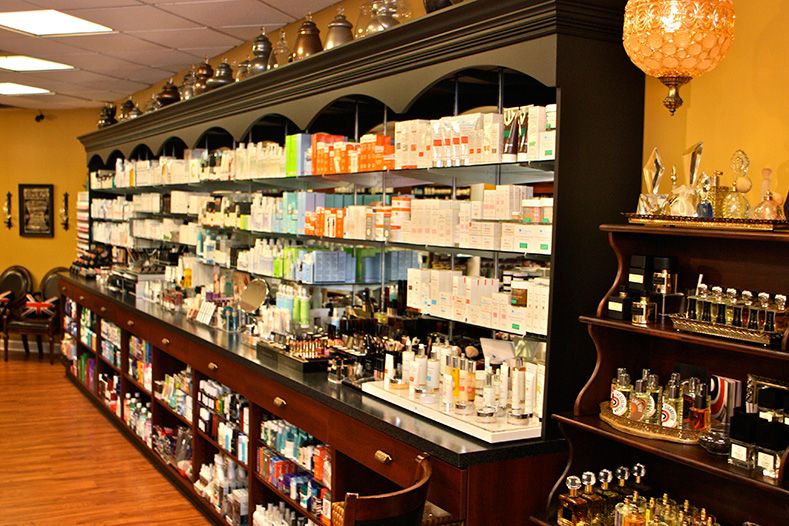 With antique chandeliers, old apothecary jars and those marionettes (he imports them from the Czech Republic), the apothecary achieves the vintage feel while still offering everyday items you may have forgotten to pack. Think first-aid needs, over-the-counter medications, vitamins, toothpaste and more. "We have things from all over the world," says Pietrykowski. "Whether you're from Kansas or you're from Croatia, you'll see something that's interesting." 2338 N. Clark St., Chicago, IL 60614; 773-360-8595; aaronsapothecary.com
3. Schedule a suit pick-up (and high-end cleaning) with Davis Imperial Cleaners.
If you're in need of a business suit or dress cleaning, Davis Imperial Cleaners has you covered. Since 1956, three generations have brought fabric care know-how to designer fashion and professional duds. "We cater to the who's who in Chicago and the high-end boutiques," says co-owner Jordan Wood.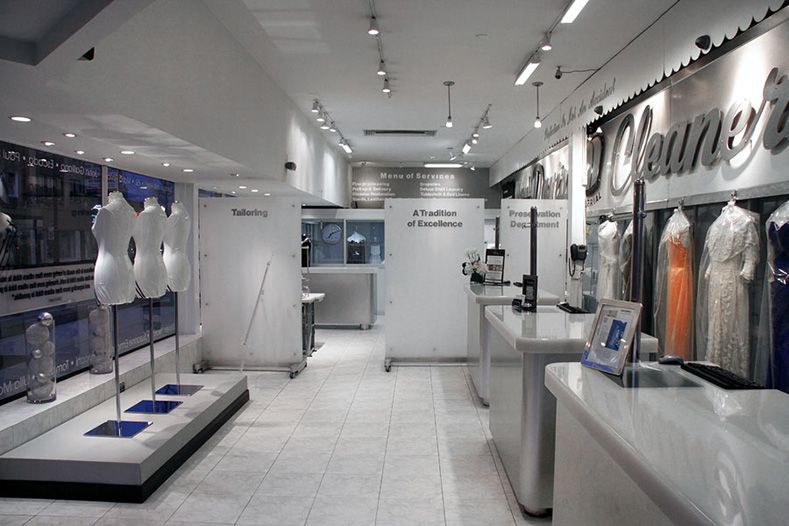 Because Davis Imperial is one of just a handful of high-end operators in the country, Wood says travelers will often bring clothes on their business trip and schedule a pick-up from or delivery to their hotel during business hours (Monday through Friday, 7:30 a.m. to 6:30 p.m.; Saturday, 8 a.m. to 6 p.m.). "We have a passion for service and a passion for the technical side of dry cleaning," says Wood. "We strive to provide top service. End of story." 3325 W. Bryn Mawr Ave., Chicago, IL 60659; 866-267-4560; davisimperial.com
4. Get a meeting makeover at Solo Salon.
While some salons specialize in a particular style, Solo Salon is known for the diverse talents of its stylists, who tailor a unique look to each client. "We cater to every type of market, whether you're a business professional or an artist," says owner Kristine Singer, who opened the salon in 2006. "We really keep up on trends and education is so important to us."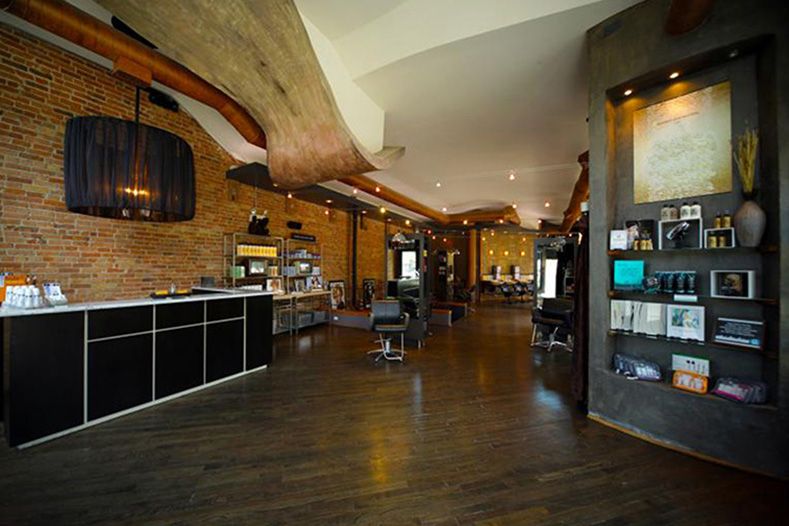 The West Loop salon, which grooves with music and upbeat energy, can do anything a business traveler might need—upstyles, blow-drys, cuts, coloring and more—to make a good impression. Walk-ins are welcome, but Singer recommends making an appointment. 1065 W. Madison Street, Chicago, IL 60607; 312-491-9771; solo-salon.com
5. Print your marketing collateral at Cushing.
Since 1929, four generations of the Cushing family have served customers' printing needs. Cushing started as a blueprint shop and now specializes in printing projects of all shapes, sizes and colors. Cathie Cushing Duff, who owns the business with her brother, Joe Cushing, frequently works with Chicago travelers who need to print brochures or other marketing materials, like wall graphics, signs and banners for trade shows.
Known for their high-quality materials and quick turnaround, Cushing Duff says customers can pick their products up or have them delivered to a hotel or expo center. "We're real people pleasers," she says. 213 W. Institute Pl., Suite 200, Chicago, IL 60610; 312-266-8228; cushingco.com
6. Plan a team-building activity at The Chopping Block.
Put a twist on traditional icebreakers and team luncheons by learning to cook at The Chopping Block. This cooking school's two locations (River North and Lincoln Square) offer classes for individuals (sushi, pasta, French pastries, knife skills and more) as well as corporate parties (interactive cooking competitions, wine tastings and catered events).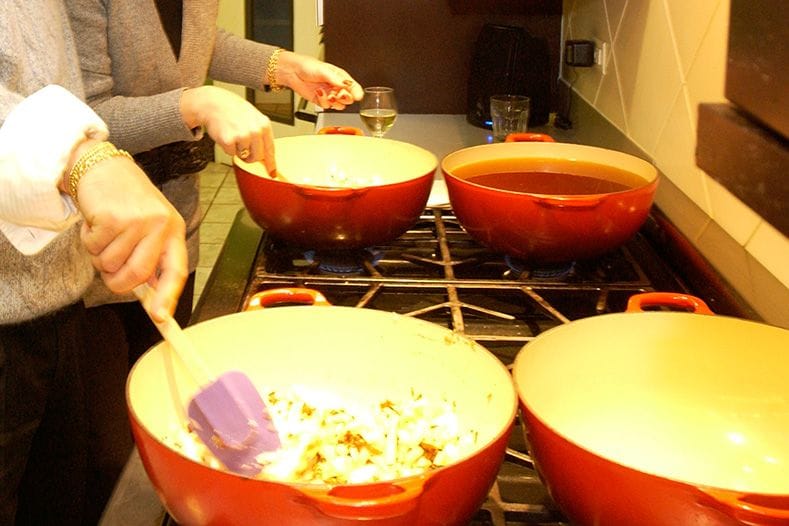 Owner Shelley Young says the social aspect really appeals to businesses. "We have a wonderful wine and spirits program, the food we do is top-notch, you get this high-end yet intimate environment and you get to interact with people," she says. The Merchandise Mart Plaza, Suite 107, Chicago, IL 60654; 312-644-6360; and 4747 N. Lincoln, Chicago, IL 60625, 773-472-6700; thechoppingblock.com
7. Book an upscale client dinner at Coco Pazzo.
Coco Pazzo has been a see-and-be-seen restaurant for the business set since it opened in 1992. Located in a former factory in River North, the airy, light-filled room offers ample space for discrete conversations over classic Tuscan fare, like homemade pasta, roasted fish and contorni (vegetables), cooked in the wood-burning oven.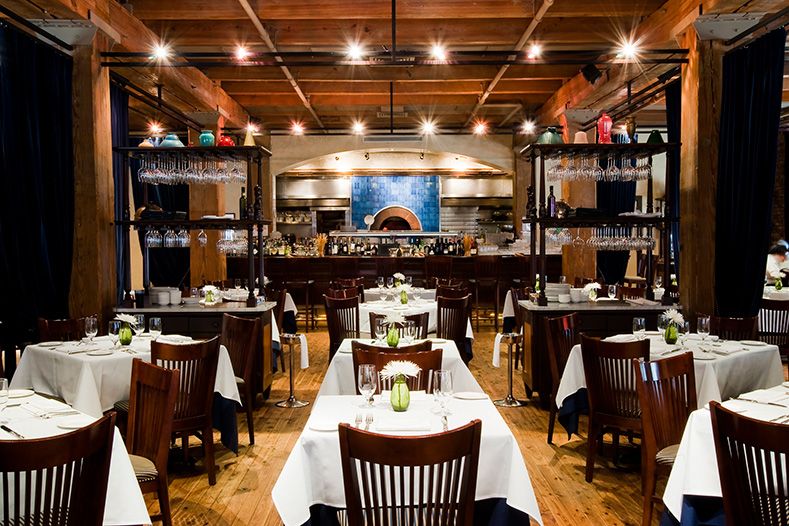 Jack Weiss, who owns the restaurant with his wife, wine director Tamra Presley Weiss (they also own Coco Pazzo Café and Tre Soldi Trattoria & Pizzeria), says customers come back for the consistently great service and food. "People feel comfortable when they come in. They know the table they like, and they'll come day after day or for lunch and dinner," says Weiss. 300 W. Hubbard St., Chicago, IL 60654; 312-836-0900; cocopazzochicago.com
8. Grab a locally made souvenir at Hardscrabble Gifts.
Around 40 local artists and artisans make nearly everything at this gift shop in the Bridgeport neighborhood—jewelry, art, candles and more. Leanne Scanlon, who owns the shop with her mom, Janet, says customers come for the gifts, and they come back for the customization.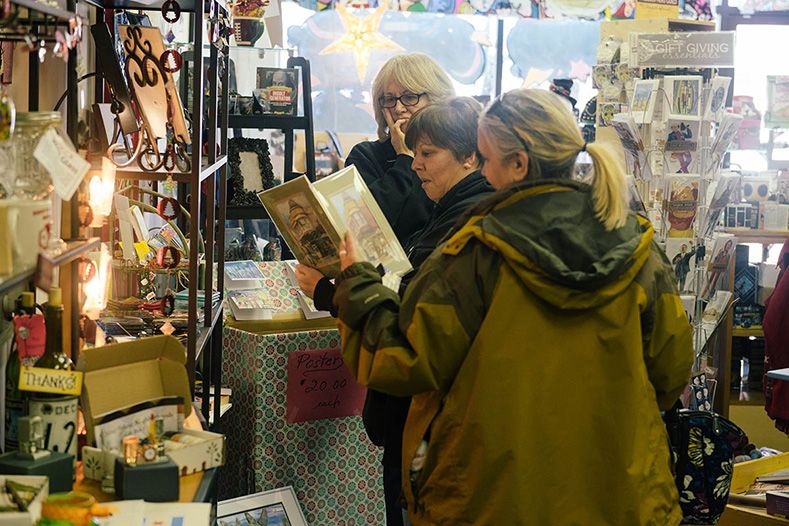 Hardscrabble Gifts can print personalized messages and art on T-shirts, bags, picture frames and more, in minutes. "By bringing their ideas to life, I'm able to get to know my customers," says Leanne. 3335 S. Halsted St., Chicago, IL 60608; 773-696-9574; hardscrabblegifts.com
Shop Local in the Windy City
Chicago may be a big business hub, but it's often the small businesses that help keep the city buzzing with personality. Whether you're seeking trustworthy service at a local dry cleaner or a fun activity to help build relationships with your team, tools like the Shop Small Map can help you find the right spot. In fact, 40,000 more places in the Chicago area now accept American Express® Cards.1
For more tips to help you stay productive on your next business trip, access Business as Pleasure: The Entrepreneur's Guide to Travel.
Photos from top: Shutterstock; Courtesy of Ivy Boutique Hotel; Courtesy of Aaron's Apothecary; Courtesy of Davis Imperial Cleaners; Courtesy of Solo Salon; Courtesy of The Chopping Block; Matt Savage; 10photos
1Based on internal comparison of American Express small merchant locations in December 2013 to American Express small merchant locations in December 2015.