There are a ton of creative ways to let others know that you're on LinkedIn and ready to connect. Whether it's on your website, mentioned within other social profiles, or on printed assets, your LinkedIn profile is just begging to be shared with others.
I put out a call for submissions for the most creative ways people are promoting their LinkedIn profiles and received more than 100 responses. Among the good, the bad, and the ugly, I gleaned eight winning strategies for getting the word out about your presence on LinkedIn.
1. Create value.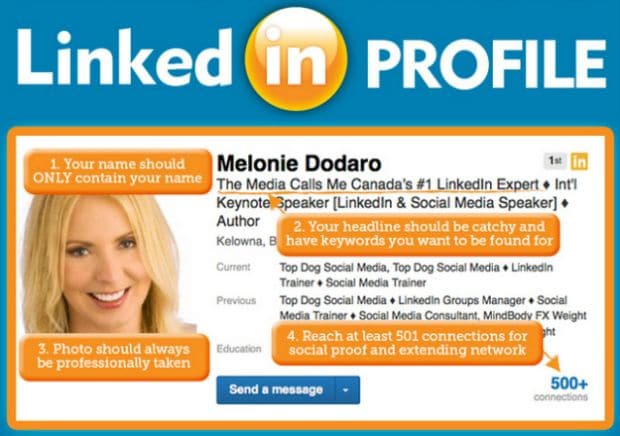 If you're looking to make friends in the business world, it helps to give them some sense of what value you could bring to the table.
Canadian social-media expert Melonie Dodaro promotes her LinkedIn profile in a number of ways, but decided to kick it up a notch with an infographic about LinkedIn marketing, in which the call to action was to connect with her on LinkedIn. The infographic, which focused on how to optimize a LinkedIn profile, generated 5,000 shares on Pinterest and more than 1,000 shares on other social networks, further bolstering Dodaro's reputation as a social-media expert and connecting her with a number of potential clients.
2. Pass it out.
Stephanie Abrams, CEO of social media marketing firm Socialfly, may just have one of the most social media-savvy business cards to hit the streets. On it, Abrams lays out her personal and professional social sites, including her LinkedIn profile, which takes a prominent position next to the more traditional modes of contact, email, and phone.
3. Write about it.
Contributing as a guest writer for popular industry publications is a sure-fire way to raise your digital profile and social media footprint.
Allie Gray Freeland, public-relations director at digital marketing agency iAcquire, uses her background in editorial content to contribute as a PR professional in publications including MarketingProfs and Small Business Trends. While bios may vary in length, she makes it a point to include her LinkedIn and Twitter profile links, so that readers and potential customers can easily connect with her.
4. Print it.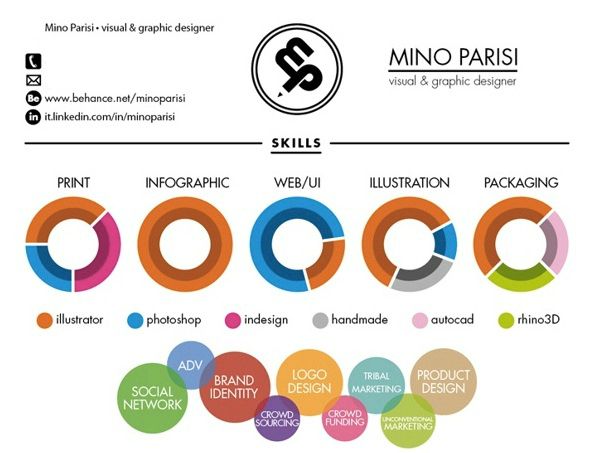 It's now a best practice to include a LinkedIn profile link within your resume. Whether your resume is beautifully illustrated like visual and graphic designer Mino Parisi's (above), or it's just your average black-and-white one-sheeter, don't miss the opportunity to digitally engage recruiters. Include your LinkedIn details, especially since a whopping 93 percent of recruiters use LinkedIn.
5. Screen print it.
Though this case study is now a few years old, it's one of my favorite forms of self-promotion: Wear your accomplishments on your sleeve. Or better yet, the entire back of your T-shirt.
In 2008, marketing professional Kelly Kinney relocated and found herself on the prowl for a job. She put her publicity skills to work and began hanging around coffee shops hoping to get noticed, the story goes. Her most creative stunt came in the form of the resume T-shirt. And now, ladies and gentlemen, the resume T-shirt is a bona fide trend, with t-shirt suppliers, such as CustomInk, offering customizable resume T-shirts, all within a few clicks.
If you're thinking of putting together a resume shirt, make sure to include your LinkedIn profile details, or maybe go all out and create the "LinkedIn T-shirt."
6. Digitize it.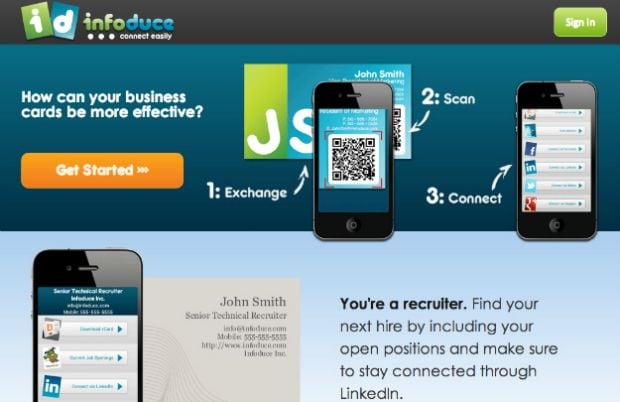 Digital business cards come in the form of QR codes (as pictured above), "bumping," or some other sort of electronic transferral method, be it via email, text messaging, or an app. Bumping, by the way, is when two smartphone users physically bump their phones together to transfer contact or other information. Since bumping or scanning QR codes are easy actions, digital business cards typically cut down on the time it takes to connect. They usually provide much more information about a person than your average paper business card, as well.
Alan Starost, principal at marketing agency Dialstar Marketing Solutions, for example, includes his LinkedIn profile on his digital name card, which contains a prominent LinkedIn profile link, alongside his phone number, email address, and headshot. The name card can be accessed via "phone bumping" or a QR code.
You can use apps like Infoduce, Icon, and Bump to create a digital business card.
7. Round 'em up.
Every professional should have his or her own website or contact page online. If you're not the kind to build out a full-on website, though, check out services like Flavors.me or About.me, which enable users to create quick and beautiful home pages. Digital sales planner at publisher Dennis Publishing, Alisha Miranda, lends a perfect example of flawless execution with her Flavors.me profile. Her profile features an engaging bio and headshot alongside a roundup of her social profiles, including LinkedIn.
8. Email it.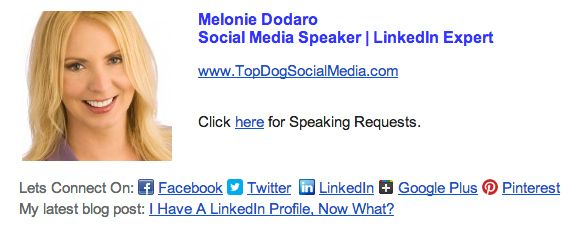 In email communications with social-media maven Melonie Dodaro, I caught glimpse of her amazingly visual email signature. While it may be slightly crowded—with websites, titles, five social links, her latest blog post link, a headshot, and lots of color—it's a good example of most of the assets one could include in an email signature, including the all-important LinkedIn profile mention.
How are you promoting your LinkedIn presence? Tweet me @ericaswallow to share your stories.
Erica Swallow is a New York City-based tech and lifestyle writer, technology entrepreneur, and MIT Sloan MBA candidate. This post is part of the LinkedIn For Small Business Series, which explores the ins and outs of using LinkedIn to maximize small business returns.
Photos from top: Thinkstock, Courtesy of Melonie Dodaro, Courtesy of Mino Parisi, www.infoduce.com, Courtesy of Melonie Dodaro