Social networks have revolutionized the way people communicate and collaborate—not only among friends and family, but also in the workplace. Many companies are now implementing social communications in their business to help them stay connected and simplify people's ability to share expertise, ideas and corporate information.
The good news is that there are a wide range of free or low-cost social collaboration tools to meet your business needs. Here are eight popular tools for small business social communications:
1. Campfire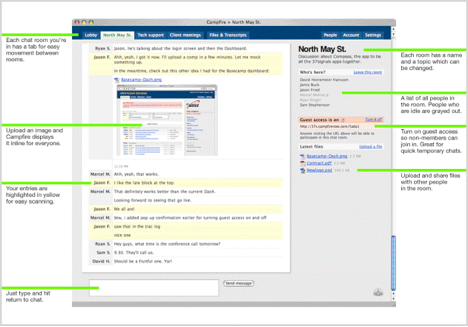 If your business involves frequently collaboration with many different colleagues, clients and vendors, consider using Campfire for real-time chats. Campfire is like instant messaging, but designed exclusively for groups. It also works with any IM client.
Campfire's Web-based, group-chat tool lets you set up password-protected chat rooms and invite others to chat, collaborate and make decisions. You can upload an image file, and it displays right in the chat room for all chat members to see. You can even invite the entire chat room to a conference call with one click. Since it's Web-based, you don't need to download, install or configure anything—all you need is a Web browser and an Internet connection. Best of all, a basic package will cost you just $12 per month.
2. Present.ly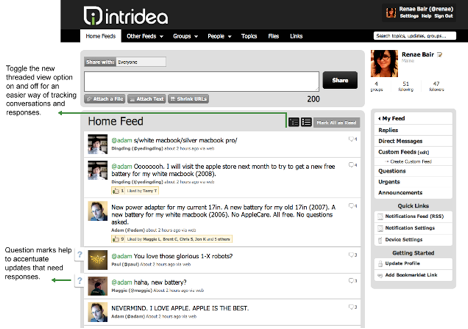 Present.ly allows individuals to post short, frequent updates that are tracked or "followed" by others, similar to Twitter. But unlike Twitter, Present.ly provides a secure and private way to do this, enabling users to share updates among members of a company without them being visible to the outside world. The basic service is free.
Present.ly enables you to share images, documents, video and audioclips with colleagues. The app is a great way to get quick feedback on a new design mockup, send out new policy documents for human resources or even post pictures from the company picnic. You can also keep the team conversations focused by creating groups for each project or topic of discussion—users will receive messages that are relevant to the topic at hand, and they're free to move between conversations as desired.
3. Yammer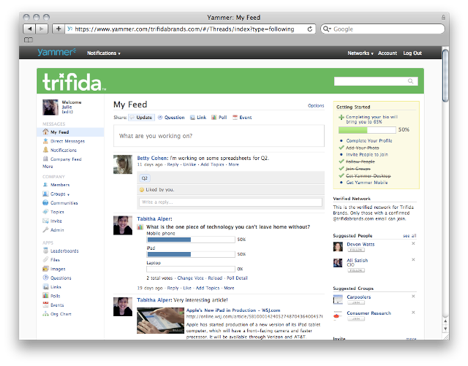 Does your business have team members in multiple locations, or are you a virtual team scattered across the globe? You might want to check out Yammer, which allows you to set up a private social network for your business to communicate, collaborate and share expertise via an easy-to-use, Web-based interface.
Want to read more on communications tools? Check these out:
While the product's wide range of features makes it appealing to large organizations, small businesses appreciate that Yammer lets you upload and share documents with co-workers and create communities for cases when you're working with partners outside of your network. SMB owners will also like the price: the basic service is free.
4. CubeTree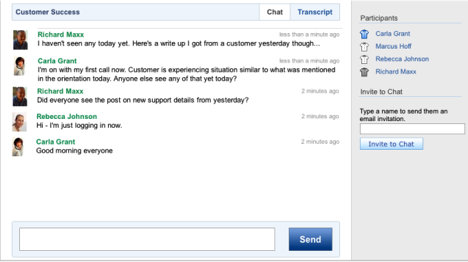 Another tool to check out is CubeTree, SuccessFactors' social collaboration technology. CubeTree combines collaboration tools with a private social network. Users can keep each other up-to-date on their activities by following people and groups of interest, and by posting updates and comments. CubeTree advances a team's ability to work efficiently in public and private groups by drawing on a wide array of tools, including blogs, wikis, social docs, polls and task tracking. CubeTree Basic is free, and CubeTree Premier costs $5 per month per user.
Small businesses that are already using SuccessFactors' Employee Performance Management software will also like the fact that CubeTree uses the same profile and organization data available in other SuccessFactors modules. For example, when used as part of the recruiting process, CubeTree can accelerate recruiting by simplifying resume review and discussion on candidates, and it also streamlines the new hire's onboarding process.
5. MangoSpring

Another one-stop-shop for social communication and collaboration is MangoSpring's MangoSuite, which includes microblogging, chat, document sharing and project management applications that work together in one integrated platform. You can mix and match the functionality you need, and you'll only pay for what you use, with prices starting at just a few dollars per user per month.
MangoSuite pulls together all of your employees' ideas, deadlines, milestones, threaded discussions, brainstorms, exchanged links and uploaded documents and makes them accessible in a real-time enterprise micro-blogging platform. Similar to how Facebook's feed and commenting functionality works, sharing something with the group or project members generates a feed that is visible to the relevant team; users can then comment on any feed item.
6. WizeHive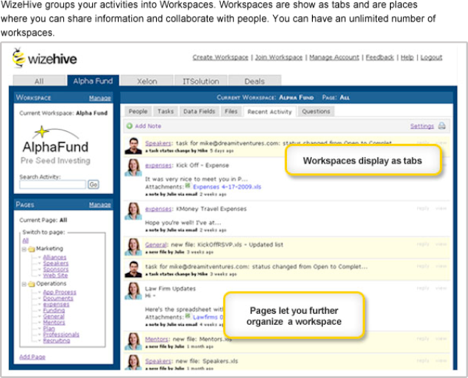 If your company's online life revolves around e-mail, WizeHive may be the choice for you. WizeHive is a collaboration platform that allows groups to share conversations, notes, tasks, calendars, files and other information in secure, private workspaces. Information can be entered from within WizeHive or via e-mail, Twitter and mobile devices.
WizeHive integrates with any e-mail program—you can create new notes or tasks by simply sending a message to a special WizeHive e-mail address with the name of the workspace in the subject. Likewise, you can also receive WizeHive communications from your colleagues via e-mail. The starter package is free for up to three workspaces and 5GB of storage.
7. Socialcast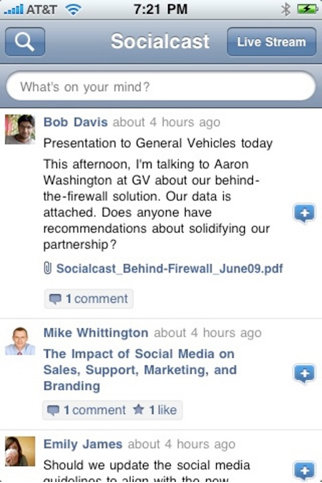 Need your social communications technology to integrate with your existing infrastructure? Check out Socialcast. Socialcast allows companies to integrate their traditional systems (such as CRM and ERP) with its social software platform, enabling employees to collaborate and take action on the core processes being carried out by those systems.
In terms of core functionality, Socialcast offers internal activity streams, enterprise microblogging, employee profiles, groups, integration with SharePoint and even a desktop app and mobile version. The basic service is free, but for a few dollars per user per month, Socialcast offers Socialcast Reach, which enables integration with CRM systems, ERP systems, HR business systems and more.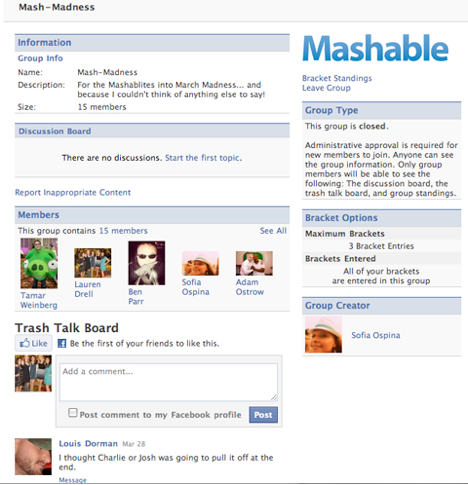 Don't need any of these bells and whistles? You might want to look at Facebook Groups. Your employees are already on Facebook, they know how to use it, and it's free.
While Facebook Groups lacks much of the advanced features of other social collaboration technology, it has just enough functionality for staff to collaborate and work together. They can use Facebook Groups for real-time collaboration, do group chat using Facebook chat, and post photos, news and updates to the group feed. It even has basic document sharing and editing functionality.
Best of all, if you want your team to promote your business to their Facebook network, you don't have to send out an e-mail and hope people share—all you have to do is post an item to your Facebook feed and employees can "share" with just one click.
Image credit: laures