Though the adage that the customer is always right isn't exactly true, feedback is important for small business success. Gathering customer feedback can be a daunting task, however. Comment cards and suggestion boxes leave mountains of paper to sort through, while e-mail forms produce unorganized data that is hard to visualize and difficult to respond to in a formal manner.
The following tools are designed to help your business solicit feedback via the Web and connect with your customers in more meaningful ways.
1. UserVoice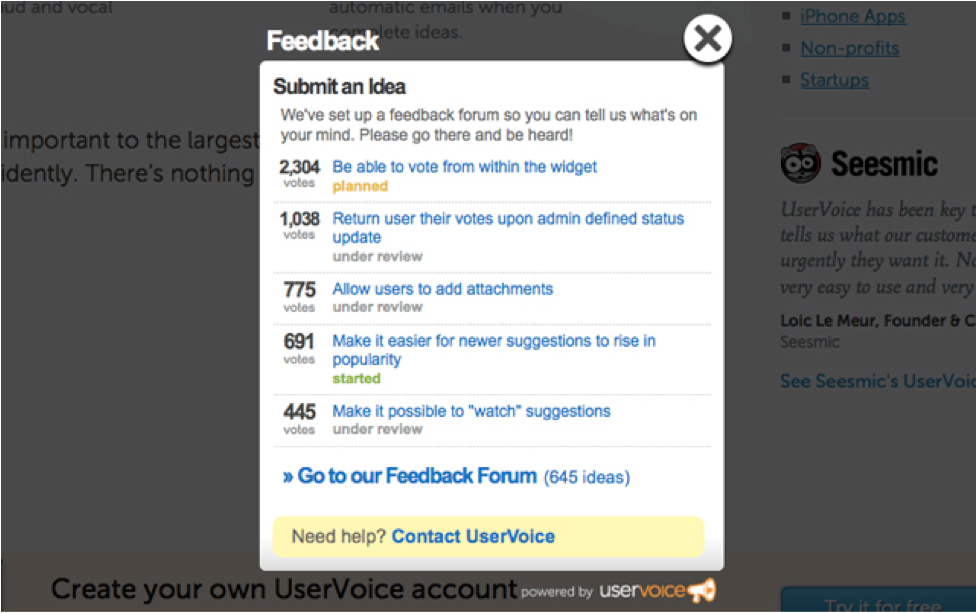 UserVoice creates a simple forum for your users to submit and vote on feedback. Your customers can access the forum via a widget embedded on your website or via a dedicated forum page. Customers submit ideas, issues or suggestions, and other users can vote these ideas up and down. This is helpful because it allows you to gauge which ideas your customers really want implemented and which problems are isolated issues versus widespread situations. UserVoice allows business owners to respond to issues and ideas.
Cost: The app offers plans from free to $289/month and up.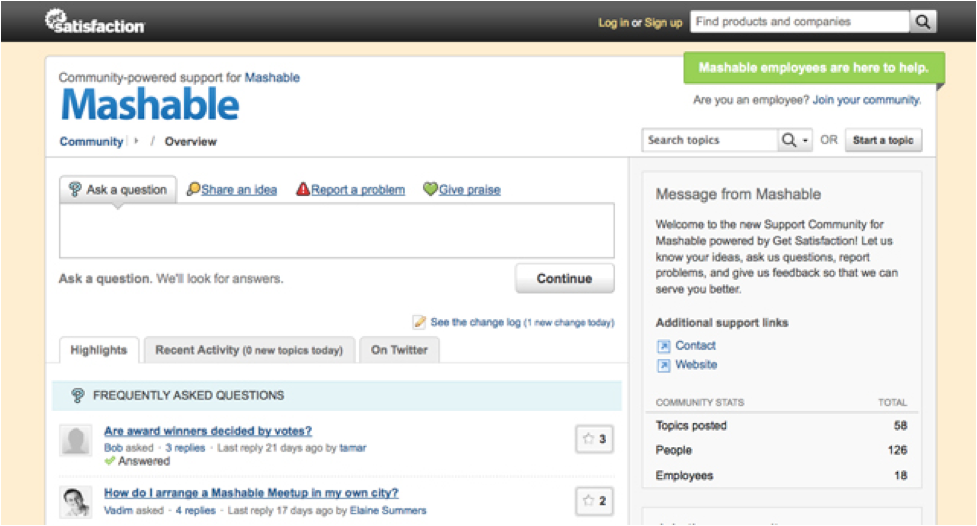 Get Satisfaction is a user support community, and unlike many of the apps and widgets on this list, customers are able to create a page for any company that isn't already in the system. That means there's a chance your company might already have a page.
For businesses, the app provides a forum-like help page for users to ask question, submit ideas, get support, and give props. Companies are able to designate multiple employees who can provide official answers to customer questions. They also offer a Facebook app, so you can integrate support directly into your Facebook Page.
Cost: Get Satisfaction offers plans ranging from free to $289/month and up.
Note: Mashable has an official support page on Get Satisfaction.
3. Feedbackify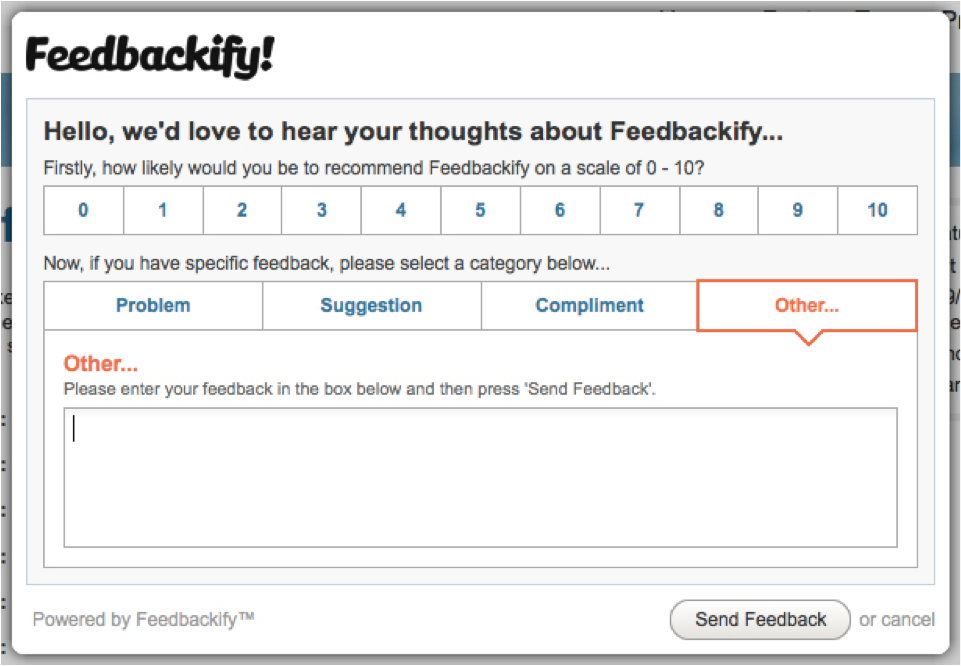 Feedbackify is a website widget that lets business owners ask specific questions of visitors (such as: "Rate our new design on a scale of 1 to 10"), and solicit feedback in customizable categories (such as: ideas, bug reports, or general comments). The app is focused strictly on gathering feedback -- there's no way for users to vote up ideas or any way for you to reply to feedback from within the app. You do, however, get plenty of information about the submitter, so you can reply to any feedback on your own time.
Cost: The site has just one plan for $19/month.


SuggestionBox doesn't bother with bug reports or customer service; it's focused on soliciting ideas and suggestions from your customers. Like Get Satisfaction, your customers can make a SuggestionBox page for your company without your permission, so one may already exist.
Want more on customer service? Check these out:
The app is fairly straightforward: users submit ideas, other users can vote them up. Once a business has claimed its SuggestionBox, business owners can respond to suggestions or mark them as "Coming Soon" or "Implemented."
Cost: SuggestionBox pricing starts at $49.50/month.
5. Kampyle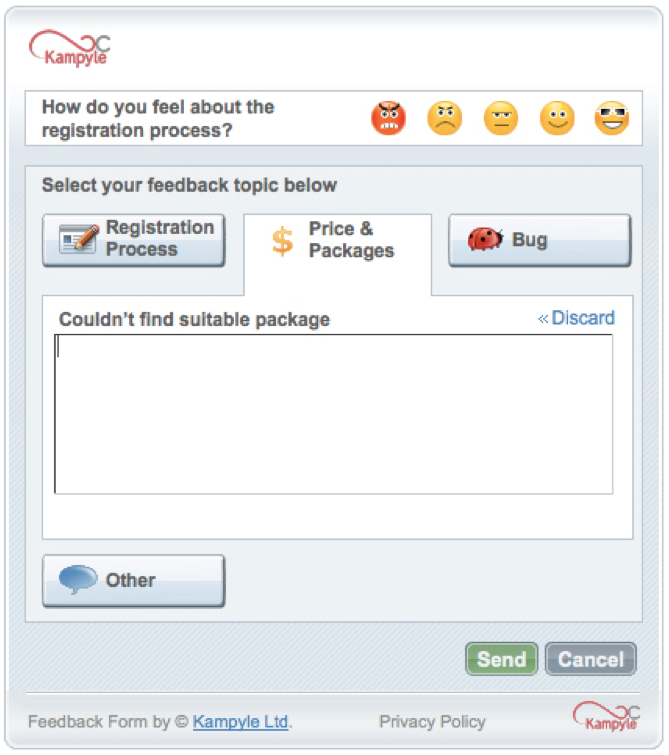 Kampyle is a feedback widget that, like Feedbackify, allows business owners to ask pointed questions. Unlike Feedbackify, Kampyle offers utilities to converse with customers from within the app via a built-in response system, as well as an automatic system that sends customers relevant responses based on the type of feedback they leave.
One of Kampyle's strongest points is its analytics tools. The app integrates with Google Analytics, Omniture, and Nedstate, which offers business owners better insight into how customers are interacting with a website. Kampyle also integrates with Salesforce.com for customer relationship management.
Cost: Kampyle offers pricing for websites ranging from free to $499/month.
6. OpinionLab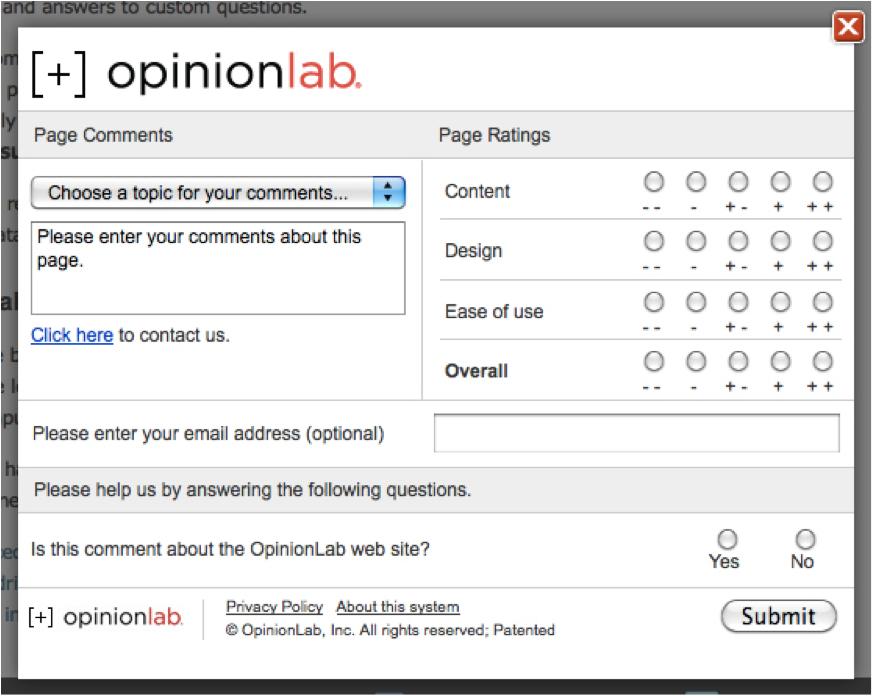 OpinionLab offers a suite of tools for gathering customer feedback from websites, mobile, social media, e-mail, and even in brick-and-mortar stores (from a store kiosk or mobile comment card app). The app offers a widget that can gather comprehensive feedback -- from multiple choice questions to open response areas -- and a number of different ways to solicit feedback (from e-mail invitations to opt-in buttons). Information is also gathered about the customers that are leaving feedback, (such as their browser, operating system, time on site, referring page, etc.) and once feedback is collected it is algorithmically analyzed and sorted.
OpinionLab also offers solutions for monitoring social media for feedback your customers are leaving via other channels.
Cost: Pricing varies.
7. CrowdSound


In practice, CrowdSound feels a lot like UserVoice. Customers click on your feedback widget where they can make suggestions (which can be bucketed in a category, left anonymously ,or made private), or they can vote up or down suggestions from other users. Users can also leave comments on feedback (and vote comments up and down).
Site owners can moderate, organize, and respond to feedback from CrowdSound's backend.
Cost: CrowdSound pricing ranges from free to $10/month and up.
8. IdeaScale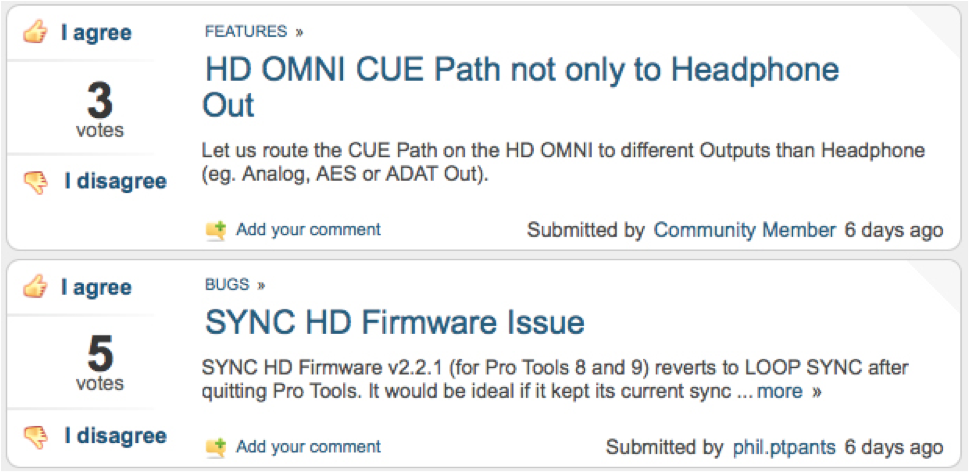 IdeaScale offers a service for businesses to create branded customer suggestion communities, such as this one for Avid Pro Tools. These communities work more or less like the other idea-centric tools on this list: users submit an idea, other users can then discuss and vote on the idea (up or down). The most well-liked ideas bubble up to the top and business owners can respond to them or mark them as in review, in progress, or completed.
Cost: IdeaScale is priced from free to $99/month.
9. UserEcho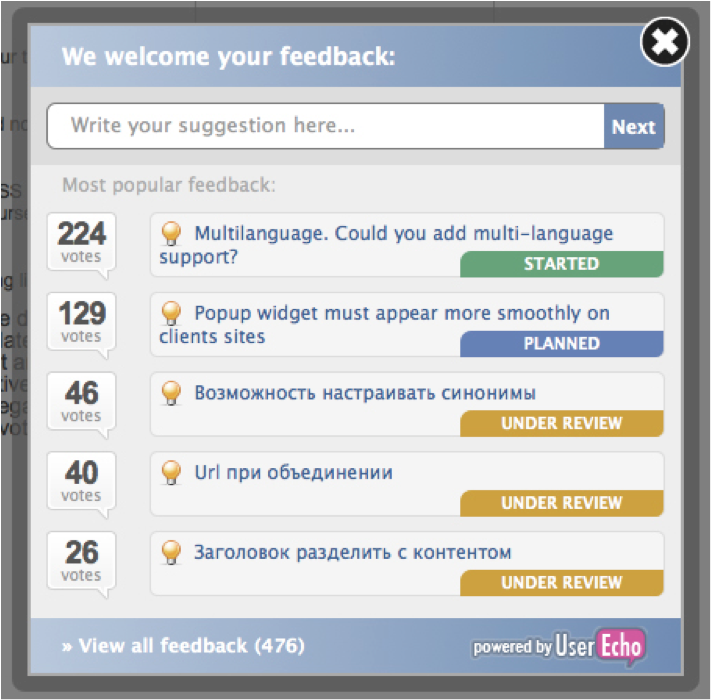 UserEcho is another straightforward feedback widget option. The app creates business communities -- accessible via an embeddable widget -- where customers can leave feedback and comment or vote on ideas or issues. Business owners can categorize feedback by tag, respond to it, or broadcast the status of a suggestion. UserEcho allows multiple staff members to respond to feedback and allows users to log in via accounts they already have, such as Facebook or Twitter.
Cost: UserEcho has plans available running from free to $59/month.
Image credit: 
Kenishirotie