Is 2013 the year you will finally launch that brilliant new business idea?
It's a good time to start—in fact, never before has it been easier or cheaper to build your own Web-based business. Technology has come a long way in the last few years in making tools for building sites more accessible to everyone (not just technologists).
Here are five easy ways to get a head start:
1. Map your "lean canvas," not your business plan. Don't waste time writing multi-paged business plans that are just layer upon layer of hypotheses based on market research. Experienced entrepreneurs know the secret to success lies in execution rather than extensive planning. So instead, invest your initial planning in a Lean Canvas: a succinct approach to proving hypotheses about your business.
2. Pick a great domain name. The domain name of your site should be memorable and preferably have a dotcom. That means there are likely slim pickings, so you may have to pick the name of your site based on what domain is available. LeanDomainSearch is the perfect tool to figure this out. Just enter a word you like, and its search engine will comb the Web for available dotcom combinations.
3. Find a developer to build your website. A great website takes a great developer who will help you build exactly what you want. Although you could outsource your site, in my experience, it's better to hire someone you trust and can collaborate with directly—particularly if you're building an e-commerce site. If you don't have a referral or a developer in mind, check out matchist—it's a service my co-founder and I built specifically to bring together entrepreneurs and top U.S.-based freelance developers. The site helps you understand what technologies and skills are needed to build what you're looking for so you can find the right developer to make that dream a reality.
4. Put up a landing page ASAP. While your site is getting built, start building buzz (and collecting data) by putting up a landing page. New sites like LaunchRock make this super easy. You can start gathering email addresses for people interested in learning about your site, and you'll get a head start on marketing.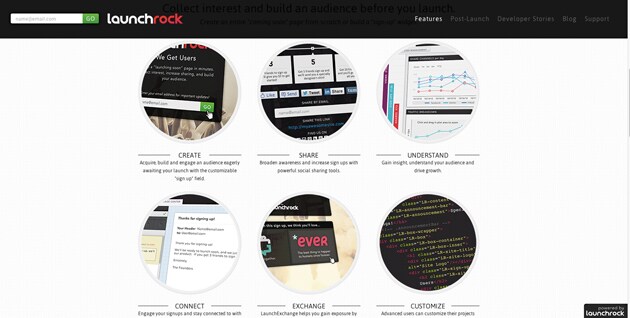 5. Start testing—and keep learning. Get up to date on Lean Startup Methodology, an approach to building a business (pioneered by Eric Ries) that involves making and testing hypotheses to figure out exactly what combination of product and marketing will make your business successful. And read blogs like KISSMetrics, Startup Lessons Learned and Practice Trumps Theory to learn how other online businesses are paving their way quickly and cheaply.
Don't spend yet another year dreaming of starting a business—instead, take these steps to get started as early as possible. The quicker you start learning, testing and collecting data, the quicker you will build that successful venture you've been dreaming of.

Read more articles on starting a business. 
Tim Jahn is the co-founder of matchist, a curated service for freelance developers to connect with quality clients and projects. He's also the co-founder of Entrepreneurs Unpluggd, an events and media company that helps entrepreneurs move their businesses forward. As an active member of the Chicago tech community, Tim has made his mark interviewing hundreds of entrepreneurs from all over the world. He is also a member of the Young Entrepreneur Council (YEC), an invite-only organization comprised of the world's most promising young entrepreneurs.

Photo: iStockphoto