Ask barber Dennis "Denny Moe" Mitchell how he found his life's calling at age 14, and he's already got the answer queued up and ready to go. It's a story you can tell the 48-year-old has told many times before, but that it's also one he still delights in telling.
"I was in ROTC in high school," he begins, turning his clippers off and inspecting his latest customer's beard for symmetry. "And I was on my way to an officer's ball. I don't remember what I was looking for, but I found it. I found a pair of clippers in my mother's drawer and took 'em out and cut my hair. When I went to the ball, everybody was complimenting me like, 'Nice cut!'"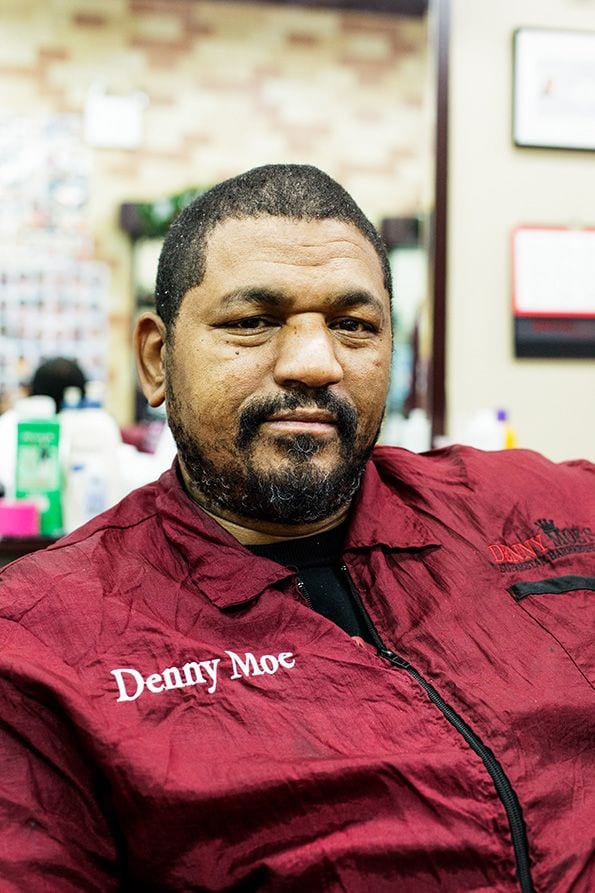 "A friend of mine saw me and said, 'Yo, who cut your hair?'" he continues. "He said, 'Why don't you cut me and my son's hair? If you can cut yours that well, you can cut ours even better.'"
And just like that, Denny Moe—so named because "everybody who was big time had two names"—became a go-to barber in his North Carolina community with an enviable clientele of devoted customers. He went door-to-door trimming and lined up friends and neighbors before a local barbershop scooped him up to work for them. After a rival business called the barber inspector on Denny Moe, he paid the $75 fine and eventually returned home to New York City, where, thanks to his aunt Margret Ann Hall's urging, he got his barber's license at 16 and started working, legally this time, in a barbershop.
"I was actually afraid; I didn't know what I was going to do when I got out of school," he says. "I didn't realize I had it in my hand the entire time. There was no turning back."
Decades later, after doing hair and security on nationwide tours for R&B singers like Keith Sweat and Bobby Brown and repeatedly hearing, "When are you going to open a shop?" Denny Moe decided to do just that. He saved up $100,000 from working with celebrity and everyday clients, and opened Denny Moe's Superstar Barbershop on January 14, 2006. Almost nine years later, the shop is now regularly considered one of the best barbershops in Harlem and in New York City. (It was recently featured in an episode of ABC News' hidden camera program What Would You Do?; according to Denny Moe, more than 30 million viewers tuned in.)
The black barbershop's history, much like Denny Moe's own story, is one of serendipity. Many see the black barbershop as a space for grooming and community-building discussions, but overlook its role as a source of economic empowerment in American history, says Quincy T. Mills, a history professor at Vassar College and author of Cutting Along the Color Line: Black Barbers and Barber Shops in America. "We have to account for the marketplace economy inside the barbershop along [with it being] the space where men can come and talk," Mills explains. "It's because of the entrepreneur's drive that we get the barbershop space."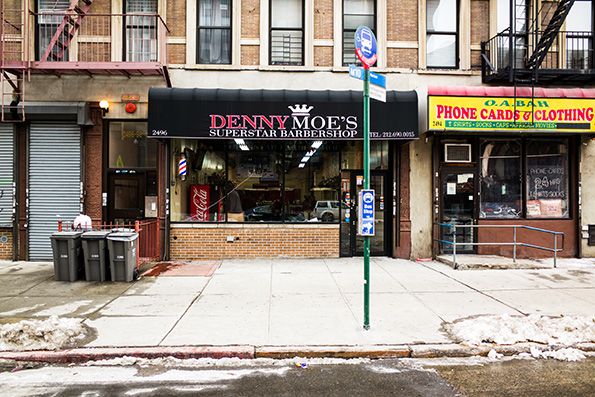 The black barbershop and beauty shop's origins can be traced back to the early 18th century, when enslaved men and women acting as plantation barbers and hairstylists would groom fellow slaves on Sunday mornings to get ready for Sunday church services, the only leisure time they had for proper grooming, according to Mills. Early barbershops were essentially the original black-owned businesses; free and enslaved African-Americans hired out by their masters "seized the opportunity to become entrepreneurs in an industry void of white competition, with minimal startup costs and significant profit potential," he writes.
However, unlike the Denny Moes of today, many of these early shops were for white patrons only.
"These barbers would turn away black customers who were trying to get haircuts," Mills says, "mostly because their white customers did not want to be shaved next to a black man being shaved—that spoke too much of racial equality to them. These barbers grew quite wealthy shaving white men ... and they were key figures in the antislavery movement. They would often help fugitive slaves who were passing through. Many of those things happened after the shop closed."
A turning point occurred in the late 1890s, due to some politicking from white entrepreneurs, Mills explains. "The White Barbers Union, which formed in 1870, started lobbying state legislators for licensing laws which would require anyone seeking to be a barber to go to barber colleges," he says. "It was one way to create some exclusivity to the trade, but the research shows it was one way for whites to compete with blacks for [the] lucrative white male market. That pushed black barbers into black neighborhoods."
From there, black barbershops evolved to become diverse and virtually unshakable anchor businesses in the community, providing a space for entertainment and safety for those in the neighborhood, and a space for economic opportunity for other entrepreneurs: barbers who rent out chairs in the shop and street vendors who stop by knowing there's always a waiting customer base to pitch their wares to.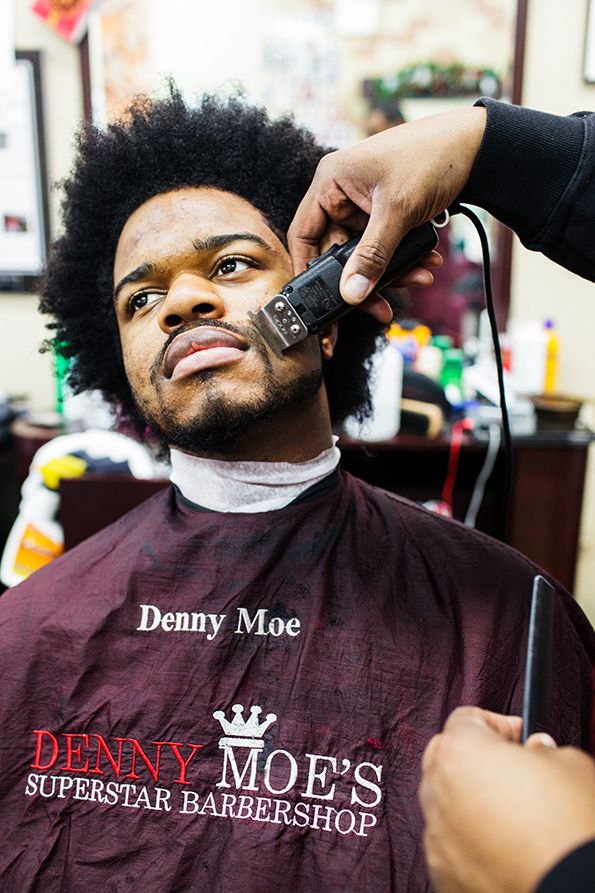 Denny Moe squints his eyes a bit, and moves his head from side to side to inspect his handiwork. The young man sitting in his chair makes the same motion as well. 
"You know how you did it last time I was here?" he asks, taking a look at the right then left side of his face in the mirror.
"Real skinny?"
"Yeah," the young man says, settling back into his chair. "I'm trying to look sleek."
Click. The clippers whirr again. "I got you."
OPEN Forum visited Denny Moe's Superstar Barbershop the Friday before Super Bowl Sunday. Here are some scenes from the shop.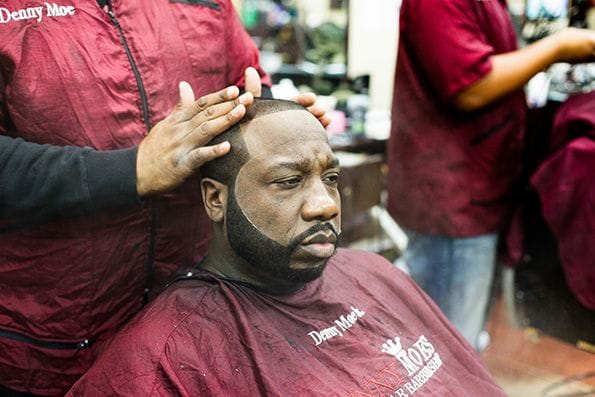 "I've been going [to Denny Moe] since I was 15 years old, and I'm 45," says Teddy "Ruxpin" Parker, the owner and operator of entertainment management company, Ruxpin Entertainment (Denny Moe gave Parker his nickname, one of his tricks to remember customer names). "He's the best barber in the world, hands down. He always tells me, 'I can't make you look good, but I can make you good to look at.' He said that to me when I was 15 years old, first time I got in his chair. And that was it for me."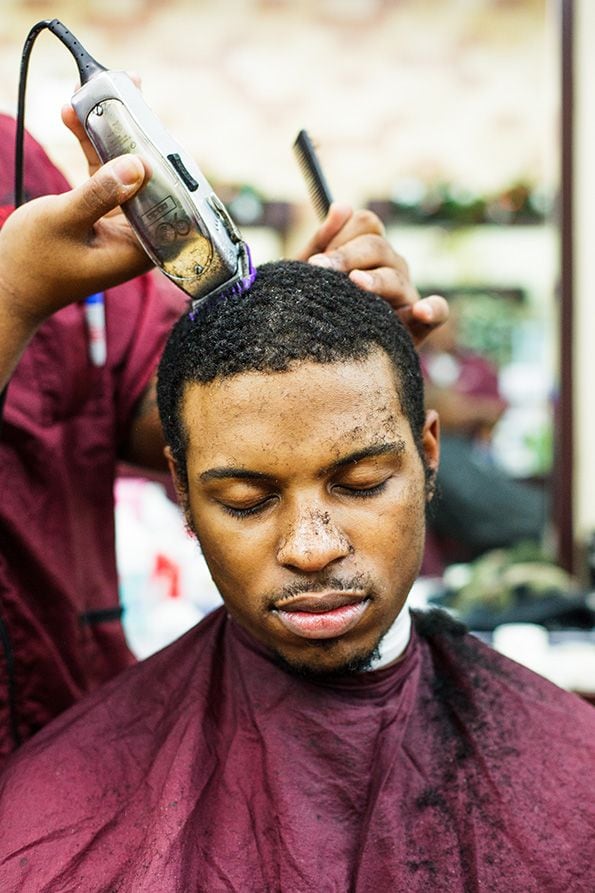 "The cool thing about being a barber is that every haircut is different," says Denny Moe, Jr., whose chair is right next to his father's. "I can cut the same person over and over again, but it will never come out looking exactly the same. It's the task of getting it where you need it to be."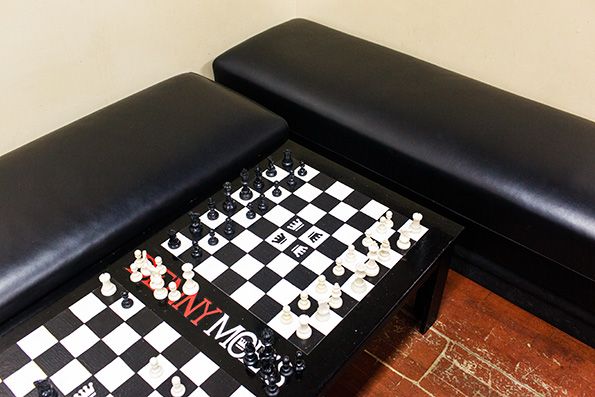 Due to the success of his barbershop and his belief in giving back, Denny Moe is a pillar in the community. He has someone to come in and teach children how to play chess, offers a scholarship program and health screenings, and hosts Cutting for a Cure, a 48-hour haircut-a-thon with 12 barbers from around the world to raise awareness about health disparities in underserved community, where the community can be screened for treatable and curable diseases.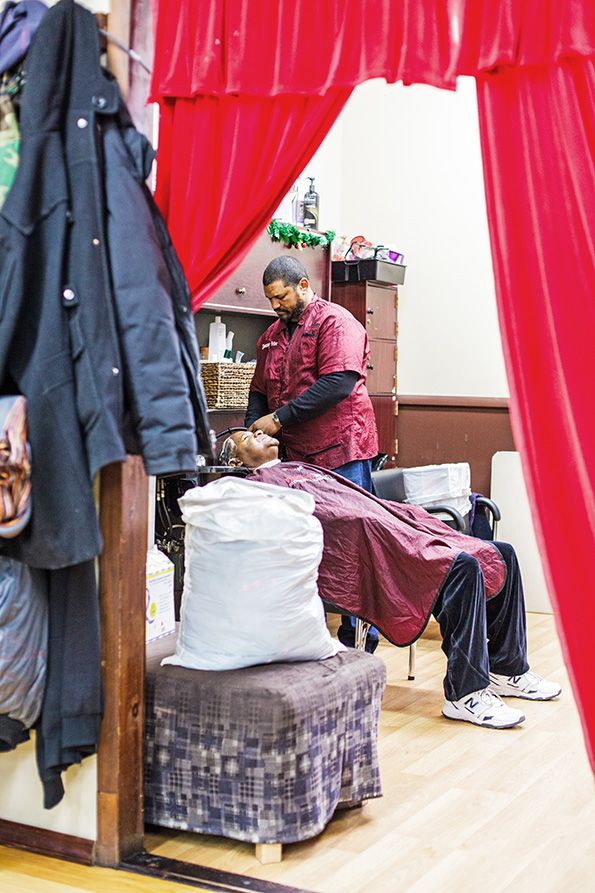 Men and women from all walks of life come by the store to get a variety of treatments done, from shaves to hair color.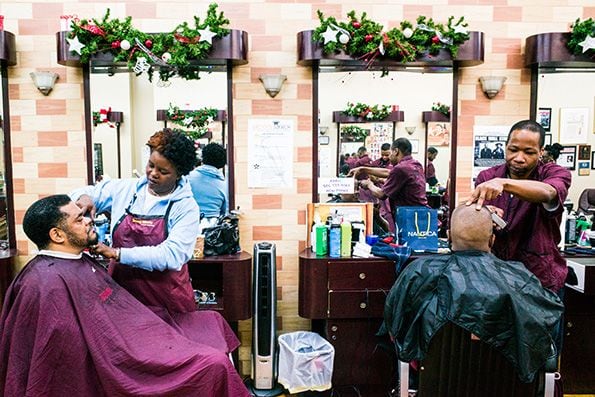 "I think it's a place where men can come and relax and wind down. You know, do their man thing," says Carol McClendon, who has been cutting hair since the mid '90s. "I love the conversations that we have, because we talk about a variety of different topics. It's a home. It's a hangout. And we always make everyone feel welcome."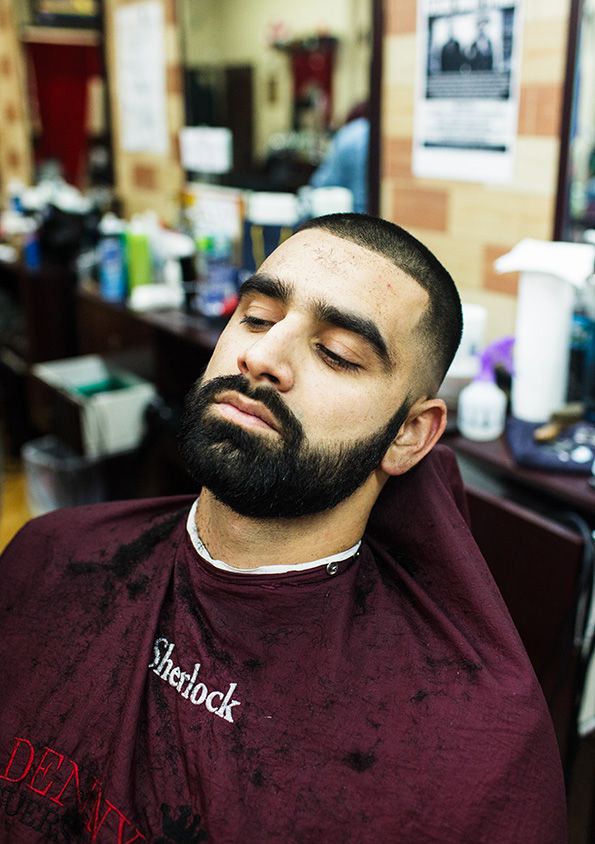 Preet Nagra, 26, of Vancouver, Canada, first heard about Denny Moe's from the shop's viral appearance on What Would You Do? He visited the shop while in town for the Super Bowl for a haircut and beard trim. Due to the diversification in Harlem, Denny Moe's clientele includes many more nonblack tourists and newcomers to the neighborhood from countries like Portugal, New Zealand, France and Denmark.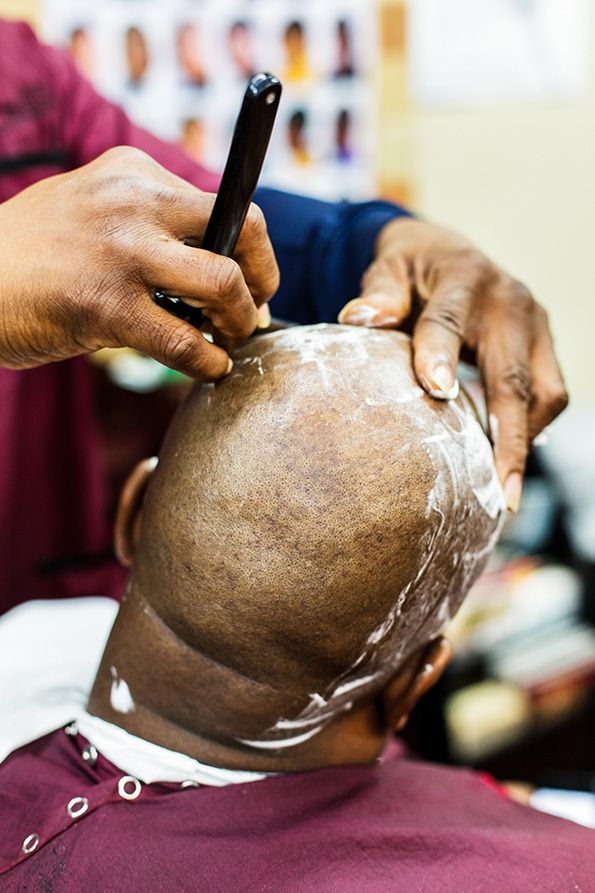 Denny Moe calls barbering a recession-proof business, saying his shop weathered the economic crisis well. "I had a lot of people affected, but it didn't affect me because you got to get a haircut if you're going to a job or going to an interview."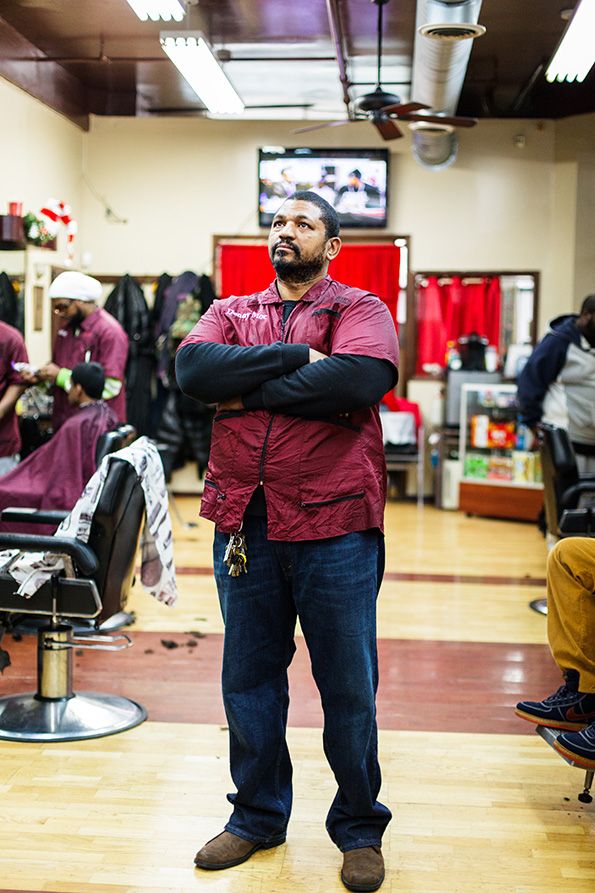 "Once I turned these clippers on, I've never turned back and I've never wanted for anything," Denny Moe says. "The bottom line is once people realize they can get a good haircut, what else is there?"
Read more about businesses in Harlem.
Photos by Jordan Baumgarten