SkuVault is a fast-growing startup in a hot field. The five-year-old company's cloud-based inventory- and warehouse-management software is used by hundreds of online retailers looking to optimize their operations. Buoyed by the explosive growth in e-commerce, SkuVault has more than doubled its sales every year. The software is sold in 326 cities, spanning five continents.
But SkuVault is hardly the typical Silicon Valley startup. For one thing, it's not backed by oodles of venture capital money. Instead, the company was bootstrapped from the beginning and has relied on product sales and credit to fund its growth. For another, it's based not in the high-tech enclaves of Palo Alto or San Francisco—but in Louisville, Kentucky.
"That we're in Kentucky surprises a lot of people," says Andy Eastes, SkuVault's co-founder and CEO. "But our clients love it."
Eastes, a Louisville native, got the e-commerce bug early on. As a kid, he and his friend Matt Kubancik began scouring their parents' and friends' basements and attics for unwanted items they could sell online. When they were old enough to drive, they would make the rounds of yard sales on weekend mornings to scout for more items to sell. That led them to cut-rate outlets and warehouses, and they eventually began selling shoes online, with the help of a mentor they had met along the way.
In 2006, Eastes put his online selling on hold and enrolled in University of Louisville to study industrial engineering. One of his coop jobs was an internship with a company to develop an inventory-management system that would replace their decidedly low-tech system of yellow sticky notes. In his senior year of college, Kubancik called. Street Moda, the online shoe retailer that Kubancik was running, was losing orders because items were often out of stock. Could Eastes help him find and implement an inventory management system?
Eastes jumped at the challenge and the chance to help his old friend. He researched the inventory-management systems on the market, but couldn't find anything suitable. So, once again, he developed his own, with the help of Slav Ivanyuk, a developer he and Kubancik brought on. After that project was over, Eastes and Ivanyuk realized there was a bigger market for their software, and decided to retool it, so they could market to a broader range of companies.
The pair spent two years designing and building the software, making sure it was cloud-based and built on the latest technology for maximum flexibility. They juggled consulting jobs on the side to support themselves while they worked on the software. The new program, called SkuVault, was released in December 2012. Eastes found a ready market among online retailers for an inventory-management system that was designed from scratch for their unique needs and the modern realities of e-commerce. "We want to grow with the market and help e-tailers realize what they can do," Eastes says.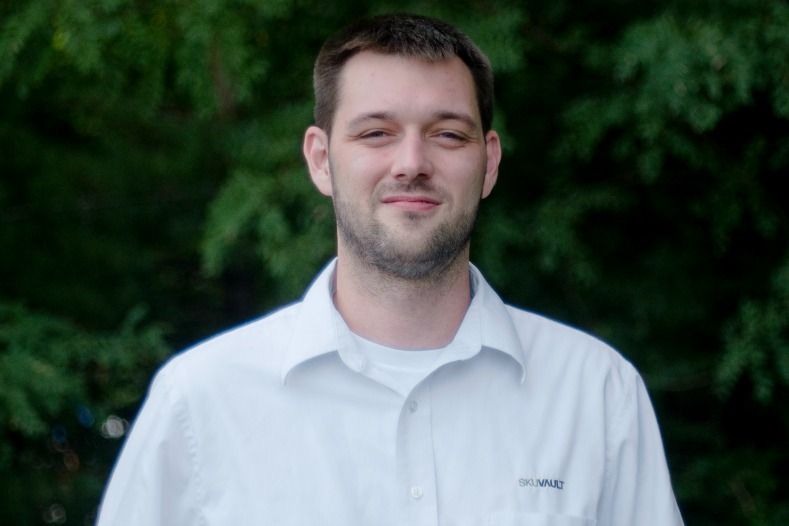 SkuVault co-founder and CEO Andy Eastes
According to a recent study from retail analyst firm IHL Group, retailers around the world lose $1.75 trillion annually due to over-stocking, under-stocking and returns due to mistakes. SkuVault helps them track and improve key performance metrics—such as gross margins per stock-keeping unit (SKU) and average "pick" times—to cut down on costs and lost sales. On average, SkuVault has helped clients decrease their out-of-stock instances by tenfold, reduce labor costs by 30 percent, and reduce fulfillment time by 87 percent, according to Eastes.
Today, SkuVault has more than 500 customers. And as more retailers look to sell directly to consumers, that number is expected to keep rising. To manage growth, Eastes restructures his departments every six months or so to adapt to changing conditions. For example, the services department was recently split into three sub-departments focusing on quality assurance, tier 1 customer support and training new customers. But mainly, he says, he relies on his staff of 35 employees to keep the company humming. "No matter what the business is, whether you're selling shoes or software, you are only going to be successful if you have good people," he explains. "Our team is what makes the growth possible."
Finding people that know inventory management as well as e-commerce has sometimes been a challenge, especially in a smaller city like Louisville. For specialized engineering talent, the company sometimes relies on remote workers. But most of the team, including now-CTO Ivanyuk, who moved to Louisville from Ukraine when he was 15, are from the area.
Though it may surprise some people, Louisville in actually a perfect location for SkuVault. It's a shipping and logistics hub that hosts giant warehouses for some of the largest e-commerce platforms. "Instead of having engineers a stone's throw in every direction, we have warehouses a stone's throw in every direction," Eastes says. "A number of our clients are within a mile of our company."
That comes in handy. Eastes likes to send his engineers to clients' warehouses for a day to use the software they developed in a real world setting, and put themselves in their customers' shoes. That practice has resulted in small but tangible improvements that makes the product much easier to use.
In the meantime, Louisville is becoming a tech hub in its own right. It's close to several universities with well-regarded engineering programs (including University of Louisville), and a new high-speed fiber network is being laid. And it's more affordable than, say, San Francisco, which helps attract employees.
"There's a tremendously passionate tech and startup community here, and I feel that SkuVault is bolstered by that energy," Eastes says. "For my team, it's an amazing place to learn, network and experiment."
Photos from top: Shutterstock, Courtesy of SkuVault