Starting a business could be considered something of a high-wire act. For Shane Geraghty and Dave Durante, co-owners of Power Monkey Fitness, working without a net is a literal way of life. Both men are gymnasts, and they started their company to help everyday gym rats use the fundamentals of their beloved sport through equipment, camps, clinics and private workouts.
Geraghty, 42, was a two-time captain of the Syracuse University gymnastics team. After graduating with a degree in exercise physiology, his eclectic career path saw him become a stuntman in popular action movies and an acrobat performing aerial and anti-gravity stunts. In 2002, he co-founded Acroback, a performance-design company that produces large-scale events all over the world, such as dunking off of mini-trampolines at halftime shows and jumping stilt performers at awards shows. Durante, 35, also built his life around the sport. At Stanford, he was a national champion and served as an alternate on the 2008 Olympic team in Beijing. Following China, he became an assistant gymnastics coach at his alma mater, helping Stanford win the 2009 National Championship. Afterward, Durante decided to take some time off in Italy. Through gymnastics contacts all over the globe, he met the right people, and began producing performances at glamorous spots like the Venice Contemporary Art Festival, and doing stuntwork of his own.
Their mutual interests led to a 2010 dinner, where they discussed this burgeoning new sport called CrossFit—a core- and strength-conditioning program, developed by the company of the same name, that uses varied high-intensity movements. Geraghty's brother Colin (now a company consultant) was already teaching it and soon Durante would be as well. In 2014, International Health, Racquet & Sportsclub Association reported overall U.S. revenue is up 7.4% to $24.2 billion, and the growth of CrossFit affiliates has been a meteoric part of it. Today, there are more than 10,000 CrossFit affiliated gyms—called "boxes" by its disciples—worldwide. In July, the CrossFit Games was broadcast on television and the top male and female contestants walked away with more than $280,000 each. CrossFit is booming, but both Geraghty and Durante think CrossFit could be making better use of gymnastic exercises—a cornerstone of their business.
"We want to bridge the gap between the CrossFit workouts being done now and gymnastics, to introduce precision techniques to a demographic who've forgotten what it's like to do a handstand in the living room," Durante says.
The initial idea for the company was to design, develop and manufacture gymnastics equipment. Geraghty and Durante created the "Ring Thing," a gymnastics training tool that uses a pulley system to reduce a person's body weight by 50 percent, allowing for more elaborate exercises. Users could hang it in the garage and work their way to a "muscle up," that combination pullup and dip that seems somehow inhumane. The plan was to have them made by a third party, but a Florida-based manufacturer that made marine canvas brought them aboard as a partners in a new venture, Power Monkey Fitness. They spent the next year and a half tweaking, testing and perfecting a prototype.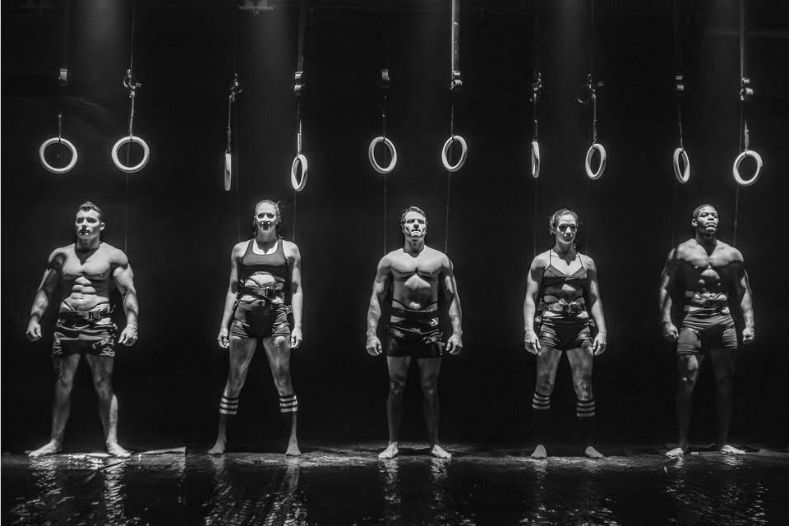 Power Monkey Fitness co-founder Dave Durante (center) with members of the Power Monkey team.
The Ring Thing debuted at the 2012 CrossFit Games and sold well, but it didn't take long for both Geraghty and Durante to realize their dream wasn't to be manufacturers. Mastering the parallel bars was the goal, not building them. They saw more potential in physical activity, in healthy lifestyles, than solely in equipment. So, they negotiated a fee with their partners in Power Monkey Fitness, put in personal money and bought the company, name included. "We asked each other, 'Who are we?' We're gymnasts who want Power Monkey Fitness to be the main resource for proper technique, so we've made that the centerpiece of our company," Geraghty says.
Power Monkey Fitness still sells Ring Things, Parallel Bars, and Stall Bars on its website—a third party now manufacturers and ships—but going forward the emphasis will be on education, events, workouts and classes. Geraghty and Durante first got people off the couch and onto the pommel horse in 2012, when they started Power Monkey Camp, a week-long fitness vacation on a 150-acre facility in Crossville, Tennessee, owned by former Olympians John Macready and John Roethlisberger. For $1,500, 100 participants of all skill levels get to live their gymnastic dreams, while learning about weightlifting, ropes courses, nutrition, paddle boarding, jump roping and trampolining. There's also more traditional camp stuff like laser tag, cornhole, bonfires and beer. "The biggest component is fun," Durante says of the biannual camp, which will hold its next session in October.
This October will also see the debut of personalized workouts called "Monkey Method." Geraghty and Durante already have more than 100 videos on their website, with another 300 in the editing stage, and soon monthly subscribers will receive their own fitness routines with embedded clips showcasing proper technique and coaching cues. There will be three levels, ranging from $30 to $55, depending on how hardcore the subscriber is. And Geraghty and Durante aren't out to just collect recurring revenue—they really want you to do the exercises. The videos will be time-sensitive, running on a six-week cycle, then will be taken down. This is both a way for the company to protect its intellectual property and an incentive to get users sweating. If they put off working out for too long, it'll vanish, and those love handles will still be there.
"My goal is to give people the foundational movements for gymnastics, so they can understand how amazing the sport is," Durante says. "Kids love doing handsprings in the backyard, and there's no reason adults can't get back to that place."
Like a CrossFit newbie, the founders are trying to get their legs under them to become the source for everyday gymnastics for all. They keep things lean and mean: There are only four employees, one of them being Durante's wife, Sadie, who is a trained aerialist/dancer and a CrossFit Level 1 trainer. Every other coach is a hired gun.
At this point, the company is still small, but growing. Geraghty expects to end the year with $400,000 in revenue and is projecting it to double next year, with growth to come from the $400 weekend clinics they're rolling out. These will be held at CrossFit facilities Power Monkey Fitness partners up with, because as of now, they don't have a gym of their own. With Power Monkey Fitness still in its early days, its owners maintain their day jobs: Geraghty is still a stuntman and consultant, while Durante works with the U.S. Olympic Committee and is the athlete representative for USA Gymnastics. 
They have long-term vision, though. One future goal is to bring basic gymnastics-infused workouts to the masses—the kind of people strictly looking to drop 10 pounds, and even those who need to lose a significant amount of weight.
"I've seen obese people change the entire course of their lives," Durante says. "We want Power Monkey Fitness to help create a sense of community. We want to help people feel better about themselves."
Photos: Shane Geraghty / courtesy of Power Monkey Fitness
SHANE GERAGHTY AND DAVE DURANTE / POWER MONKEY FITNESS / MEMBER SINCE 04