As a self-described hippie, Helen Ficalora is an unlikely maker of pretty, sparkly things. "I wear flip-flops and no make-up and I don't blow-dry my hair," the longtime jewelry designer jokes.
Yet over the past 16 years, the Long Island, New York, native has managed to capture a small piece of the multibillion-dollar jewelry market, with six stores across the country (including tony locations like Beverly Hills, California, and Bridgehampton, New York) and a celebrity clientele.
Like many small brick-and-mortar retailers, however, Ficalora wears many hats and e-commerce for years proved elusive—the thought of building a site and managing logistics, not to mention photographing every earring and chain in her line, was daunting. Finally, last fall, one of her sons said to her, "Mom, this is ridiculous. You are going to kill your business. Get online."
So she did. And the result has been a successful e-commerce site, which is now driving her eponymous brand's growth—with online orders now outpacing store sales. "I had nothing on the website, but I had this giant inventory," she says. "It is doing fabulous."
Hippies, she says, like to wear jewelry, too, and her designs, including her bestselling ABC Charms, are sort of a sophisticated take on the traditional love bead. She likes to use metals—gold, white gold, pink gold or silver—with initials or words like "Mom" stamped in diamonds. Charms are priced between $50 and $595. "It's sort of 'feminine organic,'" she says. "It's a rich aesthetic, but with simplicity. You can still wear it with jeans."
That simplicity comes from spending summers as a child in Montauk, a fishing village on Long Island's East End known for its "anti-Hamptons" vibe. Ficalora's dad was a high school math teacher in Hauppauge, New York—about 70 miles away, in suburban Long Island—where the family spent winters. In the summer, they'd run the family business, a seaside motel in Montauk called The Breakers. "Growing up in the hospitality business was a factor in my success," says Ficalora, who, as a result, had first-hand business experience unlike many artists. "That differentiates me from other people."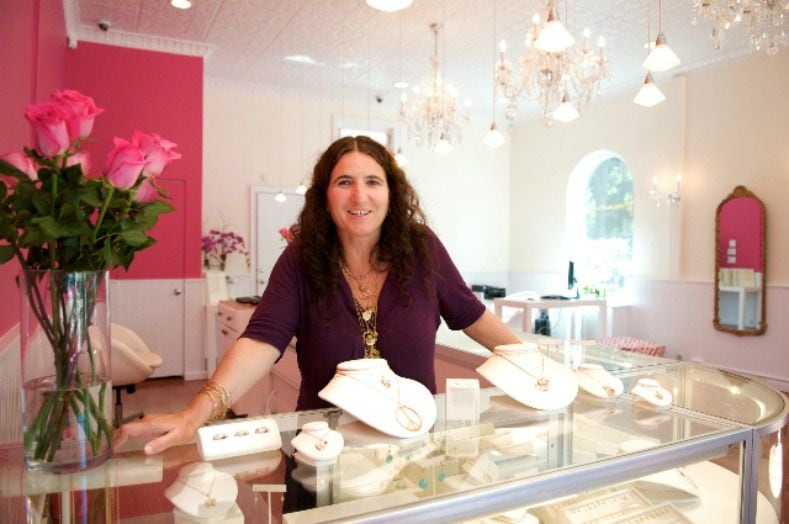 Helen Ficalora
As an adult, Ficalora married, moved to the West Coast—Olympia, Washington, where her company is now based—and became a full-time mom. But in the mid-1990s, her husband, Robert, was stricken with multiple sclerosis and became too ill to continue his engineering job. During the summers, she came back to Montauk with her husband and sons to manage the family resort and make ends meet. A longtime amateur jewelry maker (she learned to make jewelry while in high school), Ficalora began selling her handmade necklaces and rings at the motel for extra income.
"It was pretty low-key," Ficalora recalls. "I didn't have staff and was doing it myself. But people starting coming." Among the resort's clientele were people in New York's fashion industry, who took a liking to Ficalora's creations and helped her get press. "I'd get my bag of jewelry, get on the Jitney [a local bus service to and from Manhattan] and go to the offices of the magazines," Ficalora recalls. "I'd go up and down the elevator at Conde Nast." At night, she'd stay on a friend's couch. She was written up in Mademoiselle and People and featured on Martha Stewart's TV show.
By 2005, Ficalora had grown a loyal customer base and added a toll-free number to her website for mail orders. With sales in the high six figures, she was ready to open her first boutique, in New York's trendy SoHo neighborhood. Traditionally, most jewelry designers work with wholesale representatives to get their products into established jewelry stores or department stores. Ficalora didn't want to go that route, instead choosing to have her own storefront. "I didn't like being rejected by reps," she says. "I'm too sensitive. The best way for me to do it was just sell to people, and keep it personal." She invested roughly $100,000 in the new storefront, spending about six months retrofitting the space herself. "I was good at designing on a dime," she says.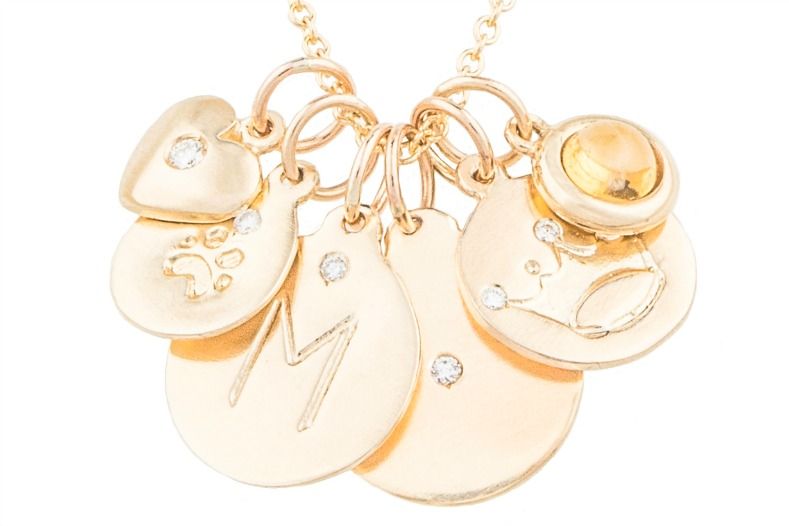 Thanks to her thriving mail-order business, fueled by the press attention and a guerilla postcard-mailing campaign to past customers leading up to holidays, she already knew where in the country her best clients lived—so year after year, she opened stores in cities near them: Chicago, Dallas, Beverly Hills, Bridgehampton and Palm Beach, Florida (where she now spends her winters). She has opened each store using cash flow from the business. "I have no investors," she explains. "I don't have a personal fortune. I have a retired husband, living simply."
One thing Ficalora worried about, as she opened more stores: How to keep the intimate feel, while scaling her boutique. She consulted with a business coach to define her mission statement—"Helen Ficalora's signature designs inspire beauty, love and peace"—and worked with packaging experts to establish her trademark pinkish-purple color, consistently featured on store awnings and gift boxes. Actually, "It's magenta, from the old-school Crayola crayon," she says. "It's my favorite color."
The journey hasn't been without its difficulties. Ficalora says she remains a control freak, which is difficult when her locations are scattered across the country. She talks to her store managers twice a day, and each one sends her a daily report. She only hires employees who have been referred to her. When she has opened stores, she spends months in that location, training the manager on her procedures.
In the past, she traveled nearly every week to spend time at one of her locations, although she can't travel as much now because her husband's illness has gotten progressively worse. Caring for him remains her number-one challenge. "He's OK," she says. "He's a very smart man, with a lot to offer. My husband's illness is my blessing. Not that I am not a creative, resourceful person, but it really pushed me to be stronger, to take charge and to act on things." A few years back, she and her brother, Long Island politician Jay Schneiderman, hired a management company to tend to the Montauk motel, as a means of scaling back.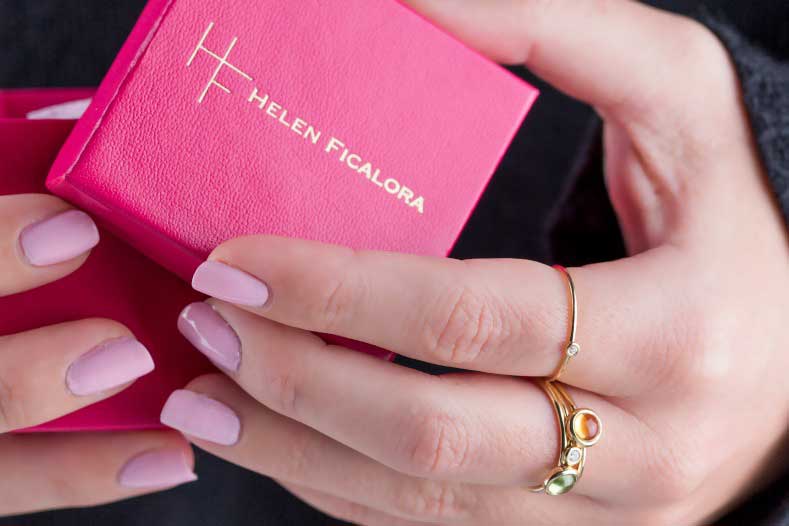 These days, Ficalora, 54, still makes jewelry, although she has teams in New York and Los Angeles that do small-scale manufacturing for her. She has about 30 employees and her two sons—Marley, 26, and Lennon, 28—helped build and design her new e-commerce site, which launched in November. In recent years, following the sales peak of the 2000s, business has leveled off in stores. "We're seeing all the growth now in the e-commerce part," she says, "and we're anticipating more."
Looking back—and forward—Ficalora says she is pleased she grew the business "organically and deliberately." Some entrepreneurs may have expanded more quickly, but that wasn't realistic for "a person raising a family and running another business," she says. "Maybe I've missed some opportunities. But I am comfortable with the speed I am growing at."
Photos from top: Courtesy of Helen Ficalora, Doug Young Photography / Courtesy of Helen Ficalora, Courtesy of Helen Ficalora (2)

HELEN FICALORA / HELEN FICALORA / MEMBER SINCE 01