Long before "going viral" meant spreading or growing fast online, business forecasters were borrowing formulas from epidemiology—the study of how diseases spread—to project the reach of a new product through a population. This became part of contagion theory, which dates back to French social psychologist Gustave Le Bon in his book called The Crowd: A Study of the Popular Mind published in 1895. The concept is simple: People spread ideas like germs spread disease, and the math is similar. If 100 people each convince (or infect) one other person per month, then that makes 200 people after the first month, 400 after the second and so forth. (I learned about the underlying math of contagion theory at Stanford Business School from Professor James March, who also covers it in his book An Introduction to Models in the Social Sciences.)
How Contagion Theory Works
According to contagion theory, as the population becomes more infected, the contagion factor slows down. So in a population of 10,000, it's only 199 instead of 200 after the second month, and it's only 394 instead of 400 in the second. That's because the math changes as the population is infected, so the likelihood of each person infecting others goes down. By the time half the population is half infected, it takes two infected people to infect one new one. 
Contagion theory has been used for years to help business owners forecast new products and trends. There are several assumptions involved. (You can see those numbers in the illustration below, with a simple business spreadsheet.)

The total potential market in this case is 10,000 people. This is an estimate, based on educated guessing. Try to estimate the equivalent for your new product or line of business. Maybe you're a restaurant and you're dealing with the reachable population of your local area plus tourists. Maybe you're planning a product that might be used by ophthalmologists or Subaru owners or left-handed golfers. You know your industry, so you know where to find estimates for total reachable market. Don't sweat the details. This is all educated guessing.
The contagion estimate shows up here in cell B8, as a simple 1.0. That's guesswork. As business owners, we might not be able to afford to do the research to really know this number. I've always used trial and error with this factor, filling numbers into the spreadsheet and deciding what looks realistic. I look at the line charts my model generates (which you'll see below) and try different values until I believe it's a useful estimate. In this case, for illustration purposes, I used a value of 1.
What customers say about my business is important. The rate at which my customers recommend me to others is essentially the contagion factor.
Row 2 shows total users at the beginning of each month. Row 3 shows new users convinced during the month. Row 4 shows total users at the end of the month. That is the sum of the beginning-of-month users plus new users. Row 5 shows the remaining non users at the end of the month. For this illustration, I assumed a launch event generated 100 initial users in the first month. From the second month on, all new users are from contagion.
The likelihood of a new user, shown in yellow, goes down over time as more people are already users and fewer are still around waiting to be convinced. So that number is 99 percent in the beginning when almost all of the population is untouched, but it goes down to 7.65 percent by October when most people are already users.
The row in green at the bottom shows total market penetration.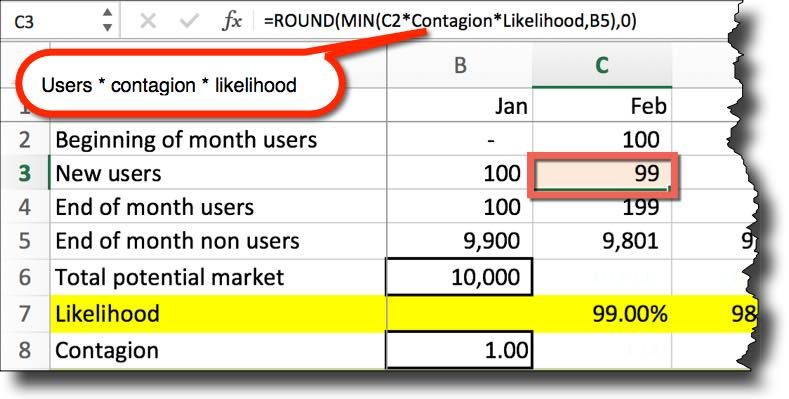 You can see the main contagion formula in the spreadsheet above. In cell C3, the spreadsheet multiplies the 100 users at the beginning of the month (in cell C2 above it) times the contagion factor in row 8 times the likelihood factor in row 7. The additional details in that formula are sophistications for spreadsheet purists. One rounds the result to whole people and the other prevents the model from going loopy when the contagion reaches the total population.
Contagion Illustrated
The numbers above produce the S-curve that professional forecasters like to see as a natural phenomenon when a disease or new idea or product spreads through a population. The growth is slow in the beginning, then takes off, then slows as market penetration increases.That shows here in the line chart I drew from row 4 above.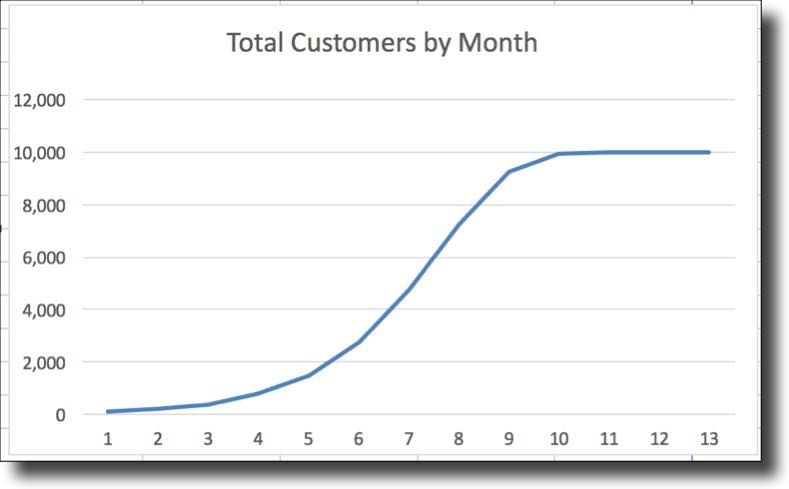 These same numbers can also show how sales can shoot up as a new product or idea penetrates the market, then fall off to nothing as the market becomes penetrated. The image here shows row 3, new users, which is equivalent to sales.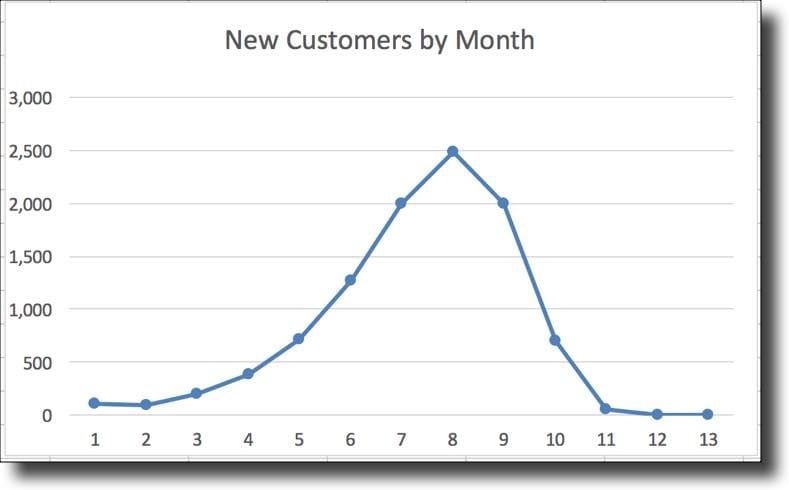 Of course the line chart above doesn't look like good news for the hypothetical business in question. Selling only one product once is not exciting when the total market is only 10,000. It does highlight the importance of repeat business and add-ons, and why business owners would want markets of more than 10,000 potential buyers.
Using Contagion Theory for Your Business
I learned this technique in business school and used it professionally during the heyday of personal computers, in the 1980s, to project the spread of personal computers through various populations. It was similar with early fax technology a few decades ago, and many times over with new technologies including the web, social media, smartphones—essentially most new products. I've seen it apply as well to non-product phenomena such as sushi, Thai food, ultimate Frisbee and even talking points in politics.
What I've found is that contagion theory helps me get comfortable with estimates. Before I introduce a new product, feature or service, I'll run a contagion model as a reality check. It can be a positive step towards moving from raw guessing to educated guessing. I ask myself and my marketing team what the total population of users might be. I want to guess how long it takes to get substantial penetration. This theory—and the math behind it—can help.
In addition, I find this whole theory a good reminder of the power of contagion. What customers say about my business is important. The rate at which my customers recommend me to others is essentially the contagion factor. The more, the better. I'm always looking for ways to make the contagion go faster.
Read more articles on research.
Photos: iStock, Tim Berry
The information contained in this article is for generalized informational and educational purposes only and is not designed to substitute for, or replace, a professional opinion about any particular business or situation or judgment about the risks or appropriateness of any financial or business strategy or approach for any specific business or situation. THIS ARTICLE IS NOT A SUBSTITUTE FOR PROFESSIONAL ADVICE. The views and opinions expressed in authored articles on OPEN Forum represent the opinion of their author and do not necessarily represent the views, opinions and/or judgments of American Express Company or any of its affiliates, subsidiaries or divisions (including, without limitation, American Express OPEN). American Express makes no representation as to, and is not responsible for, the accuracy, timeliness, completeness or reliability of any opinion, advice or statement made in this article.