For dog owners, there's only one thing worse than picking up Fido's waste from the sidewalk while coffee-toting strangers glare from behind their mocha lattes: Paying exorbitant boarding fees to head out of town for a few days.
Aaron Hirschhorn and Karine Nissim Hirschhorn know this pain. Back in 2010 and newly married, the Los Angeles-based couple had great jobs—Karine as a film director, Aaron as a VC associate—and wanted to travel. The problem: They had two dogs and boarding ran upwards of $55 per night.
After receiving a few $1,000 boarding bills, the Hirschhorns got creative. On a whim, Aaron logged onto Yelp and listed a new company: Aaron's Home Dog Boarding. The idea was to make a few extra bucks by boarding dogs in the Hirschhorns' home for affordable prices and hopefully finding others that would do the same.
Within four months, clients were pouring in. Karine quit her job and, in September 2011, Aaron started phasing out of his role at the VC firm. On a little faith and a lot of credit card debt, the couple launched DogVacay as a company that would enable anyone (who qualified with an in-depth screening process) to offer in-home dog boarding for a fee. DogVacay takes 15 percent of whatever the pet sitter charges.
Today, the company is attracting big name investors; Benchmark Capital handed over $6 million in November 2012. DogVacay boarding services are available in hundreds of cities nationwide and, according to press reports, has paid out more than $1 million to dog boarding hosts. Here, Aaron discusses Dog Vacay's rise to success.
Katie Morell: What was your financial situation when you launched DogVacay?   
Aaron Hirschhorn: We didn't have any money. I hired a designer on my [credit card]. Fortunately, thanks to my connections in the Los Angeles VC community, we were able to garner some early interest from angels and incubators.
KM: How did you deal with the stress of financial insecurity?
AH: I don't think I would have done it if Karine hadn't pushed me. The initial leap was really scary for me, but she has a greater risk tolerance partly because her parents are also entrepreneurs and she knew what it was like. She was able to help us collectively say, 'Okay, now is the time to make the leap and the worst thing that can happen is that we are $25,000 to $30,000 in debt.' I'm so glad we pushed through.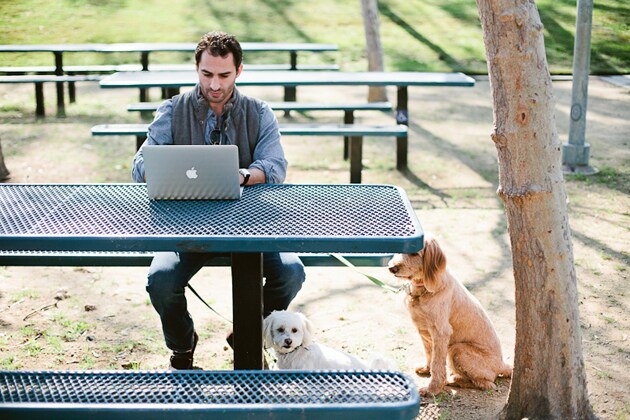 KM: Now that you have investors, are you still a majority shareowner in your company?
AH: No, I'm a minority shareholder. But I would rather have a small piece of a big pie than 100 percent of nothing.
KM: What's your marketing strategy? How do you attract new boarders and customers?
AH: We are growing by word-of-mouth. Our hosts are talking up the service, wearing t-shirts, passing out business cards and flyers. We have 22 full-time employees and a street team of six brand ambassadors that travel to dog parks with a van and tent that help advertise DogVacay. We also volunteer at shelters and partner with retailers and groomers.
KM: What kind of feedback are you getting?
AH: It has been tremendous. People are constantly telling us that we are really helping to solve a problem. Our nightly boarding fees start at just $15, which is so much less than what dog owners traditionally pay. And we are helping our boarders start their own businesses.
KM: What is the future of DogVacay?
AH: We are just scratching the surface of what we can do right now. The pet industry is a $55 billion industry. We see ourselves entering into the area of pet services someday. The options are endless.
KM: What advice can you give to other married couples launching a business? How do you not kill each other?
AH: [Laughing] Well, I will say that there was a period where all Karine and I talked about was the business. Over time, though, we've managed to get some separation from it and take time for dinners out.
Our biggest key to success, which is the same thing I would recommend to other couples launching a business, is to divide responsibilities. You can't both be the CEO. My wife is a great writer and does the creative work whereas I'm the business guy and focus on networking and talking to investors. It works nicely.
Meet more entrepreneurs in our Building an Empire series. 
Katie Morell is an independent journalist based in San Francisco. She regularly contributes to Hemispheres, USA Today, Consumers Digest, Destination Weddings & Honeymoons, Crain's Chicago Business and others.
 Photos courtesy of DogVacay