Around the country, the shift from brick-and-mortar to online shopping is changing the retail landscape both figuratively and, in some cases, literally. As more and more big box retail stores and malls close or lose tenants, many are leaving eyesores in their communities, which often leads to blight.
But closed stores are opening up new opportunities for architects—and for small businesses that can take advantage of adaptive reuse.
Adaptive reuse is a growing architectural movement that re-imagines big box stores and other empty properties in creative, inventive ways. Anne Sneed, founder and CEO of Anne Sneed Architectural Interiors, a collaborative studio of six corporate and residential architects and designers in Del Mar, California, believes adaptive reuse will not only be the salvation of retail site blight but that it also offers many benefits for small-business owners.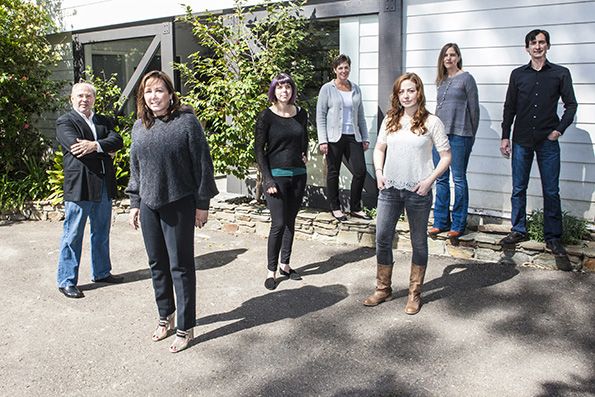 Anne Sneed (second from left) founder of Anne Sneed Architectural Interiors 
"[These properties] were built to last, so when they become available, it's usually an opportunity to get a high-caliber space at a good value," Sneed explains. "They're also typically located in or near residential areas and are easy for people to access." That makes them conveniently located for both commuters and shoppers.
Adaptive reuse also typically means cost savings to small-business owners, Sneed adds, because the buildings have high-quality infrastructures, well-maintained mechanical and electrical systems, and lots of available, convenient parking.
The Benefits of Rebuilding
But small businesses that locate in adaptive reuse properties aren't the only ones which benefit. When a formerly empty building is revitalized, Sneed says, "it builds traction for other businesses to come."
Many cities have programs to support and encourage adaptive reuse (an Internet search of "adaptive reuse organizations" or "adaptive reuse resources" will likely turn up some in your area), but even if your city doesn't have an official program in place, Sneed says, "the inherent cost savings and infrastructure appeal makes adaptive reuse something any canny business owner can seize upon."
Sneed recently completed an adaptive reuse project in Phoenix for Leslie's Swimming Pool Supplies, a national chain of swimming pool supply stores. For this project, Sneed and her team transformed an empty Sam's Club location into a bright and airy corporate headquarters full of potted ficus trees and employee-friendly spaces, including a gym; a lunchroom with ping-pong and pool tables and a big-screen TV; and an outdoor bike rack stocked with company bicycles that employees can use to visit local restaurants or just to get some exercise.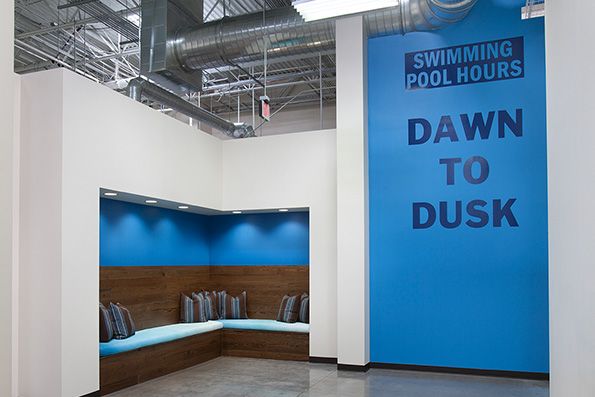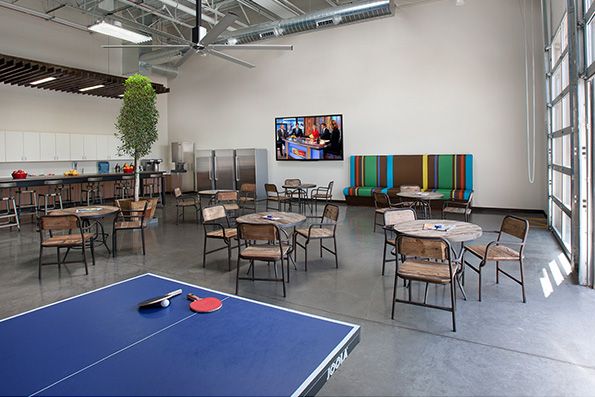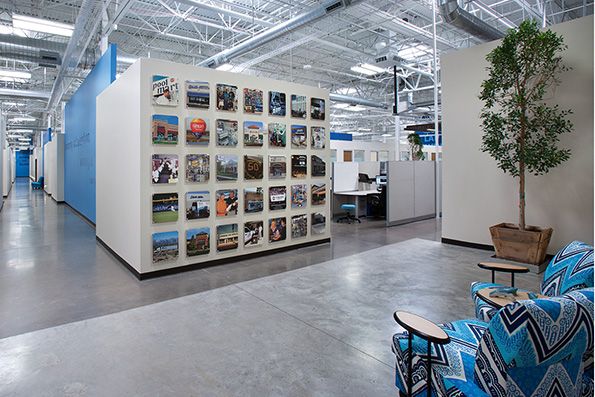 Design Ideas
While your adaptive reuse project won't likely be on this scale, there are many things small-business owners can learn from Leslie's Swimming Pool Supplies' story. "A small business ought to be thinking in new ways about where it needs to be located," Sneed says. "It doesn't need to be in developer-driven office parks or your standard, cookie-cutter metal and glass corporate building. Keep an open mind to the positive possibilities that [adaptive reuse] spaces offer."
If you're planning an adaptive reuse project, Sneed suggested some design and architecture trends you can incorporate into your new space:
For a retail space: "Displays that are museum-like and uncluttered [are on trend]," Sneed says. Keep extra options and sizes off the retail floor, and bring them out only as necessary. "Displaying fewer items beautifully allows retail owners to have a conversation with customers and present interesting options," Sneed explains.
For personal service providers such as hair or nail salons: Sneed recommends creating a quiet, spa-like feel. "Design elements need to create tranquility," she says. "Use natural elements, daylight, water and soft breezes."
For a restaurant or bar: "Different seating options create fun community eating spaces," says Sneed, who recommends adding sofas and lounge chairs for comfortable seating in the dining areas. "I also love bar areas that are integrated into the main restaurant seating and not a separate space."
For an office space: "Today's complex business challenges require teams to work together, and employees in teams prefer a variety of workspace scenarios with collaborative meeting areas designed in different ways," Sneed says. She suggests adding some soft seating areas with sofas, lounge chairs and ottomans, as well as more structured collaborative areas such as community work tables and project workrooms. "Businesses are moving away from fixed offices," she explains. "Private areas are rarely meant for individuals but are used on an as-needed basis for meetings and calls."
Sneed also suggested ways you can make your business seem brighter and more inviting:
Incorporate skylights.
Use white and/or bright paint.
Reduce clutter and make sure everything is clean and organized.
Bring living plants and other elements of the outdoors inside.
Make sure things are spaced generously and aren't cramped or congested. 
Finally, Sneed urges, design an office that focuses on amenities and creates a sense of community. At Leslie's Swimming Pool Supplies, this meant revising the environment to be more employee-focused by incorporating filtered water stations, fitness areas and escapist fun like the ping-pong tables. As she explains, "Employees want to feel like their employer cares about their well-being as human beings."
Read more articles on leadership.
Photos: Dino Tonn Photography