Entrepreneurship is a unique, 24/7 journey that often blurs the lines between personal life and professional life. Unlike a typical corporate job, there's no punching out and calling it a day. Running your own business doesn't come with an "off" switch and entrepreneurs are often at their most productive during late-night conversations and brainstorms fueled by cold pizza or cocktails. It's also when they're at their most colorful. In "After Hours," a new OPEN Forum photo essay series, we tag along for the ride, to capture this slice of entrepreneurial life.
In 2010, Loni Edwards graduated from Harvard Law School and moved to Los Angeles to to work for a corporate law firm. But deep down, she knew she always wanted to do something more creative and entrepreneurial. Two years later, she ran into an old friend who worked in the fashion industry, and their conversation convinced Edwards to move to New York and start her own company.
Her first startup, which focused on travel planning, never made it to public launch, but it provided her with plenty of lessons learned. She kept those hard knocks in mind when launching her next company, Stitch Collective, an online marketplace that brings handbag designers and customers together at the design phase. The idea behind Stitch Collective is to allow customers to provide feedback on early designs, letting the designers know exactly what styles are and aren't in demand, saving them the cost of retaining excess inventory once a bag goes into production.
On a recent New York winter night, we followed Edwards on what turned out to include the official launch of her third startup, emPOWERED, a maker of handbags that are both highly-fashionable and functional, allowing women to charge their phones or tablets—inside the bag—while on the go.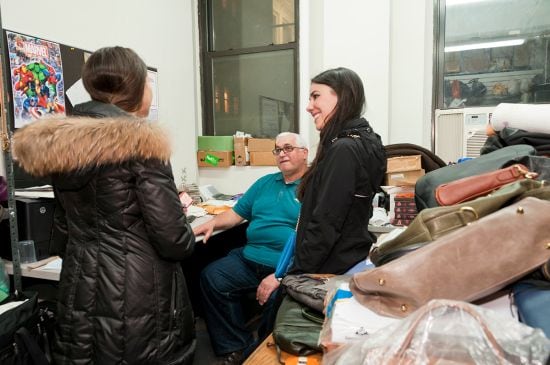 5:30 p.m. Edwards introduces her friend and fellow handbag-industry colleague, Carrie Sporer, to her leather manufacturer in his Garment District workshop.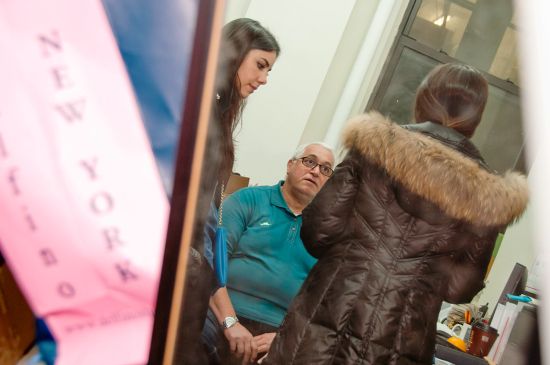 5:32 p.m. The three of them discuss prices for creating prototype designs and timelines for delivery. In the fashion world, manufacturers are a closely held secret by designers, but Edwards says she's happy to recommend hers to a friend. "He is honest, which is number one. He really cares. I had some really bad experiences before him." Plus, she adds, perhaps most importantly, "He's on time."
6:27 p.m. Edwards and a group of close friends, who are also in the fashion industry, meet up monthly to catch up with each other. Here, she gives the group a sneak peek at her new purse design and demonstrates how it can charge an iPhone.
6:35 p.m. This month's meetup is hosted by Tyler Ellis, the founder and CEO of Tyler Alexandra. Seated clockwise from Edwards: Stacy Herzog, co-founder and creative director at Frieda and Nellie; Nadia Boujarwah, COO and CFO at Frieda and Nellie; Ellis; Denning Rodriguez, a fashion-industry lawyer; Sarah Reid, co-founder and designer at Frieda and Nellie; and Carrie Sporer, director of sales at Edie Parker.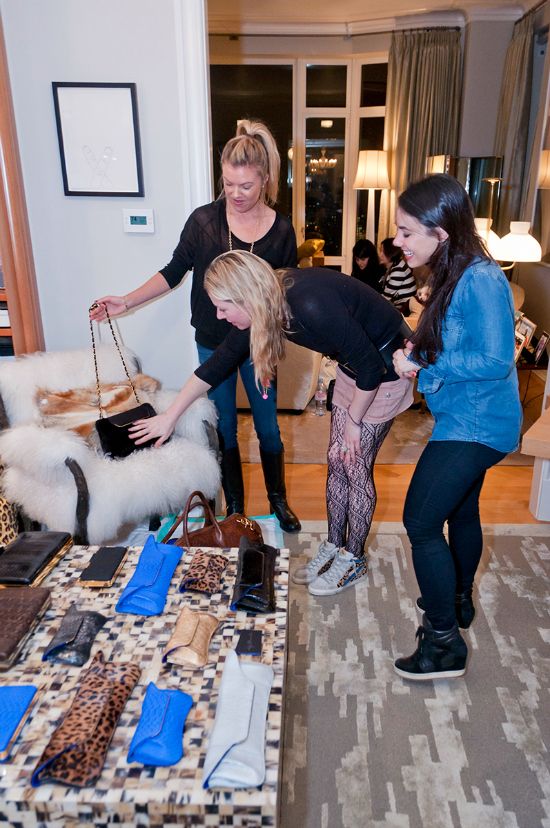 7:19 p.m. Ellis's apartment also doubles as her showroom. Here, she shows pieces from her new line to Edwards and Reid. This month's meeting focused on all of the Hollywood awards shows that take place in January—a busy time for those in the fashion and accessories industry. "A lot of the conversation tonight was about PR, tied to Edie Parker bags and Tyler Alexandra bags being on the red carpet," at the Golden Globes, Edwards says.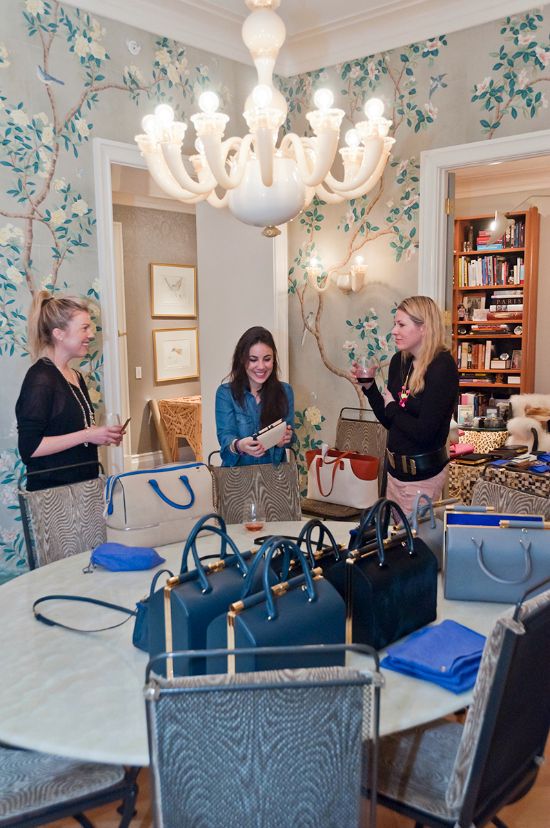 7:24 p.m. Edwards says the members of her peer group hail from companies "in that formative stage where it really makes sense to brainstorm and meet, catch up, and help each other out."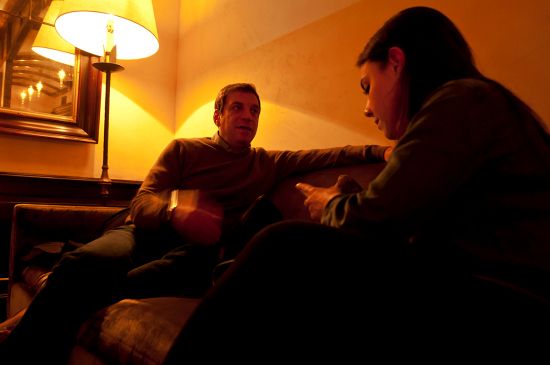 8:45 p.m. Following her peer group meeting, Edwards heads to the lobby bar at The Greenwich Hotel to meet with her mentor, Ken Seiff, the founder and managing partner of Beanstalk Ventures. As it often does, their conversation frequently shifts topics, as Seiff gives suggestions on launch strategy, which stores he thinks would be good fits for her product, and marketing and PR.
Edwards and Seiff first met at the 2013 Goldman Sachs ecommerce conference. The next night, they met again unexpectedly at a Tory Burch Foundation event, where Seiff was serving as a mentor and Edwards was paired up with him.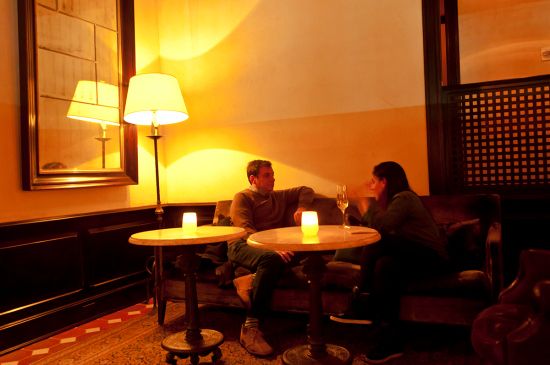 9:02 p.m. The conversation continues. "The idea for emPOWERED came out of a meeting with him, where we were talking about Stitch and ways to make it better," Edwards says.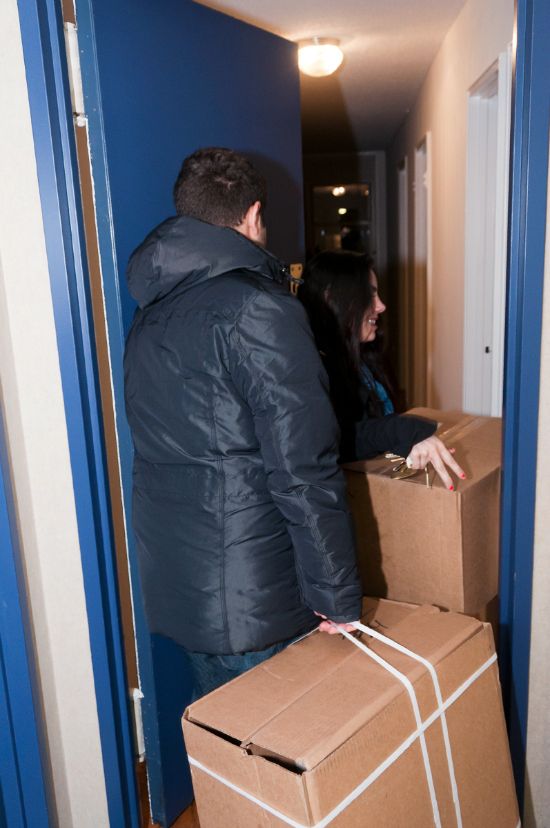 9:27 p.m. Tonight is Edwards' first night in her new Midtown East apartment, and she already has a business delivery waiting. Her boyfriend, Phil Toronto, VaynerMedia's manager of emerging tech, lends a hand.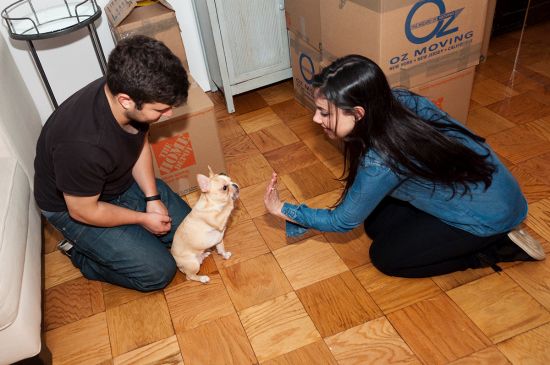 9:34 p.m. While waiting for dinner to arrive, Edwards and Toronto play with their puppy, Chloe The Mini Frenchie, who has a bigger Instagram following than both of her human companions combined.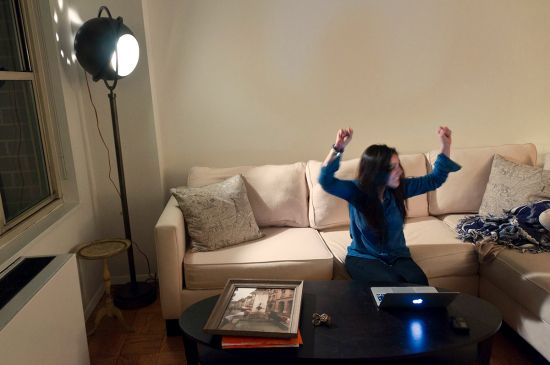 9:39 p.m. Edwards removes the password protection for her new website, opening it up it to the public, and celebrates the official launch of her third startup, emPOWERED. "It feels amazing, because I've been working on it for a while now and doing everything from getting the patent done with our legal team to designing the site with the developer," she says.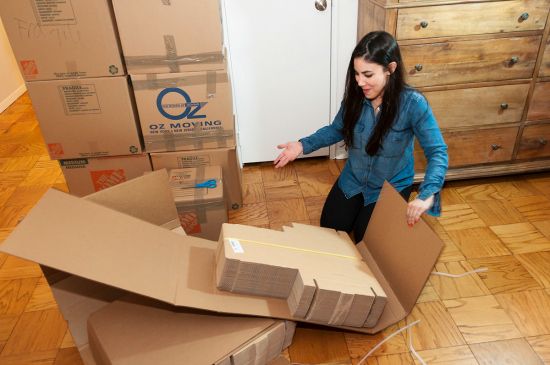 9:54 p.m. Edwards opens one of her recently-delivered packages—yes, it's a box full of boxes. Each one will eventually ship a brand-new "All In One" purse from her new collection.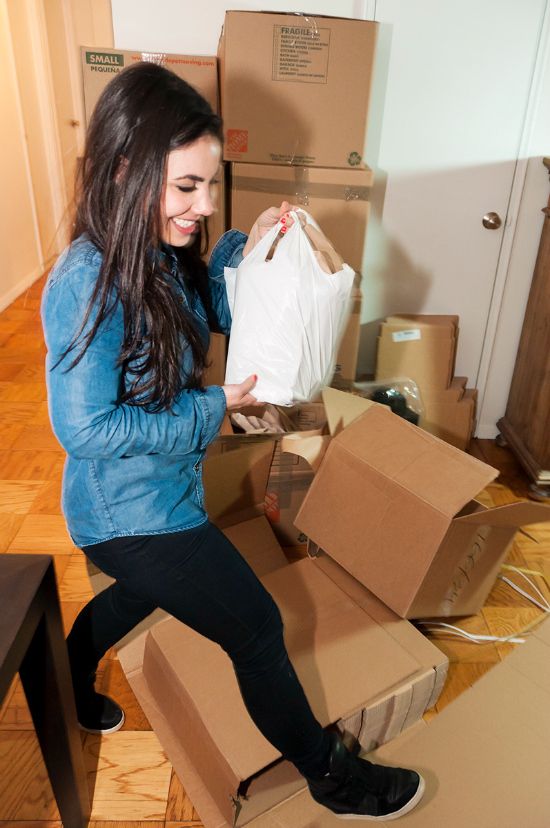 9:57 p.m. How do two busy tech enthusiasts prepare dinner on the first night in their new home? By ordering from Seamless, of course.
Jehangir Irani is a photographer, a video producer , and an avid storyteller. He has produced work for Glamour, Vanity Fair, and a variety of other lifestyle-centric outlets. Jay's love of startups came from producing Venture Studio, a talk show on entrepreneurship that was syndicated on Mashable. Jay has traveled the world and, in his spare time, searches high and low for the perfect hot and sour soup.
Photos: Jehangir Irani for OPEN Forum