Jessie and Will Baxter made a life-changing decision in 2011: They decided to devote their lives to helping impoverished Mayan women in Guatemala. 
Through their San Francisco-based company, I AM, the Baxters' goal is to provide high-wage jobs for more than 10,000 Mayan women in Guatemala who are living in poverty. The women weave, making products like yoga mat bags, to support their families.

While the Baxters' goal and perspective may sound ambitious, fortunately, they're part of a worldwide network that is focused on helping socially conscious startups grow. The network, dubbed "The Hub," was founded in London in 2005 and now has more than 5,000 participants in more than 30 cities on five continents.

RELATED: Give Back Without Going Broke
What is the Hub?
The Hub's participants are entrepreneurs who want to launch or expand their business, mentors who help entrepreneurs develop the skills they need to succeed and venture capitalists who fund socially conscious startups. Berkeley, Boston, Los Angeles, San Francisco Bay and Seattle are currently the only U.S. cities with The Hub programs. Boulder, Colorado; Raleigh, North Carolina, and Washington, D.C., have been accepted, but haven't organized yet.  
Elizabeth Stewart, CEO of the Los Angeles Hub, told Forbes magazine that the programs are based on the principle that communities are better when their businesses focus on the "triple bottom line": people, planet and profit.
Cities with local hubs have incubators where entrepreneurs share office space and are helped by mentors, events and workshops as well as opportunities to communicate with "like-minded peers, partners and investors" from all over the world, according to The Hub's website.
Global Impact
I AM is one of 125 companies that has an office in Hub San Francisco's 20,000-square-foot incubator.
Jessie Baxter says I AM's launch would "never have happened without The Hub" because local entrepreneurs and The Hub's global network helped I AM raise $49,000 and provided crucial startup tips and psychological support.
"When you're starting out, you can't underestimate the value of a strong support network," she says. "Having people beside you who are going through the same highs and lows does make it easier. It makes you feel like you can do it."

The Baxters are so proud of their mission that they use it as a sales pitch online.  The Yoga Journal said Will Baxter might be "the Jerry Lewis of yoga." 
"The work we're doing now aims to create a way out of poverty for thousands of Maya weavers in Guatemala," Jessie says. "The social goal is the business. We only use business as a vehicle to solve a social problem."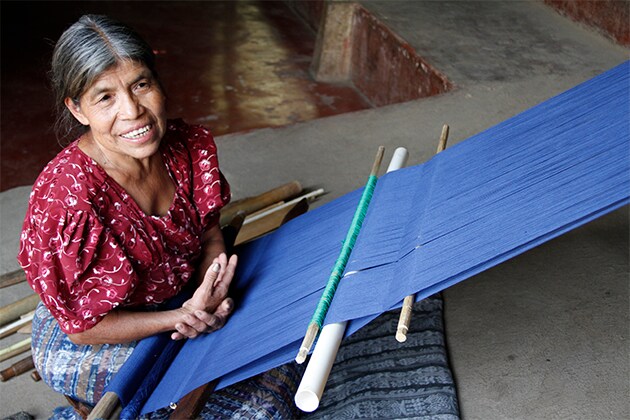 Mayan weaver in Guatemala. Photo: Courtesy of I AM

RELATED: 4 Legal Resources for Your Social Enterprise
Hub Ventures: Helping Entrepreneurs Help the World
Hub Ventures, a separate entity, also has an office at the San Francisco hub. In its two years of existence, Hub Ventures has accepted 23 startup companies into a 12-week program that includes $20,000 in seed funding, technical and business advice, and "access to an incredible network" of advisors, investors and mentors," according to Andrea Bouch, Hub Ventures' program manager.
"A big perk of being part of the program is introduction to additional investors, so our hope is that more funding comes in from those relationships," Bouch says.

San Francisco's hub program, which has 1,300 of the international network's 5,000 participants, is much larger than other American hubs. It has 58 mentors.
Eighteen of the 23 startups are still operating, including Diime, Evotech, Project Repat and Samagra.
Diime makes products that lower the mortality rate of newborns in the developing world. Evotech makes medical devices at "highly reduced prices" so hospitals in the developing world can afford them. Project Repat recycles used textiles into fashionable accessories. Samagra makes technology that converts human waste into clean energy for poor people in India.
People who want their community to become part of The Hub network must apply to The Hub's office in Vienna, Austria. Applications from a team of people who can show that they can organize their community's entrepreneurs and social activists are more likely to be accepted, The Hub communications coordinator Gail Rego says. Governments are not involved.

Read more about startups.

Photo: Courtesy of I AM

Martin has written and edited for 30 years. He's written thousands of Business, News, Sports, Tech and Features articles for newspapers & businesses. Martin blogs via Contently.com.