Neal Maloney's office is a little unconventional—essentially, a string of wood platforms swaying in waters that rarely rise above 50 degrees. A 580-foot volcanic rock looms nearby, and unpredictable winds stir up the waves around it, often stinging Maloney's face with briny drops.
It's a unique setup for a small-business owner. Yet, as founder of Morro Bay Oyster Company, based in Morro Bay, California, Maloney grapples daily with the same issues and challenges as his peers—finding employees who are a good fit, marketing his product effectively and managing growing pains smoothly.
"Just because I sell oysters doesn't mean I can't learn from a person who sells bagels," Maloney says. "His problems are the same as mine."
When Maloney started his oyster farm on California's central coast in 2008, he harvested about 250,000 oysters a year. Now he produces about 750,000 of the salty bivalves annually and sells them to restaurants all over the state, as well as Whole Foods Market and the Post Ranch Inn in Big Sur. To manage the expansion, he gradually increased his orders from a hatchery in Washington State and doubled his staff to help both on the water with handling the oysters and on the road with deliveries.
Morro Bay Oyster Company founder Neal Maloney
His operation has grown an average of 30 percent every year, but last year it grew by 100 percent—a surge Maloney attributes to a combination of a strong demand for his product and a robust inventory that allowed him to keep up with it.
In his 11 years oyster farming, Maloney says he has learned all about the industry's unpredictable nature, from fluctuating oyster mortality rates to weather-related regulations that can shut down operations for weeks at a time. But it wasn't an easy journey.
"One of the biggest mistakes I made was thinking that I knew everything at the beginning," Maloney said. "There was such a high demand for the product, I thought it was going to be a slam dunk and we'd hit the ground running. I didn't understand how much I had to build this business."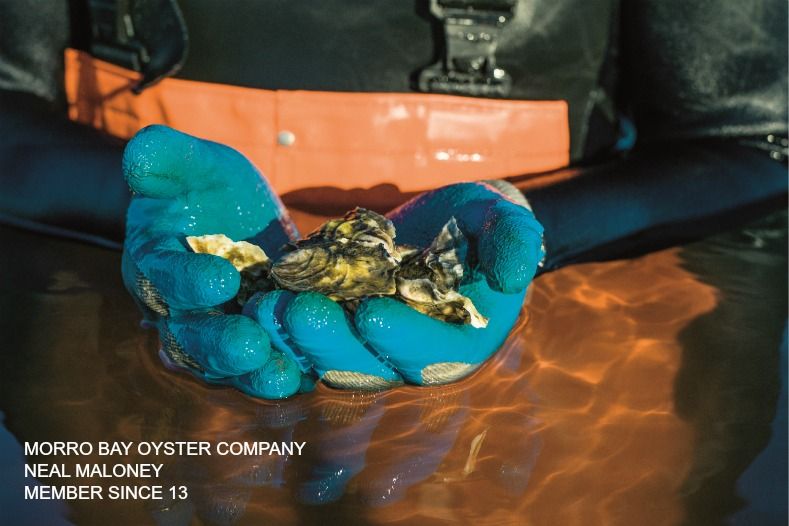 Maloney, 32, dove into oyster farming soon after he graduated from the University of Oregon with a degree in marine biology. He got a job with Tomales Bay Oyster Company, north of San Francisco, and was soon asked to run its production farm about 300 miles to the south in Morro Bay.
"It was like going to oyster college, because I got to make a lot of mistakes with the guidance and wallet of my previous boss," he said. When his boss was ready to retire, he sold the production farm to Maloney, who called it Morro Bay Oyster Company and used a capital investment from his father, a retired executive, who also provided invaluable marketing and strategy skills that Maloney lacked.
"I was lucky to have him and my former boss to help me plot a good course in ethics and accounting and human resources and all that stuff you need to know," Maloney says.
At first, Maloney sold his Pacific Gold oysters at farmers markets and roadside stands, but found business to be inconsistent. He quickly switched gears and started targeting restaurants, after a chef he met at one of the markets put in a standing weekly order for his oysters.
"I knew I was going to sell at least $100 worth every week from that order, and I needed to pivot and redesign my strategy to target more restaurants," he recalls. "I started going out and making sales calls. I would just cold-call restaurants." Soon, he had regular orders coming in from San Francisco to Los Angeles.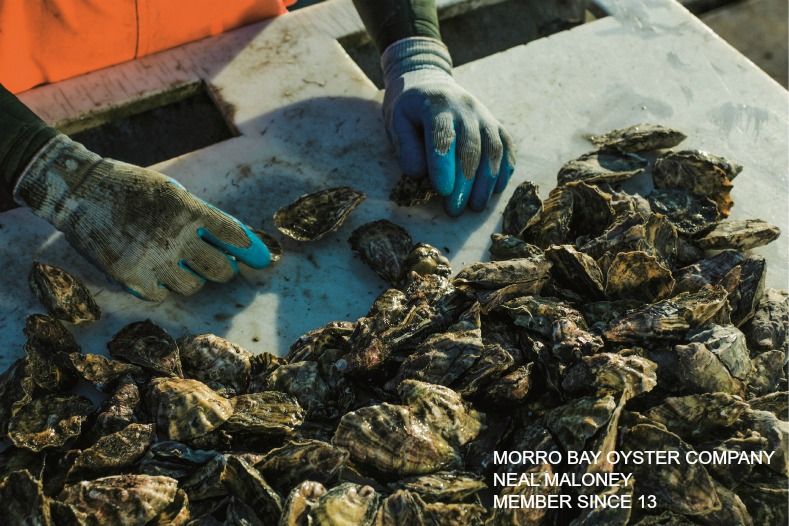 Morro Bay Oyster Company now has 10 employees, but its founder is still up at 6 a.m. and on the water three days a week in a wetsuit, nurturing his babies. Maloney buys them from a hatchery when they're no bigger than a grain of rice. After six to eight months in a nursery, they are placed in mesh bags and moved to the bay, where Maloney and his team shake them every day to keep them separated, with mineral-rich waters washing over them in a convergence of salinity, temperature, nutrients and tides that deepens their flavor. They are ready for harvesting in 14 to 24 months.
"We have freshwater aquifers pass right over our farm and that translates to sweetness on your palate," Maloney explains, referring to underground layers of rock saturated with water. "You get an oyster with a nice saltiness combined with a watermelon finish."
While oyster production and availability varies by region, the mollusk's popularity among foodies has grown in the last decade, and the industry is expected to continue to grow in volume and revenue, according to the National Oceanic and Atmospheric Administration, or NOAA. In California and Washington State, NOAA is working on shellfish initiatives aimed at increasing production and reducing regulatory red tape.
While oysters can be harvested year round, barriers like fluctuating oyster mortality rates and strict health and safety monitoring programs can hamper supply in any given year. Some oyster farms, for example, are required to close for as long as 12 days every time it rains 0.4 inches, as water quality is monitored.
To combat these challenges, Maloney recently went ahead with a long-planned move to buy a multi-use building near his farm. "It was seller-financed and we used our own capital as a small down payment," he says. "We negotiated a five-year plan that fit with our cash flow and wouldn't over-extend us."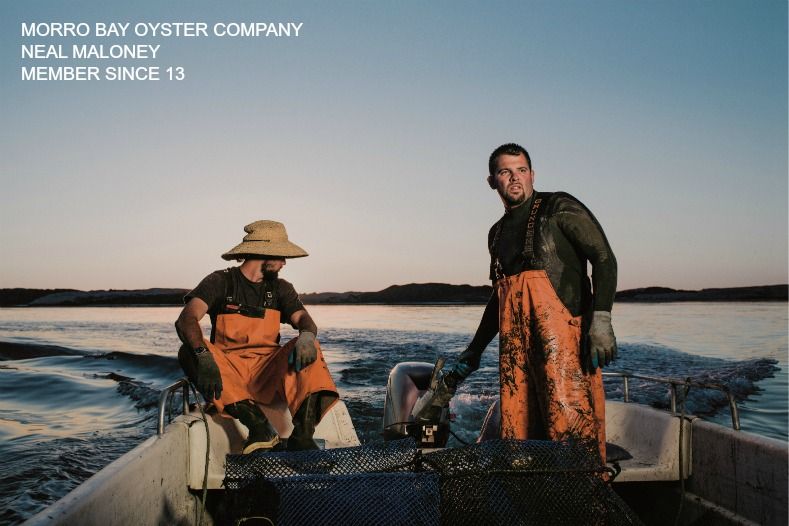 The building will house large tanks that can hold and circulate up to 30,000 oysters in natural seawater.
"On an average year, we can be closed for an average of 120 days, but we would still be able to sell all the oysters that are in those tanks," Maloney explained. The building will also have offices, a small fish market and a nursery that will make it easier to track and forecast mortality rates of his oysters.
It was a big expense—the holding tanks and filtration system alone cost $60,000—but one he believes will pay for itself within two years. "We lose customers every time we close," he notes. "We need to fight just to get back up to where we were."
While Maloney's business savvy has improved since his first days on the job, he still talks about his product with the enthusiasm of a 5-year-old jumping the ocean's waves.
"I eat oysters more than the general public does," he says with a laugh. It's still a thrill, he adds, to try a dish that one of his chef-clients creates with his oysters.
"It's amazing to give a chef your pride and joy and watch them do something extremely special with it," he says. "It brings a lot of excitement to what I do."
Photos: MORRO BAY OYSTER COMPANY / NEAL MALONEY / MEMBER SINCE 13