Everybody loves to see a dwindling business district come back to life. But for small locally owned businesses, revitalization has a dark side: They often can't afford to stay put once their neighborhood becomes hip and rents go up.
Several well-known restaurants in New York City—a  town infamous for its wild real-estate market—recently announced they are closing their doors due to soaring rental costs. Union Square Cafe, a restaurant owned by restaurateur Danny Meyer that has occupied its Union Square space for 30 years, is closing at the end of 2015 and moving to another yet-to-be-revealed location in the city, according to The New York Times.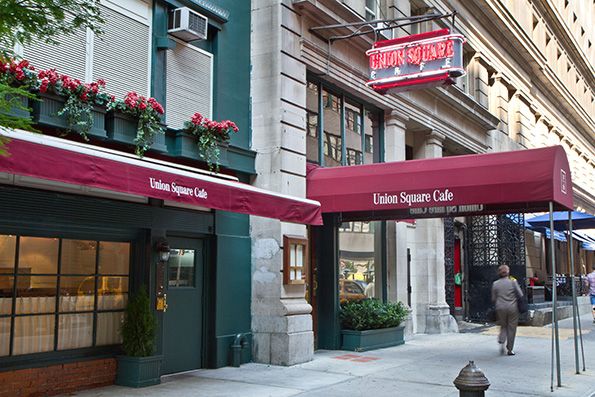 Two weeks ago, wd~50, another popular eatery run by chef Wylie Dufresne, announced it will close on November 30, as its Lower East Side building is being razed for an apartment building. Hearth, an East Village restaurant, faces a 65-percent rent hike and may need to rethink its business model, according to chef-owner Marco Canora.
Last year, celebrity chef Bobby Flay closed his popular 22-year-old Mesa Grill, blaming rising lease costs in New York's now-hip Flatiron District.
"What brings ghost towns to life? Restaurants," Flay told The Times. "We blaze the trail, we do the hard work and then we're out."
While local restaurants often get the most attention when they close, many local and independently owned businesses get forced out when real estate prices in their area surge. Once neighborhoods become popular, landlords can raise their rents and national chains want to move in.
Across the nation, when business districts thrive, real estate prices inevitably do, too. Many local businesses get priced out when the neighborhood they helped turn around becomes a hip shopping district. Seyfried Jewelers, a 100-year-old jewelry shop in Ann Arbor, Michigan, closed in late 2013 after facing a 60-percent rental price increase in its popular downtown location. 
While sometimes rent hikes are too high to cope with, local businesses do have strategies for dealing with them. Check out this list of four money-saving tips for dealing with a rent increase. 
Read more articles on money.
Photos: Union Square Cafe, Nathan Rawlinson