Groupon is rolling out a self-serve product called Groupon Stores that allows merchants to set up virtual storefronts and manage their own deals through the group buying site.
For Groupon, a self-service product seems like a no-brainer way to offer up more deals and pocket extra funds without the associated overhead of the manual process.
For merchants, the do-it-yourself option sounds like the perfect solution for those who don't have the budget or patience to be featured as a traditional deal of the day.
Everybody wins, right? There's something to be said for the do-it-yourself approach, but it's not that simple. Some skeptics believe this to be a misstep for Groupon that will lower the quality of deals to the point where members stop buying. The stores are also little more than stylized pages listing available deals, so it remains to be seen whether a merchant with a Facebook, Foursquare, Twitter or Yelp presence would glean enough value to justify setting up shop on an additional social platform.
Groupon Stores: Risk or Reward?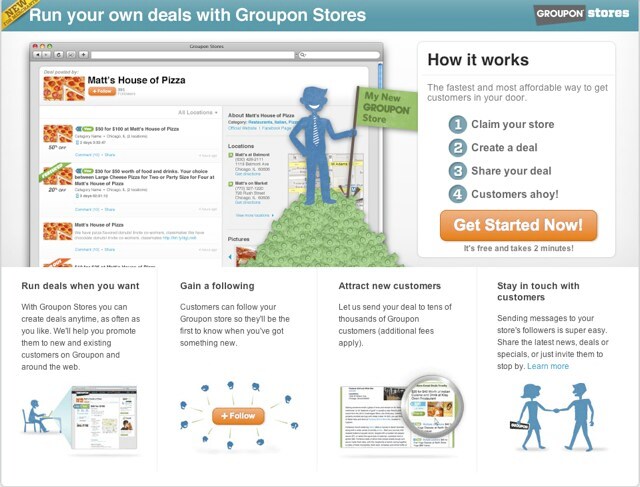 Groupon's name has become synonymous with the daily deal phenomena -- a widely profitable industry for deal providers offering cheap steals to consumers, but a mixed-bag experience for featured merchants.
The pomp and circumstance around the site's success makes it easy to ignore the Posies Cafes of the world. Posies Cafe owner Jessie Burke describes offering a featured Groupon deal as, "the single worst decision I have ever made as a business owner thus far." Burke's primary problem was that after deeply discounting her goods -- $6 for $13 -- and handing over 50 percent of sales to Groupon, she was unable to cover her store's operating costs, including employee payroll.
Burke is not alone. In a study conducted by Rice University, 32 percent of surveyed businesses reported that their Groupon deals were unprofitable and 40 percent indicated they would not run a repeat promotion through Groupon.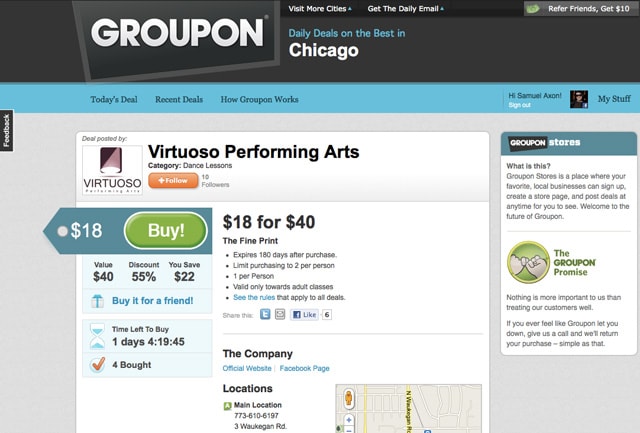 The newly released Groupon Stores allows businesses to manage and run their own deals via virtual storefronts that site members can follow. The product is potentially a less risky way for small businesses and merchants to tap into Groupon's network and offer deals that won't do them in.
Interested merchants sign up at the Merchant Center and, once approved, can start offering self-managed deals on their pages either singularly or with an additional promotional push from Groupon. Groupon takes a 30 percent cut of deals it helps to promote to e-mail subscribers or users on homepages, though there's also said to be additional fees for this privilege. Businesses that go it alone will only have to sacrifice 10 percent of sales to Groupon. Both options are less costly than the current 50 percent cut that Groupon takes from most traditional deals.
One important thing to note is that businesses are only paid when customers redeem deals, and not at the time of sale. Say you sell 20 deals that offer $10 for $15 worth of goods, but only 15 of those Groupons are redeemed, then you'll be pocketing roughly $135 if Groupon does not promote, and $105 if they do. Obviously, those figures don't account for the losses associated with discounting goods.
For merchants, Groupon Stores eliminate some of the risk factor around featured deals. In this newly released model, business owners can cap redemption limits on their own deals, eliminating the fear of uncapped deals. The self-serve model does away with the "tipping point" formula, however, which means there's no minimum sales guarantee.
Groupon members may not make the most ideal customers, if respondents to the Rice University study are to be believed. Groupon users were said to be poor tippers, are often already existing customers (which means deals aren't bringing in new business) and typically don't spend more than the face value of the Groupon or return for repeat purchases.
The question, then, becomes a matter of whether you want to reach Groupon members and whether you want to exchange additional profit-sharing costs for additional exposure.
Deals offered through Groupon Stores will be much less trafficked and will likely offer less attractive discounts than featured deals, which means should members actually locate the virtual storefronts, they might not have much incentive to purchase.
The bottom line is that there's little risk (if businesses budget accordingly and cap deal redemptions), and likely little reward.
Alternatives to Do-It-Yourself Deals
Small business owners can use tools from application makers such as Wildfire or eWinWin to offer group deals via their Facebook Pages. Facebook also recently launched Facebook Deals, enabling businesses to run local deals associated with their Places Pages.
Similarly, merchants and retailers can also experiment with the rewards strategy proffered by location-based services for an alternative approach that focuses on customer retention and location-sharing to expose their businesses to larger audiences. In this domain, small business can consider offering Foursquare specials, SCNVGR rewards and Gowalla stamps.
Image courtesy of
iStockphoto
,
RTimages
.