Question: Has anyone used a good CRM on mobile? Searching for best options to manage on the go. —Rolando Garcci Zendejas, President, VistaMedia Impressions; VODXS Digital Faucets
Answer: Mobile CRM is a relatively new need for companies. It was only a few years ago that companies shopping around for a CRM application listed "access from a mobile device" as a nice-but-not-necessary feature. Of course, that was before everyone had a smartphone in one hand and a tablet device in the other. Now that we are firmly in the Post PC Era, and people need to stay connected to customers and respond to their needs as quickly as they can—from wherever they are—mobile access to contacts, accounts, deals and other CRM data has officially become a must-have category.
The rise of iPhones, Androids and iPads (among other tablet devices), coupled with the intensification of cloud computing and social networks, has breathed new life into CRM. And there are more applications and services than ever before to choose from. To help sort through the various offerings on the market today, I've broken down these options for you.
The Mainstream Crowd
Before we start talking about the Post PC Era vendors that started life creating CRM-ish apps, there were the guys that created full-blown CRM applications and services—this is long before the iPhone hit the streets in 2007. Companies like Salesforce.com, SugarCRM, Microsoft, Zoho and many others created services that helped businesses manage customer information and keep track of important processes involved in marketing, sales and customer service. And these companies have created mobile interfaces that make their traditional CRM functionality available on iOS, Android, BlackBerry devices—with Microsoft providing Dynamics CRM for Windows Phone devices as well.
Not only do they all provide access to dashboards, accounts, contacts, leads, opportunities and cases, you can edit this information from the mobile apps as well. So if you are looking for a tried-and-true service that has been around a while and has all the traditional components of a CRM application available to you on mainstream devices, you can get that from this group. 
Social Relationship Management On The Go
For a number of people, having a CRM suite that covers marketing, sales and service is more than they need—they simply want to manage interactions with customers, prospects, partners and other important people with whom they engage. The tricky part is that these interactions aren't just on email; they're taking place over more and more social channels, making it even harder to track. (And sending "just touching base" messages to customers without having the proper context will not work with busy people.)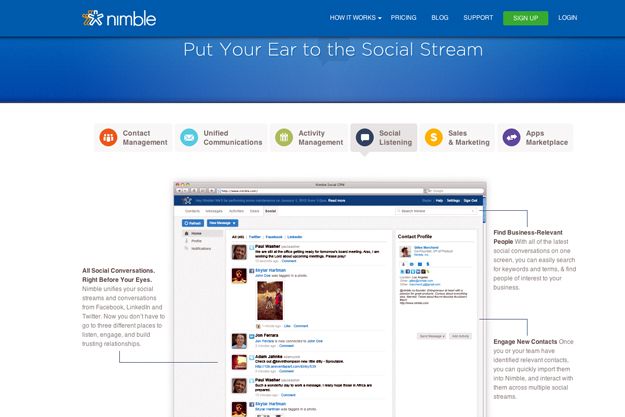 That's where services like Contactually and Nimble come in. They help by providing you a universal inbox (by connecting your email accounts and social profiles), monitoring what's happening with your contacts, and prompting you to engage with them based on their activity. Both of these run on iOS, and Contactually reports that it will be delivering an Android app in the near future that will be able to also track texts and calls from the device.
If you live totally in an Apple environment and have an iPhone, iPad and MacBook, you definitely want to consider VIP Orbit. This was built specifically for managing relationships on the go for Apple enthusiasts and provides native apps for each device to take advantage of things unique to each of them. You can create what they call orbits (similar to lists) that allow you to manage relationships with groups of people, and you can put people into multiple orbits.
VIP Orbit offers a synching service ($5 a month/ $45 for year subscription) that keeps all your devices up to date with the latest information regardless of which device it was entered on. So you can update contact records, place calls or create tasks or meetings on your iPhone, and it will all carry over to your iPad and MacBook.
For A "Specific Purpose"
While some need a general service mobile CRM app, others need a solution to fit a specific purpose, and they need to go deep with it. If you're focused on sales, the relatively new Base CRM service is all about providing the sales professional with the information they need to do their job from any smartphone they choose, and has native apps for each. They pride themselves on simplifying complex situations for their customers—and their mobile app is built for salespeople needing to work through complex sales cycles, and to do so with as little complication as possible.
If marketing is more your "specific purpose," particularly inbound marketing, then you're probably pretty familiar with HubSpot. They put inbound marketing on the map, and created a platform to help thousands of companies use the strategy to drum up millions of leads. The mobile app is available on iPhone and Android devices, and keeps customers up to date with incoming leads, and by managing contacts and analyzing the impact of their latest marketing campaigns. 
Not to be left out, if you're more focused on customer service, services like Desk.com, Freshdesk and Zendesk all provide mobile apps that let your service professionals provide support on the go on iOS and Android devices.
There's An App For That
As you can see, there's no shortage of CRM apps and services for the mobile organization. It's just a matter of what your needs are and which challenges you're trying to solve. And sooner than later (when we enter the Post Pad Era?) you'll probably have a CRM app for your Google Glasses and Galaxy Gear Smartwatches too.
Read more small-business technology articles.
Photos from top: Getty Images, nimble.com, getbase.com