Years before environmental sustainability had a significant impact on U.S. retail trends, Emily Sugihara noticed that affordable, stylish, reusable bags were widely available in Japan. After studying economics and fashion design, she later joined a national clothing brand as a designer. When she decided to become her own boss in 2007, 24-year-old Sugihara partnered with her mother, Joan, to start Baggu and bring their forward-thinking, design-centric, Japan-influenced bag to market.
The Standard Baggu (Japanese for "bag") remains the brand's best-selling product 10 years later. Based on the construction of the plastic grocery bag, the lightweight, compact object—available in a minimalist and cheerful range of prints and colors—has become a daily staple for eco-friendly urbanites around the world. After the United States, where Baggu has three retail shops, a New York sales office and a San Francisco design studio, Japan is its biggest market.
Since then, the Baggu brand has expanded to include canvas and leather products in addition to nylon. While her mother stepped back from an active role in the company, Sugihara, the company's CEO, now oversees 50 employees and counting and continues growing Baggu's product line across the world.
What was it like to launch the company with your mom?
So fun! There's a lot of trust there. At the beginning, we shipped and packed all our own orders. We loved tackling problems and working on designs together. Also, her connection to the Japanese aesthetic has really influenced me. It's always felt natural and like home.
What were the early days like for you at Baggu?
I took it one step at a time: first designs, then finding a factory, then getting some samples and finally, placing an order. If you're okay with winging it and not overthinking, you can take big leaps. If you did the analytics beforehand, you might realize that your percentage chance of success is quite low. In giving it a try, I got lucky.
As Baggu has grown, how has that intuitive approach evolved?
As we've gotten more sophisticated with a bigger team, I've grown to love operations and coming up with systems to make everything work smoothly. This year I oversaw a big cross-departmental project involving our B2B sales, operations, e-commerce and marketing teams to launch a wholesale site. The goal was to provide our B2B clients with a really streamlined e-commerce experience, in contrast to some of the clunky wholesale portals out there. In creating that, we almost doubled our self-service B2B sales and made a lot of customers really happy. I love laying out plans as the architect of a project like that. These days, I spend much more of my time on the business side. Our creative team designs, and I weigh in on what they make.
What inspires Baggu's design sensibility?
Although we've gotten much more analytical, intuition still plays a major part in launching new styles. You can build on existing styles and create forecasts, sure, but at the end of the day, it's a gut call: Is this cool? Would we want to use it a lot? We see ourselves as trend leaders, not trend followers. So we're not paying for forecasting services or anything like that. We think we're one of the companies setting the tone.
If you're okay with winging it and not overthinking, you can take big leaps.
—Emily Sugihara, CEO, Baggu
How did you arrive at this focus on bags and bag-related accessories?
I've always loved the marriage of form and function, and bags are a natural expression of that. Rather than having an explosive launch of an entirely new line, we add new products incrementally. The first product we created after our initial reusable nylon tote was a canvas tote: the Duck Bag. That did well, so we added a canvas backpack. That also did well, which opened us up to the backpack category. Along the way, we've tried things that didn't work. My favorite might be the stuffed penguin. A couple of years in, we designed it randomly. There was no reason for it. We just liked it.
And how did that turn out?
"We're so good at selling bags," we thought. "We can just sell this other thing." I can't even tell you how many we produced. Thousands. So many. We ended up donating them to [a zoo] for a penguin exhibit fundraiser. At some point, we realized, "If we used all this time we've spent trying to sell penguins and just sold bags, we'd make a lot more money."
So the lesson is: Live and learn and narrow your focus?
Exactly. We were just so naive. The first few years of Baggu, we were really fortunate that success and exposure came easily to us, so I think we felt invincible. We didn't realize that product-market fit is a real thing. We actually understand who our customer is now.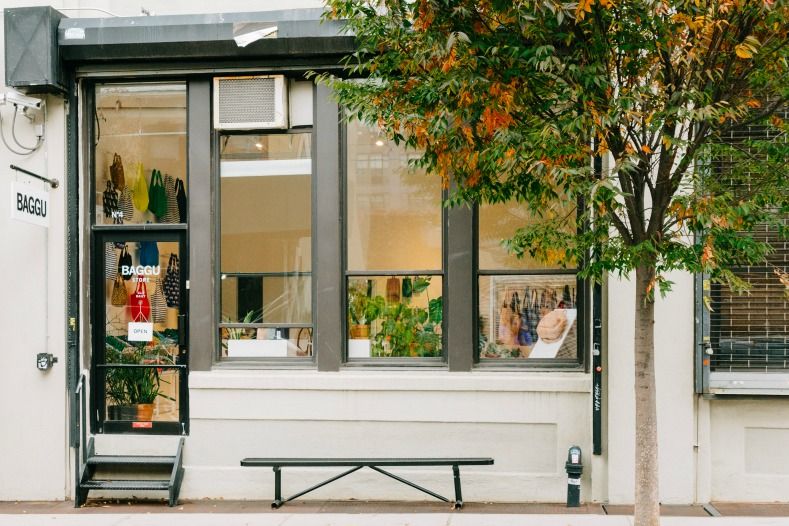 Baggu's Brooklyn store
Within bags and accessories, how do you keep it fresh?
We've always been interested in growth, which keeps everybody's job interesting. You get to solve new problems every year. Expanding our product line has been a big part of that. We added our leather program about five years in, and that's manufactured in Manhattan. Our canvas and nylon lines have been made by the same Chinese factory for about seven years. They're awesome.
How did you finance production at scale early on?
American Express had a booth at the first trade show we did, and we signed up for our first Plum Card there. The first couple of years in business, it's easy to feel like an imposter. So when I was offered a charge card with unlimited credit and kept paying it off on time, that was validating. Through early auto-pay, we've always gotten a 2 percent discount. I love that line item "American Express cash back" on our P&L under "Other Income." I'm so conservative with money that I never take us close to the brink. But the peace of mind that knowing American Express is there has always been significant for me.
What's been another key element to growing a strong business over the past decade?
Since the beginning, I've understood the importance of being disciplined about what we take on. I often tell aspiring and early-stage entrepreneurs, "Don't take on too much." We have a tight product assortment and just three main fabrications: ripstop nylon, canvas and leather. That allows us to dive deep into designing for each material and offer a very competitive price point for a company of our size. We funded the company with our own cash flow, rather than investment. That kind of lean, disciplined approach is reflected in our products in a great way, and that makes me proud. 
Photos from top: Courtesy of Baggu, Kabir Fernandez / Courtesy of Baggu