As a child, Ben Busko could often be found painting watercolors in a corner of his family's Long Island home, with music playing from a record player spinning alongside. It was there that he planted the seed for Ben's Garden, a home decor company he founded at just eight years old.
Busko started out making and selling greeting cards to stores in New York and Connecticut, and as a teenager he began exhibiting at national trade shows, selling to large retail clients and even collaborating with retail buyers. Now 32, Busko manages 50 employees in two eponymous Long Island retail stores and a Brooklyn waterfront warehouse. In the 14,000-square-foot, light-filled space in Brooklyn's Industry City, a recently redeveloped hub for manufacturing and creative innovation, Busko and a staff of artisans execute his designs. At neatly organized workstations stocked with craft supplies, they assemble decoupage glass trays and paperweights, among other products. All Ben's Garden goods are manufactured in the United States, many by hand.
I found writing thank you notes is a sincere way to convey our gratitude but also an effective way for an employee to measure success.
—Ben Busko, founder and president, Ben's Garden
The company belief that "everyone has at least one green thumb" drives the company's aesthetic, influencing the design of pressed flower magnets and botanic-themed decoupage glass trays. Its whimsical product line also includes photo frames, coasters, home furnishings, framed antique maps, crystal paperweights, stationery and other garden-inspired gifts.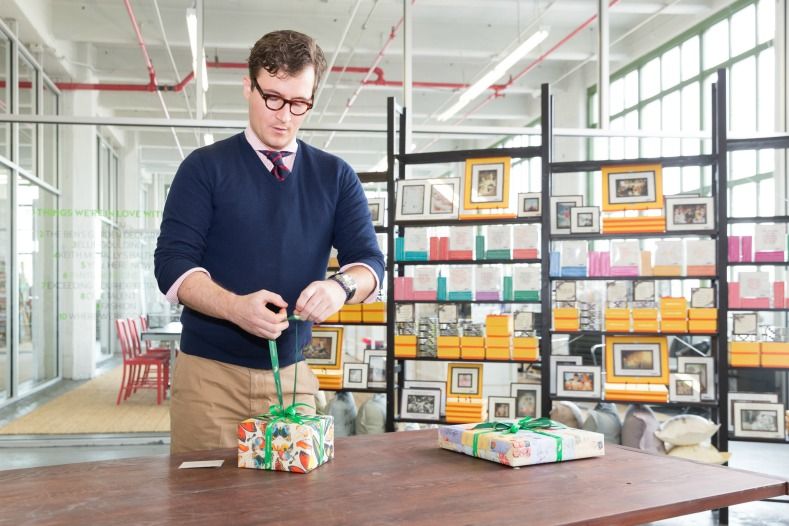 Ben's Garden founder and president Ben Busko wraps a product in the company's Brooklyn studio.
"We only started maintaining inventory when we began doing high-volume wholesale business with department stores about four years ago," says Busko. "That was a huge shift. Before that, we produced on-demand." In recent years, big retailers like Nordstrom might request 500 Ben's Garden pieces in a week while moving subsequent orders ahead of schedule.
Busko is able to meet this demand because his products are made in the U.S., in his Brooklyn and Long Island studios. Sometimes clients expect deliveries to arrive more than three months after they place a purchase order, assuming the products are shipped from China in containers. They're shocked when they hear the good news: "Next week."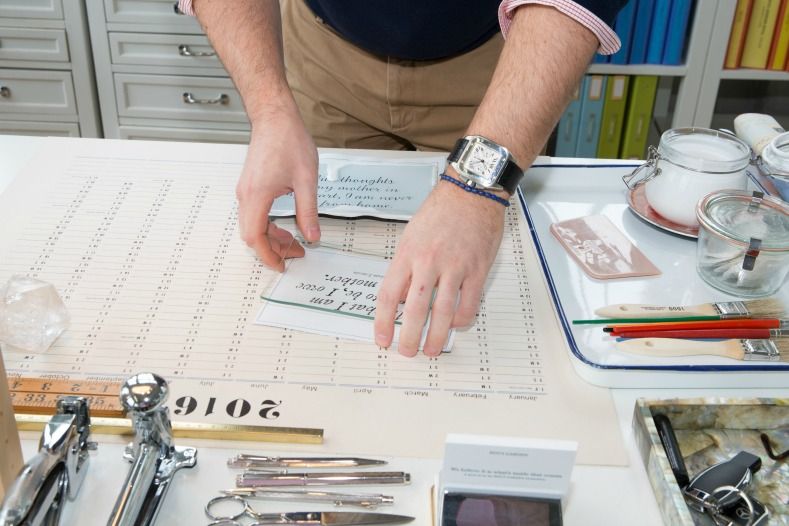 Many of Ben's Garden products feature quotes from literature and historical figures.
"That turnaround has been able to keep us on trend, ahead of the market," says Busko. "Our products are always fresh and invigorated, and our collection evolves from client feedback."
Walking through aisles of his stacked, labeled and barcoded products, Busko showcases a decoupage tray with the words, "You are so much sunshine in every square inch," attributed to 19th-century poet Walt Whitman. In Busko's numbered system, that's quote number 1 of more than 8,000. Many are sourced from literature, with Busko's legal team handling issues related to copyright and trademark.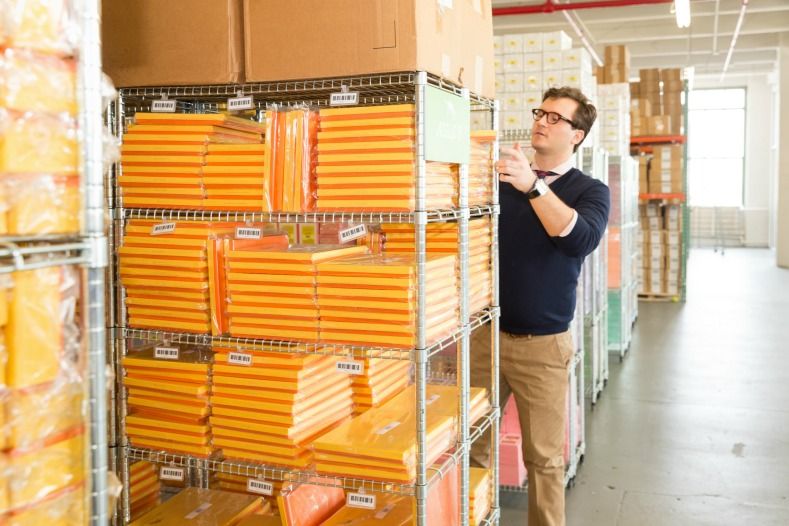 Because Ben's Garden products are made in the U.S., the company is able to quickly meet demand for large orders.
Increasingly, phrases featured on Ben's Garden designs are self-generated. "For the past few years, we've been developing our own storybook of intellectual property that we own and protect," Busko says, describing his goal of eventually licensing that content. "In today's competitive marketplace, that enables us to control the content we create and continue to be perceived as unique. Developing a proprietary library of anything is always valuable."
Busko's appreciation of all things botanic and historic finds balance in his embrace of the technology that powers his company's growth. After investing hundreds of hours into customizing software to support the business, he can now forecast sales six or more months in advance.The cloud-based system integrates tools on multiple levels, from micro to macro. All-in-one, it's an ERP (enterprise resource planning) system for accounting, payables, and receivables; an MRP (manufacturing resource, or material requirements, planning) system, which Busko likens to a recipe or ingredient list for each product; and a CRM (customer relationship management) system—because, in Busko's words, "You have no business without happy customers."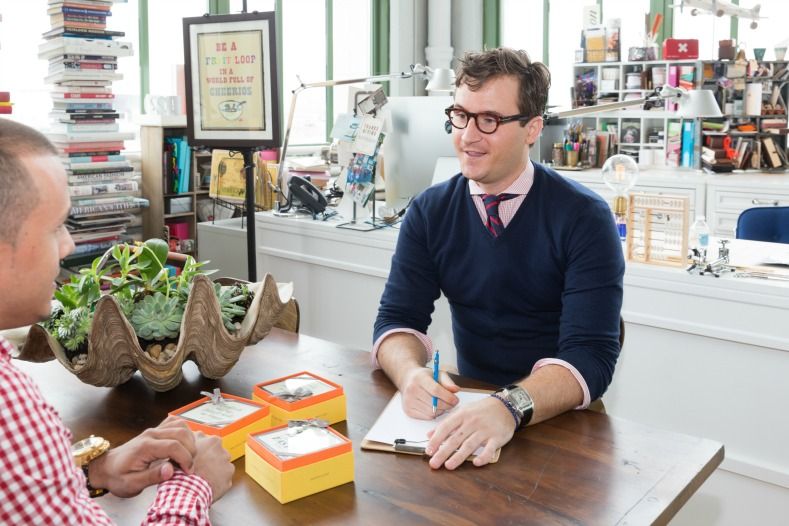 Busko speaks with traffic and logistics coordinator Angel Medina.
In the cloud, Busko and his team track all communication with clients. Via tablet from any location, he and his customer service representatives can see every detail of customer cases and resolve issues while sharing a common knowledge base. "Maintaining my values was essential as we developed this digital system," he says. "We had to stay loyal to that foundation—those principles of engagement and personal interaction that have always been at our core."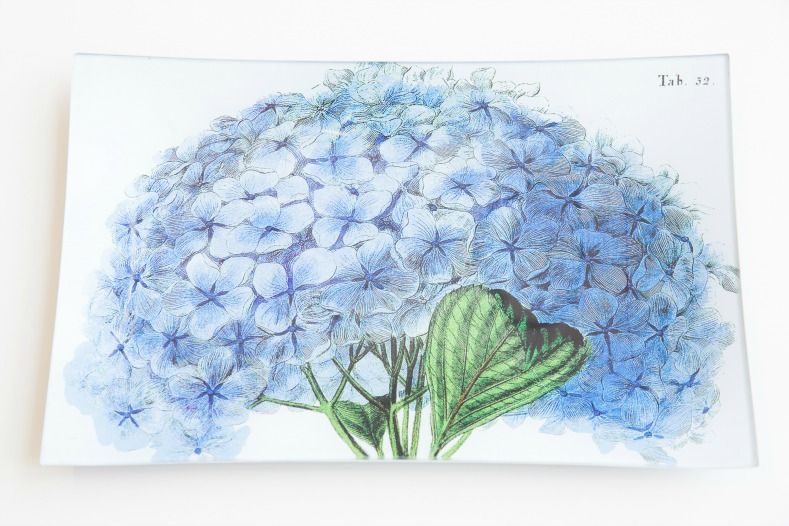 Many Ben's Garden products have a botanical theme.
As Ben's Garden scaled, Busko had to deliver more products faster while maintaining a quality customer experience, and that crunch led him to make a significant investment in technology. While wholesale distribution to "majors" (department stores) and independent boutiques keeps Busko on his toes, he finds online order fulfillment to be the most challenging aspect of running a retail business in 2016.
"When a customer orders from our site, we're expected to meet Amazon's delivery schedule," he says. "In the past five years or so, standards have changed dramatically and continue to rise."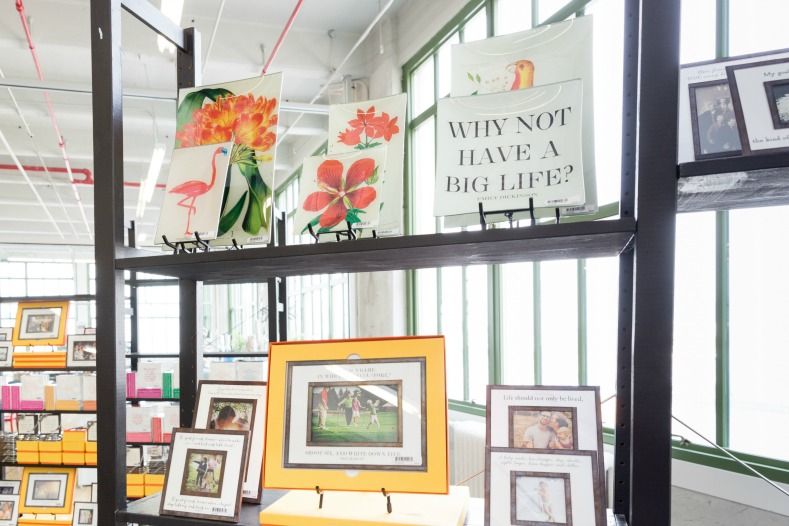 The company has two retail stores in Long Island, as well as a warehouse and studio in Brooklyn.
It's difficult for any entrepreneur to compete with the efficiency and productivity of a large company, but there are also plenty of benefits to operating a small business. Through correspondence and face-to-face interaction in his stores, Busko seizes many opportunities for human connection. He often handwrites thank you notes to accompany orders and sees a positive shift in employees who take pen to paper to express gratitude to customers. Through stacks of outgoing mail, they can measure success. "I found writing thank you notes is a sincere way to convey our gratitude but also an effective way for an employee to measure success," he says. "I've had employees laughing because they have so many notes they struggled carrying them to the post office."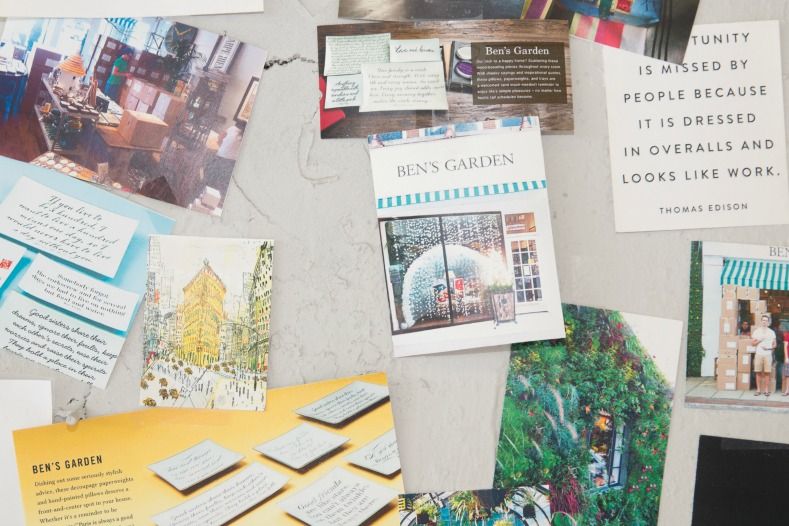 The company also creates made-to-order pieces.
Roughly a quarter of Ben's Garden online retail revenue is driven by custom orders. Made-to-order decoupage glass trays are personalized by incorporating customers' wedding invitations, baby announcements, family photographs, sheet music and recipe cards, among other keepsakes. The company also curates assortments with city themes by transforming antique maps and other local ephemera into art.
"My heart's always been in this," Busko says. "Everything we do communicates that emotional connection to the client, and the quality of our product matches that sentiment."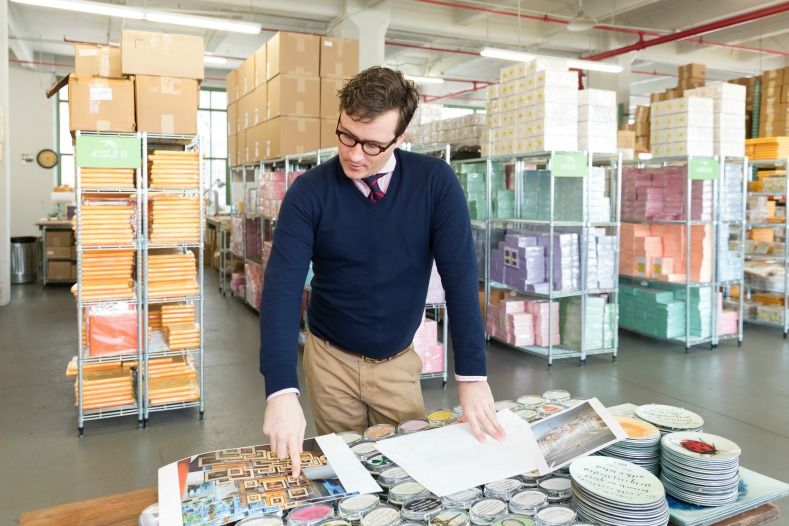 Nearly 25 years after Busko first started the company as a child, Ben's Garden employs 50 people.
Whether he's at work on the floor of a Ben's Garden boutique, or in a warehouse corner making art, this way of framing the world ripples out from Busko's orbit. One sentiment at a time, he maintains the sincerity of childhood. "I wasn't particularly interested in accumulating wealth at eight, so I indulged my sweet tooth," Busko says of making the connection between hard work and income. "When you're three or four feet tall, you live in a world perspective." From that vantage point, he knew that a dollar could buy a lot of gumballs.
Photos: Christopher Lane