How do you grow your business? Where do you expand? Most business owners (myself included) dream about their next big thing, the break-out, innovative new business expansion. And that's a good dream to pursue. But don't forget: In the meantime, the less risky kind of growth is selling more of what you already sell to the same people you already sell to.
You can use the following framework to help you evaluate different ways to pursue business expansion.
Business Expansion Conceptual Framework
You can start with sorting your opportunities into four categories, as shown in this simple chart: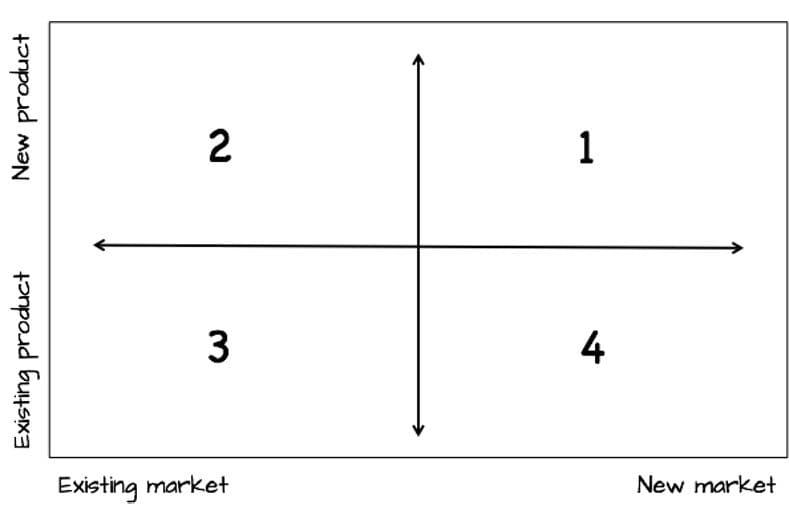 New or Existing Product (or Service)
One question you can ask for sales growth is whether you are going to sell something different from what you already sell. This is what happens when an accounting firm offers investment and retirement services, a beach resort adds a golf course or a book store starts selling beverages and snacks.
Pioneering and exploring new business expansion opportunities takes guessing. We can make more mistakes when we're pushing outside of what we know.
New or Existing Market
A second question for sales growth is whether you're going to find new customers to sell to or just sell more per sale (or more per customer) to your existing customers (e.g. when a landscaping firm expands from private homes to commercial offices).
How to Interpret the Business Expansion Framework
All things being equal, I think the best type of business growth is in quadrant 3 in my chart: existing product to existing market. I believe the hardest growth is in quadrant 1—selling new product to a new market. Falling somewhere in between are quadrants 2 and 4.
Pioneering and exploring new business expansion opportunities takes guessing. We can make more mistakes when we're pushing outside of what we know. The new product line may end up taking more training, for example. The business expansion may cost more than we initially planned to develop, or execution discovers hidden costs. The new market may require new marketing efforts to reach out to new people, which may end up costing money when mistakes are made, targets are missed and promotions don't work.
That being said, there will always be special cases and exceptions. A business may have to stretch outside of its comfort zone from time to time to survive.
How to Apply It to Your Business
Use The Framework to Help Generate Ideas
You can put the business expansion framework up on a whiteboard, or draw it on paper, and jot down ideas as they come up. Consider assigning your ideas to the various quadrants with the help of your team. I've used this one many times for my own business and as a consultant. I've never seen a case in which the exercise of trying to classify between new and existing business opportunities, and coming up with examples of each, doesn't generate some good ideas.
Try to make reasonable guesses when you're using this framework. It's brainstorming, not rigorous science. Don't sweat the detailed definitions and use your common sense instead. For example, a restaurant offering to-go packaging may not be as new and different as one offering delivery as well, or packaging its best-selling sauces for volume sales in groceries. A software business offering a new monthly subscription version of its productivity software may not be as big a leap as a software company selling check printing or mortgage loans. A business that now sells to consumers and wants to sell to businesses is probably a move to a new market. Going from small business to enterprise is moving to a new market. You have to use your sense of strategy.
Don't Push It Too Hard
I recommend against taking this advice to the extreme. Of course your business needs to expand in new directions too. This business expansion framework is more about not missing the easy wins than it is about not ever going further.
And, particularly, this framework can help people find ways to sell more of the same to the same people. My experience shows this as a matter of human nature. The big ideas are more exciting. We all aim high, and that's great, in so many contexts. But in business expansion and growth, sometimes it pays to move forward with what's easiest.
Read more articles on growth opportunities.
Photos from top: iStock; Courtesy of Tim Berry