Inside of a co-working space in New York's Financial District, John Shi and Woody Hines are focused on bringing Hillflint—their line of chic collegiate knits—to students and alumni who still love repping their alma maters. And their hard work is paying off; Hillflint's growth has ballooned impressively since its 2013 launch. According to Shi and Hines, the company went from partnering with just one university (Dartmouth, Shi's alma mater) to 90 schools, and is now stocked in more than 25 retailers. And just how are the duo handling that impressive growth?
"Coffee," Shi says, laughing.
"Coffee and focus," Hines agrees.
It's a formula Shi and Hines have followed long before Hillflint's most recent growth spurt. The pair met in 2011 as rising seniors during a summer internship at a hedge fund. Hines sent out an email promoting an Indiegogo campaign he was launching for his men's style blog, Men of Habit, to the firm's listserv.
"That email was probably not the [wisest] thing to send to a really smart group of 1,300 people," Hines admits. "But it at least caught John's attention."
The two kept in touch after their internships and graduations. As they went out into the world—Shi worked at Amazon for under a year, Hines explored marketing and branding—their minds were still on college. Specifically, college wear.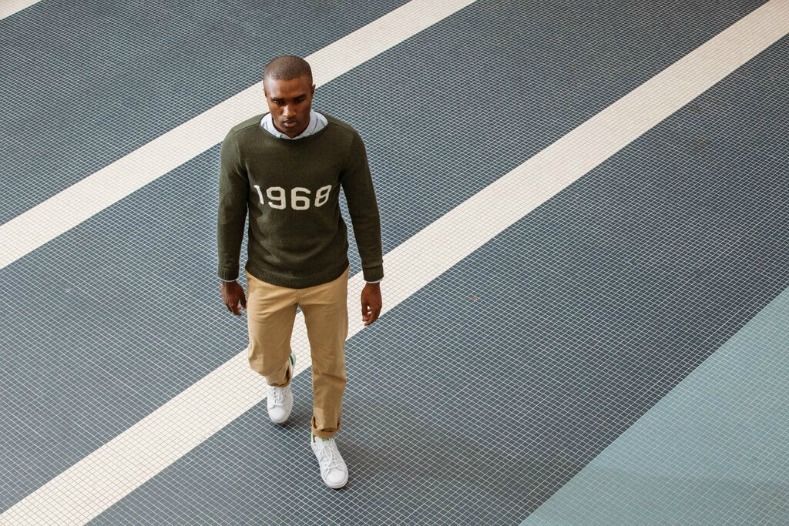 A model in one of Hillflint's collegiate sweaters.
"One thing we both noticed, as students and alumni who are really proud of our schools, is that the apparel in our bookstores is kind of boring," Shi explains of the typical T-shirts and hoodies screenprinted with college logos bought on campus. "It's all the same stuff, made by the same companies. And it didn't quite live up to how we felt about our experiences in college. That was the initial impetus behind coming out with better college apparel in the form of really high-quality, stylish stuff that didn't exist in the market."
Shi and Hines envisioned a classic sweater that channeled the knits Ivy Leaguers have favored since the turn of the century. In 2013, they began working on Hillflint part time and remotely, from opposite sides of the country. Shi and Hines knew they had a viable business on their hands when a third of Shi's graduating class pre-ordered a sweater during homecoming. And after posting similar numbers when they expanded to Princeton, Hines' alma mater, they used KickStarter to raise capital in the fall of 2013.
"We were like, 'How do we test the concept quickly, and get cash in the door immediately?'" Shi explains. The campaign was a success—they reached 50 percent of their original goal in 15 hours, and ultimately raised $60,000. In 2014, Shi and Hines were all in.
Essentially you have to create a unique product and show that it has potential in the market.
—Woody Hines, co-founder, Hillflint
The pair subscribed to bootstrapping and the lean startup school of thought, and ran a very tight ship. Shi had moved back in with his parents, and Hines joined him in Indianapolis in February 2014. They moved into an affordable house on a crummy block to cut down on overhead—"We were in a less desirable area of that less desirable area," Hines says—and devoted their time to getting Hillflint in schools beyond their alma maters.
But doing that would require upending business as usual in the collegiate wear industry.
"A lot of this industry hinges around lower-end distribution," Hines explains. "The collegiate market for apparel is many billions of dollars, and just Walmart alone accounts for a significant percentage of that business. The big win in this industry has historically been winning the deal with Walmart to do all of their collegiate T-shirts. We make a quality product and sell it through a better distribution channel, which is a sort of a novel concept for this industry."
It also meant showing both wholesalers and colleges that students wanted more than heathered T-shirts and hoodies.
"Essentially you have to create a unique product and show that it has potential in the market," Hines says. "And then the school has to be onboard with it. So it's a really challenging process. We started with a few select schools, and that was kind of our way to claw further and further up the food chain to the point where we could be partnering with schools with very developed retail programs."
Hillflint's growth—from less than 20 schools in 2014 to around 90 today—took a lot longer than it would appear, Shi and Hines say.
"A lot of these are really, really slow-play pitches," Shi says. "I reached out to [one university] bookstore in the spring of 2013. They placed their first order, like, over a year later. That was just being consistent, showing growth, being nice and a lot of persistence. Now this person is one of our closest retail partners. She's actually graduated from the retail store to corporate headquarters at this retailer, and now we have a great relationship with her buying team that spans multiple schools."
"We started to have that retailer interest that we could then show to all the schools and then very rapidly expand," Hines says. "It was nice to have those national partners who wanted to stock us in a ton of schools. That made the product more enticing."
With each new milestone, the duo moves further up that collegiate wear foodchain. They eventually left Indianapolis for San Francisco (to be closer to an e-commerce partner), and moved to New York this summer. Now they're on the hunt for their second employee, and are planning to launch products beyond their sweaters. If Shi and Hines have their way, Hillflint's aesthetic and quality sportswear will be available to those who want to show their school spirit all year long.
For more insights on expanding your business, access our exclusive guide by Drybar founder and chief creative officer Alli Webb, Disrupt & Grow: How Drybar Became a $50M Business.
Photos from top: iStock, Courtesy of Hillflint