Foursquare is teaming up with megabrands like Starbucks and Jimmy Choo, but smaller businesses can find a niche with smaller location-based services, as well.
Working with location-based apps will help prepare your business for the day when checkin apps are mainstream -- and depending on when Facebook decides to roll out their own checkin features, that day could be sooner than you think.
Location-based apps help you reach out to consumers in your neighborhood. They let you offer timed and targeted special offers to the people who are best-suited to respond to them. And when conducted at a small scale as part of a larger marketing mix, location-based campaigns can offer valuable insights and even some decent ROI for the bottom line-minded small business owner.
Check out these five location-based applications, and be sure to let us know in the comments about other apps you use or that you've noticed. We'd also love to hear how your small or medium-sized business has integrated location-based marketing.
1. Whrrl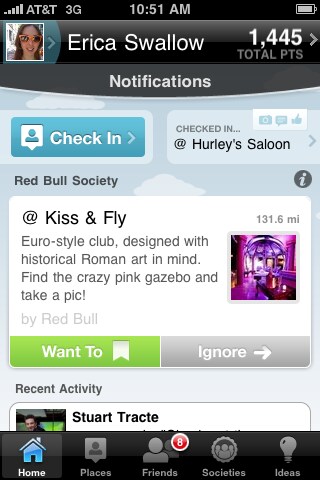 Tagline: Are you in? Check in, unlock Societies, unleash your Footstream.
The Drill-Down: Whrrl's main feature is Societies, real-world groups that revolve around specific passions or interests.  There are Societies for gourmands, bicycle enthusiasts, parents -- just about anything you can imagine. Users make recommendations to one another, and they earn points when other members take their suggestions. The more points a users earns, the more influential he or she is, and the more likely he or she is to win rewards.
Whrrl also uses checkins, but as noted, these aren't the main part of the application.
How Businesses Can Play: Because of Whrrl's system of recommendations and influence, word-of-mouth marketing and real-world activation of special offers are already baked into this app. Brands can offer promotions called "Society Rewards." Essentially, these rewards constitute a loyalty program that starts with online interactions with likely fans and ends in real-world physical presence at your business.

Society owners can set up prizes and a time frame for the program's duration. For example, if you own a restaurant and a related Society, you can set up a prize of dinner for two to be awarded by the end of the week. Users then check in to get a chance at winning the prize.
2. Brightkite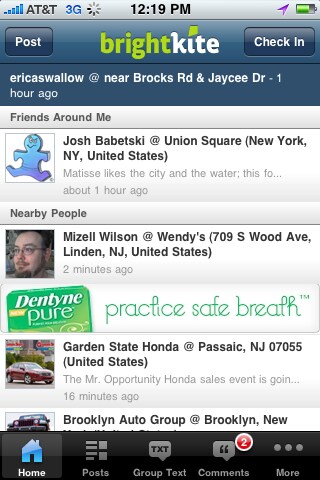 Tagline: The simple way to keep up with friends and places.
The Drill-Down: Brightkite lets users check in and post comments from just about any location. It also gives its users access to a wide range of features including photo-posting, messaging, comments, tips, tiered rewards, and group chat capabilities. It's a perfect choice for users who want a more interactive, social experience than Foursquare.
 
This app's broader set of features also makes for an interesting gamut of possibilities for creative-minded marketers. 
How Businesses Can Play: No stranger to business and brand partnerships, Brightkite specializes in highly targeted, relevant, and effective media placement.
The app can target consumers by precise geography, by behavior and within a given time frame. You can choose to find people in your city or within a given radius of your business. You can choose to reach out to people in a type of location, such as a bar or a hair salon. You can target consumers who are hanging out in groups of two or more, who belong to a certain age group or who speak a certain language. And you can limit your campaign to a given week, weekend, day or even time of day. In other words, you can drill down to reach the exact people you want to find based on just about any variable Brightkite has.
The company can also help you reach out to your friends and neighbors locally, letting nearby Brightkite users know about special deals and promotions.
3. Gowalla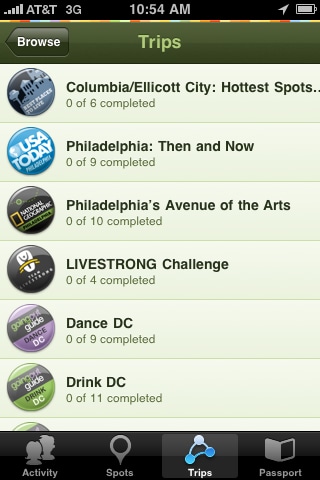 Tagline: Discover, capture and share places and events with your friends.
The Drill-Down: Gowalla is a checkin app that lets users leave tips and complete multi-stop trips to earn virtual items. The app has a travel/adventure theme and features passport stamps as its main currency. Some of the app's virtual goods can be redeemed for real-world items.

This app started gaining traction around SXSW 2010 and is considered to be one of the top contenders up against Foursquare.

How Businesses Can Play: Creating Gowalla trips in your neighborhood or city is a great way to start using Gowalla and encourage interaction from local users. Many brands have also worked with Gowalla to create in-game virtual items.

For example, Missouri's Springfield Regional Arts Council created trips around local theaters and art galleries; users earned special items by completing them.Vail Resorts in Colorado has created several trips; one highlights local attractions, and another points out specific points of interest and fun things to do at the resort. The Washington Post has made several local trips and tours around their readers' interests, such as dancing or burgers.

A Gowalla trip or branded virtual good could be a fun way to bring more Gowalla users into your store or restaurant, especially if your business is linked to other local businesses. You can also contact Gowalla to arrange for a special promotion for your business.

4. Loopt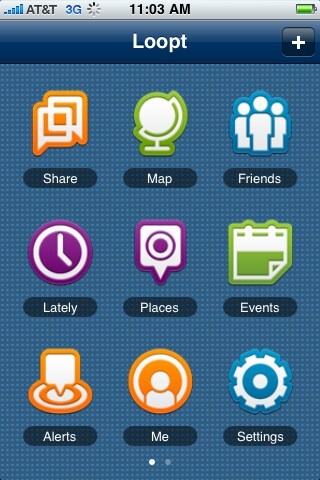 Tagline: Go places. Find friends. Get stuff.

The Drill-Down: Loopt actually encompasses a suite of applications, including Loopt, Loopt Mix, Loopt Pulse for the iPad, and Loopt Star, a Facebook game with special rewards and achievement perks. It uses a checkin mechanism that shares a user's location, and helps friends connect and discover new locations. It also integrates with many other web apps and information services, including Zagat, Citysearch, Bing, TastingTable, Zvents, Metromix and SonicLiving, to give its users a really broad array of functions and features.

How Businesses Can Play: Through Loopt Star, you can create customizable rewards, both virtual and real-world. Your promos can range from free products, coupons, and upgrades to virtual goods that still help to create more foot traffic to your business. Loopt also gives businesses access to highly targeted advertising opportunities with special offers that can be directed at specific locations or venues.

5. SCVNGR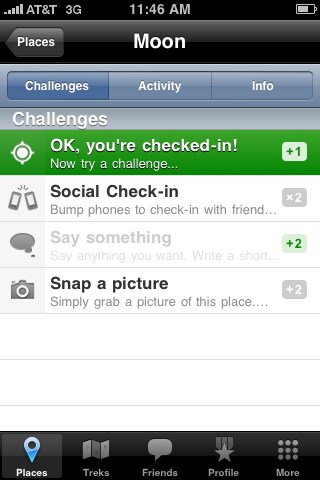 Tagline: SCVNGR is a game about doing challenges at places.

The Drill-Down: SCVNGR is a location-based social game. Users earn badges and points for checkins.  Each location in SCVNGR contains a list of "challenges" and associated points: check in, snap a photo and leave a comment are among some of the most common challenges. Additionally, owners of a location or "regulars" at that location can also create their own challenges and pursuant points.
In addition to points, users earn rewards for checkins, challenge completions, and other actions.

How Businesses Can Play: This app's rewards program is sophisticated and will help you reward customers based on progressive actions. You get to decide how many rewards to offer at your business location or locations, how many points your customers will need to earn to unlock a reward, and whether or not that reward can be redeemed more than once. You can also set expiration dates on rewards.
In addition to challenges and rewards, you can also build "treks" to connect multiple places; an example would be the Minnesota Vikings' promo trek to get fans pumped during off-season training.

These five apps are great options for small business owners looking to explore location-based marketing. Which apps would you add to the list? Let us know in the comments below, and include some details about how small businesses can get involved.
On the go? Find this and other OPEN Forum articles through your mobile phone or Blackberry
®
 or through the new OPEN Forum App for iPhone® from American Express. Visit 
openforum.com/mobile
.