The main streets of Long Island, planted across various towns like refugees of an era when mom-and-pop stores ruled the economy, may not have seen hordes of stampeding shoppers on Black Friday.  But local business is on an upswing, for the most part -- depending on the industry and who you speak to.
On Main Street in Farmingdale, there aren't a lot of retail stores left. It's mostly restaurants and professional offices. A few specialty stores didn't even open on the biggest shopping day of the year.
Carlo Belcastro, owner of the Farmingdale-based Adventure Cycle and Sports, explains, "We're not a Black Friday store. My customers start shopping about two weeks before Christmas and giveaways don't work for me. I spend the day with my family, which is nice because I don't get many days off."
Other stores in the area kept pace with the big boys easily. A steady stream of customers kept Robert Cook, owner of Runner's Edge, a Farmingdale-based specialty store for runners and triathletes, on his toes all weekend. He reports a 10 percent increase in holiday sales, bolstered by a 20 percent-off sale in-store, website deals, and free gifts with a purchase.  
In nearby Babylon Village, Bubble by JDella, a children's boutique owned by Jenny Dellafranca and Karen Hazleton, has a handful of customers Saturday afternoon, indicative of an average weekend for this time of year. Business is up a bit from last year, Hazleton reports, and she's hoping it will get even better. Rather than competing on price with the retail giants, Bubble by JDella focuses on providing high-quality merchandise of distinction. "We carry brands you can't find anywhere else," Hazleton says.
Some small retailers offer low prices by joining co-ops for greater buying power. This strategy has worked for Plesser's Appliances, a Babylon Village landmark that's been in business 90 years. Co-owner Alan Howard reports that business was booming on Friday and Saturday. "Sales are up 30 to 40 percent from last year," Howard says. "People are still looking for deals this season, and if you have those deals, they'll spend money."
Plesser's offers interest-free financing for 12 months to qualified customers, a large selection of popular brands, competitive prices, and plenty of in-stock sale merchandise, a big advantage over the big box stores. "There are no 'limited quantities,'" Howard says. "If we advertise it, we have it in stock."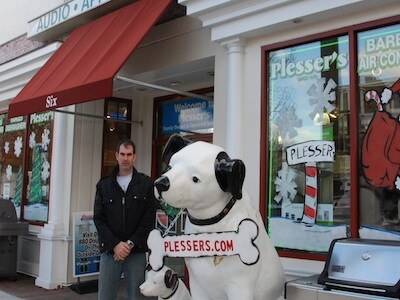 Some people may enjoy getting up at 4 a.m. to wait in line three hours for a $249 HD TV, but Plesser's offers a different kind of shopping experience. "Sleep in, then come here and we'll give you a great deal and service to match," Howard says. "And no one gets trampled." 
 
Click here to read more local stories about Small Business Saturday. 


Dawn Allcot is a Long Island-based freelance writer specializing in technology, finance, and small business.