Chances are, the way you send flowers hasn't changed much over the years. For many of us, the process involves a panicked call to a floral wire service at the last possible moment—Mother's Day, Valentine's Day, a birthday you remembered a little too late.
But that didn't seem right to David Bladow, Matthew Schwab and Chad Powell.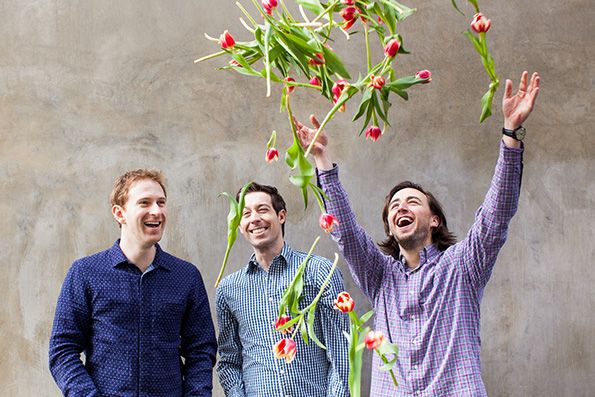 The three met at the University of Colorado, went their separate ways after graduation, then ended up in San Francisco, where they started kicking around an idea for a men's concierge service.
"It was going to be a membership service that would unlock reservations at restaurants you couldn't ordinarily get into," Schwab says. Thinking that flowers might also be part of the equation, they cast about for a flower company they'd want to partner with and came up empty.
"The industry was very antiquated, and there had been no disruption for a long time," Schwab adds. So the partners decided to ditch the idea of a general concierge service and focus on flowers instead. Just like that, BloomThat, which the founders call the "Uber of flowers," was born. The company, which currently serves only the greater San Francisco market, delivers artfully arranged and reasonably priced bouquets, wrapped in burlap, via bike messenger within 90 minutes of an order being placed.
A Formula for Disruption
Bladow, Schwab and Powell decided to test their business idea on Valentine's Day last year, buying flowers in bulk from San Francisco's Flower Mart, assembling them into bouquets and wrapping them in butcher paper on Bladow's patio. Their Facebook ads, which promised delivery within 90 minutes, generated 40 orders.
"It was a test to see if it would work, and we determined that there was a market," Bladow recalls. 
The partners then decided on three ways they'd like to disrupt the traditional flower industry:
1. They'd make flowers more accessible by encouraging people to think about sending flowers more regularly and more spontaneously, not just on special occasions.
2.  Aesthetics would be ramped up with more attention to design and packaging.
3. They'd focus not just on the flowers but on the experience of how they were ordered and delivered (within 90 minutes, by bicycle messenger, along with a handwritten note). That would be accomplished by partnering with local neighborhood florists and a messenger company.
Their original plan was compelling enough to earn them entrance into the prestigious YCombinator program, which provides startup funding to digital entrepreneurs, in the spring of 2013.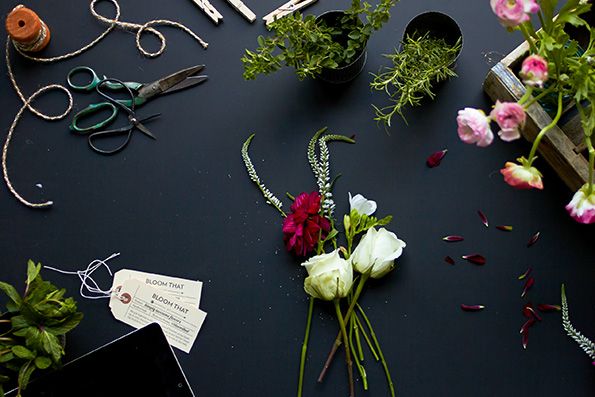 Technology Is Key
"When we first looked at the industry, we saw that most florists are mom-and-pop businesses that don't have a tech infrastructure," Schwab says.
So BloomThat gives its partner florists (there are now five of them) iPads, mounted like POS systems in their shops and connected to BloomThat's dashboard. BloomThat features a limited number of bouquet designs, which consumers can order via an iPhone app. Florists are taught to assemble them with the company's packaging material; BloomThat gives them a rough idea of how many orders to expect at the beginning of the day so the bouquets can be pre-assembled.
"When an order is placed, it's forwarded to the florist, then the information is routed to a bike messenger," Powell says. Prices, which start at $35, are pre-negotiated and, he says, florists keep a larger percentage of the price than they would get from, say, a typical wire service.
"We're not trying to muscle out the wire services," Powell says, "but the florists, who typically make less than $40,000 a year, are getting additional business from us. What makes the whole thing possible today as opposed to a few years ago is technology. We've built a robust and scalable system."
Obsessive Attention to Detail
"I want to buy Warby Parker glasses, and I don't even need glasses," Schwab says. And that's how he wants consumers to feel about BloomThat. That happens when customers fall in love not just with your product but also with the experience of doing business with your company.
"We went through 40 different fabric samples and had our notes printed several times," Schwab says. "We put a lot of effort into detail." 
A poor review on Yelp is viewed not as an insult to be ignored but as an opportunity to turn an angry customer into an evangelist. Schwab recalls a one-star review by a customer whose flowers arrived a mere 30 minutes late. "We dropped the ball, and we went above and beyond to make her happy," he says. "We sent her a free bouquet, gave her another one to send, and called the recipient to tell them it wasn't the sender's fault that she had to wait an additional 30 minutes."
The result: The one-star review became a five-star review.  As Schwab explains, "Part of setting an expectation is living up to the expectation."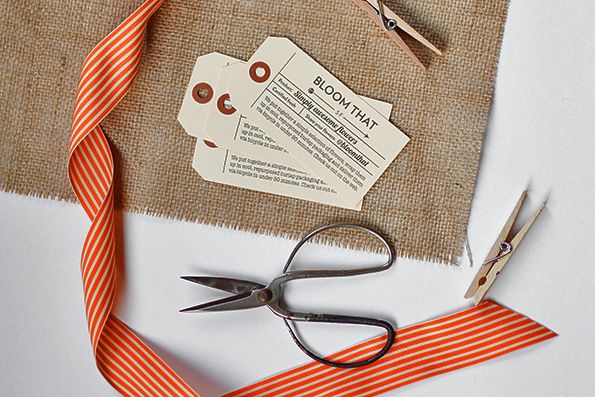 BloomThat recently expanded beyond San Francisco's city limits to the broader Silicon Valley area, but the founders have their sights set on further expansion to New York City and Los Angeles by the end of the year. A recently announced $2 million seed round from SV Angel, Ashton Kutcher, Gary Vaynerchuk, Alexis Ohanian and Garry Tan, among others, will help the company scale.
"The thing we're most excited about is that we're on the cusp of doing something new," Bladow says. "Because of our phones and the ability to deliver things very quickly, I can get something right now and I don't need to schedule. We think we can execute this at a really high level."
Read more articles on startups.
Photos: BloomThat