As companies struggle to meet their business objectives, the monitoring of employee morale and motivation might not be a top priority. But the repercussions of ignoring employee morale can be drastic, particularly for small and medium-sized businesses. 

Boosting employees' morale and motivation in a tough economy can be as easy as making a few simple changes to your corporate culture. Human Resource leaders across various industries show that, even though bonuses and raises are the traditional ways to reward employees, other types of rewards and recognition can be more effective in boosting employee morale. These alternate strategies actually have longer-term benefits for the business.
In a down economy, when raises are few and far-between, small rewards and recognition are not only affordable, they're also very appreciated.
 
How to Provide Rewards on a Budget
 Companies can offer free or low-cost incentives to add quality to the lives of employees. 

Enhance communication streams between management and staff to enable employees to speak freely so that they feel their voices count.

Make sure that employees are regularly acknowledged and thanked for their contributions to the company.


Relax dress standards on special days, or one day each week.

Allow for flex-time or virtual working opportunities.
In addition, keep in mind that other local businesses are also feeling the economic pressure and might be willing to partner with you to provide low cost employee perks such as wellness programs, discounts or events. Perhaps a nearby spa might be willing to give employees a day of free massages in return for the publicity? Or a local restaurant might be interested in offering an exclusive employee discount in exchange for advertising space on an internal bulletin board or your company's website.

The Benefits of Gift Cards
 Unlike bonuses or raises, which are often selective, and/or seasonal, Gift Cards are often a more economical way to reward all employees on a more frequent basis.

What's more, bonuses or raises are often tied in with obligation (employees may feel they should save it or use it for practical purposes), Gift Cards (specifically those not linked to a store or service) can provide employees with the freedom and flexibility to indulge themselves. Gift Cards can be personalized with your company's logo, and even your employees' names.  This type of acknowledgement can positively affect on the way they feel about your company, and encourage employee loyalty. 

Consider implementing a "surprise and delight" program as part of your overall morale program. Keeping Gift Cards in your desk drawer for on-the-spot recognition and reward can have a substantial and positive impact.

Reward Employees on Administrative Professionals Day
 Administrative Professionals Day 2010 coming up on April 21st, right now is the perfect time to say thank you. American Express created foreverythingyoudo.com - where you can publicly thank valued employees and colleagues. Post and share a personal message of recognition on the site for a chance to win a $50 Gift Card.1
 
You can also order American Express® Gift Cards online for your employees. Order Gift Cards now in time for Administrative Professionals Day and get free 2nd day shipping*.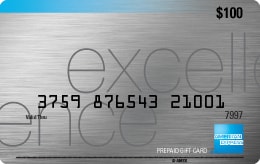 American Express Gift Cards are available in denominations from $25- $3000 and are accepted at thousands of locations in the U.S that accept American Express.  They can be replaced if lost or stolen, have no monthly fees, and funds do not expire.   


Visit americanexpress.com/gift and use promo code OPENADP.

1No purchase necessary, see rules on foreverythingyoudo.com for details

* Offer valid through April 30, 2010 and only for online orders.  Offer may not be combined with other promotions, offers or savings. American Express does not ship Gift Cards to the states of HI & VT. May be used at US merchants that accept American Express® Cards except cruise lines, casinos, ATMs and recurring billing. See americanexpress.com/gift for details.