At a time when everyone from hiring managers to prospective customers are using Google to get the real skinny on individuals, it's more important than ever to monitor and manage one's online reputation.
Pete Kistler found that out the hard way in 2009 when, as a student at Syracuse University, he had trouble landing an internship because he was consistently confused on Google with a drug dealer of the same name. Sure, he could pay an online reputation management company thousands of dollars to fix the problem for him, but was it worth the price? "No way," declared his friend, Patrick Ambron, who knew a thing or two about SEO and offered to help out. The seeds for BrandYourself were planted. It's a do-it-yourself platform where anyone can take control of his or her Google results for free. "We wanted to put the power of online reputation in everybody's hands, regardless of how tech savvy or wealthy they might be," says Ambron.
Learning Curve
Along with a third friend, Evan Watson, Kistler and Ambron hacked together a rudimentary site and were up and running by the end of 2010. "Back then, we were telling people that we'd help them put their best foot forward on the Web," says Ambron. BrandYourself showed users, for a fee of $9 a month or $80 a year, not only how to manage Google searches, but whom to follow on Twitter, what blog posts they should be reading and how to navigate Facebook. They signed up a few thousand customers, mostly through word of mouth and by creating a blog about online reputation management. "We'd get about 50,000-70,000 uniques a month and converted readers into customers," says Ambron.
There was just one problem. By offering so many services, BrandYourself was spreading itself too thin. "Doing all of those things kept us from being able to kick ass at the most important thing, which is 'what happens when you Google me?' We learned that it's better to be the absolute best at one thing than it is to be pretty good at many things." 
So the three founders decided to redesign their site to make it less clunky and more focused on Google search results. They'd need some serious engineering talent, though, and that would mean they'd need some money.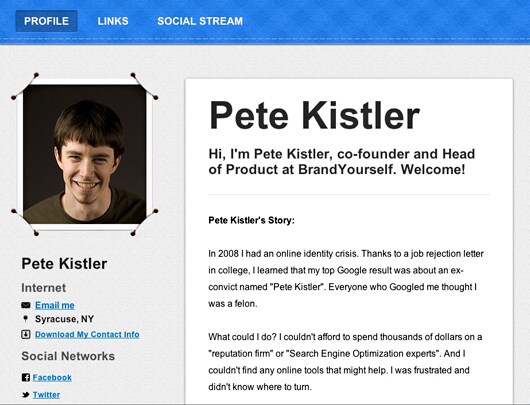 Fresh Capital, New Platform
Early success with their "clunky" product helped the founders raise $1 million from a variety of investors, including Carl Schramm, formerly of the Kauffman Foundation, Barney Pell, the founder of Powerset (acquired by Microsoft), and Zelkova Venture, among others. "The first thing we did was hire really good engineers," says Ambron. "We wanted to experiment with different paywalls, so we tapped a guy who was the CTO of a company that was sold to Match.com."
The team built a brand new platform, focusing entirely on helping users improve their Google search results, and launched it in March of last year, at SXSW. BrandYourself took home the top startup award at the conference's Accelerator event and began generating some serious buzz.
The platform is now built on a freemium mode. As a free user, one can upload up to three links to BrandYourself, which the company will analyze and "show you everything you can do to make them more search-engine friendly," says Ambron. That may mean changing the URL on your LinkedIn address, or adding items to your profile. And all users create their own BrandYourself profile, which is optimized to show up high in search results. Through the profile, the company can also give users information about who is Googling them. Paid users ($9/month; $80/year) may submit unlimited links and have access to more analytic tools.
Revenue Spike
Ambron says the company has more than doubled revenues since last year.  "If you hear about us, there's a 30 percent chance that you're going to try us," says Ambron. "In our industry, the gold standard is 8 percent.  This is something that people care about." 
In this economy, it's no surprise that job applicants make up a large percentage of BrandYourself's users. Ambron says that service providers, such as real estate agents, are also using the site. And last May, the founders' alma mater, Syracuse University, made the premium service available to all graduating seniors, and then renewed its contract for all University students this fall. John Hopkins University is doing the same for its 2013 graduating class. 
Despite interest in BrandYourself from the university market, Ambron says that his focus for the immediate future is on another redesign that will make the site even simpler to use, and on growing the company's individual user base.  "Our goal is to be profitable next year," he says. "What I've learned bout building a product, I've also learned about building a business. It's important to be laser focused."

Read more Startup of the Week columns.