It was 1989 and Brian Scudamore was a frustrated 18 year old living in his parents' house in Vancouver, Canada. Scudamore desperately wanted to attend college but didn't have the money, so he looked around his cluttered bedroom for business ideas. Then it hit him: What if he could help others declutter their spaces (something he needed) for a fee? On a prayer and just $700, Scudamore purchased a used pickup truck and started a business cleaning out his neighbors' garages. He'd pick up old couches, help friends remove excess after home renovations and dispose of old electronics. Before long, Scudamore's business—what he named 1-800-GOT-JUNK—was taking off.
Growth and success soon took precedence over a college education, and Scudamore dove right in. Problems arose, though, when he says his new hires turned out to be "bad apples," and economic downturns threatened to kill his business. Then, in the late '90s, Scudamore made the decision to franchise his business and experienced exponential growth.
Today, 25 years later, Scudamore is running two additional businesses under the same umbrella: WOW 1 DAY Painting (launched in 2012) and YOU MOVE ME (launched in 2013). The company is still headquartered in Vancouver; has 250 franchises across the three brands in Canada, the United States and Australia; and brings in revenues north of $171 million per year.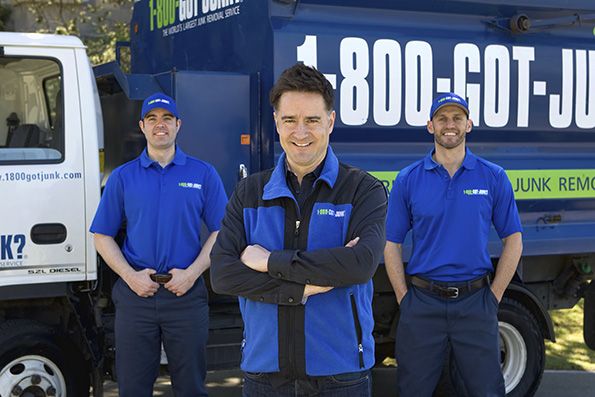 OPEN Forum spoke with Scudamore about his rules for successful franchising, why he believes in "going dark" on vacation and how he will soon hit $1 billion in revenue.
You didn't start franchising until 10 years into your business. Why did you decide to make the change, and what have you learned?
I was an ambitious entrepreneur and wanted the company to grow. I was also a big fan of the McDonald's franchise model and in building a community of sharing.
The best thing a franchisor can do is to find the right people. How do we find the right people? It comes down to getting to know them and connecting with them. We hire on attitude and train on skill. One of our most important filters when interviewing is asking ourselves if this is a person we'd want to have over for a barbecue. If that answer is yes, we will most likely go for it.
What is the culture like in your corporate office?
It is really open. No one has a private office—not even me. I like to be out and connecting with people. Every day, I will sit [at the desk] of someone who isn't there. I like to sit in different departments and get to know people and hear what is going on. I get my energy from people.
Let's go back to hiring. It sounds like you have a good thing going now, but I understand that you had a tough go in the early days. Is it true that you fired your entire staff in 1994?
Yes, that is true. I was five years into my business and I realized that things weren't working out. I had 11 people working for me at the time, and nine of them were bad apples. I fired them all, though, because I knew that I had to clean house. I realized that I was not having fun anymore. I was avoiding time in the office. The business wasn't delivering good customer service, it wasn't friendly and we weren't smiley. It was time for a change.
I understand that you give all your employees five weeks of vacation. Why so much?
I wish every company in the world would offer at least five weeks vacation. The way I look at it is that we can't afford not to. If a company is about finding the right people and treating them right, that means giving them time to have balanced lives. People here work hard. We want to make sure they also rest hard. 
Tell me about your "go dark" policy. Is it true that your assistant changes your email password while you're on vacation so you can't check in?
I've been practicing going dark for about 10 years. And, yes, my assistant changes my password. The first time I did it, I was going to Italy and she asked if I wanted to be alerted if the office burned down. I told her I wouldn't want to know. As long as everyone was safe and OK, it would get fixed and I could deal with it when I got back.
I believe that I have great people; I'm not a one-person show, so when I'm away, I go dark. I think we are all too connected. And I also think that you can't really recharge if you don't lay off the gas and stand still once in a while.
Why do you think it is so difficult for entrepreneurs to disconnect? What advice can you offer to highly connected business owners?
I think entrepreneurs have addictive personalities and they like adrenaline. When they check their email, there is a chemical change in the body. Many of them—like me—may not have the self-discipline to stay away, which is why I ask my assistant to change my password. If you don't have an assistant, ask someone you trust—a spouse or a friend.
I understand that you are aiming for $1 billion in revenue within the next five years. That is quite a jump from the $171 million you make now. How do you plan to do this?
My two other businesses are taking off. I think one of those companies—not sure which one yet—will surpass 1-800-GOT-JUNK in five years. They are both doing exceptionally well. That said, I'm 44 years old and when I was 34, it was all about hitting $1 billion. Now I'm older and wiser and that number doesn't matter as much. My biggest priority is to build businesses with exceptional service in everything we do. 
Read more articles on building an empire. 
Photos: 1-800-GOT-JUNK