Google Chrome commercials tend to open up the floodgates while proving the power of the Web—just look at It Gets Better, Dear Sophie and Jess Time (and let's not forget the chill-inducing Gaga and Bieber ads). But one Google Chrome advertisement that aired in the UK and Ireland opted instead to inspire, by telling the tale of a successful small business that sells satchels. 
Julie Deane founded Cambridge Satchel Company in her kitchen in 2008, out of necessity. "I needed to make school fees for my daughter, who was being bullied at school," Deane says. "I made a promise to her that I would move her to a place that she could be really safe and happy. Once you make a promise to your children, there's no going back."
Deane developed a few ideas for companies she could start with a budget of £600, one of which was a satchel company. While many startup companies feel hampered by a lack of capital or a shoestring budget, Deane wasn't deterred. She maintains that £600"seems a perfectly reasonable amount to give something a go with," and that with just a small investment, you can get a sense of whether something has legs or not without getting in too deep.

Once she decided on satchels, Deane sat down at her kitchen table and started Googling handbag manufacturers, leather goods manufacturers, leather suppliers, saddle makers and anyone who would cut leather and make things from scratch for her. She "hammered" the Internet to make sure nobody else was doing it—and when she determined that her venture was unique, she drove to the tanneries and manufacturers to get them on board.
She found a leather supplier and got to work on a prototype. With a product in the works, she then set out to build a website. "I didn't know very much about websites at all," Deane says. "I thought, 'It can't be that hard; there must be a course on the Internet.'" She found one, spent two nights taking the course and made the website on the third night.

"If you have access to the Internet, it's all there," says Deane, who now speaks to students about entrepreneurship and bootstrapping. "I tell them, 'You don't need to pay someone else to do your Web design and SEO and AdWords campaign.' It's lazy."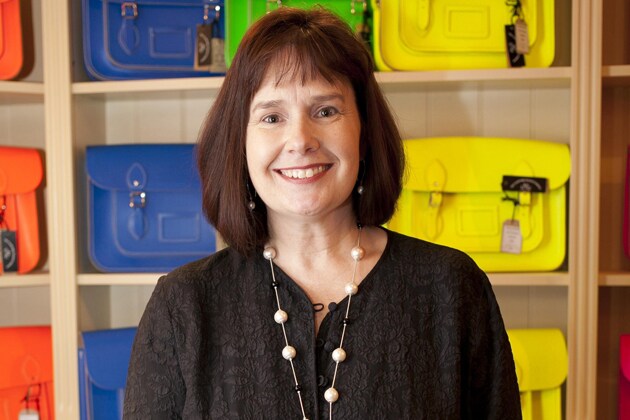 Founder Julie Deane (photo: Courtesy of Cambridge Satchel Co.)
Deane put herself on every free online listing she could—from the Yellow Pages and mom blogs to Etsy and eBay. "I read this book called Guerilla Marketing, and it says you need to try multiple avenues of marketing, and if people see your name enough times, then they'll get curious enough to look you up," she says.
As she started selling chestnut, dark brown and black satchels online, Deane engaged her customers. She'd ask them to send a photo of them with their satchel and to write a testimonial for the site if they really loved the bag (and to send it back if they didn't), thinking a solid review could lend her fledgling business credibility and encourage other people to buy. A few of Deane's early customers mentioned their love for fashion blogs, which opened a world of opportunity to Deane.
RELATED: How to Get Customers to Do Your Marketing for You
"I couldn't believe how frequently people would be checking these fashion blogs!" Deane says. Whenever a customer mentioned a go-to fashion blog, Deane sent the blogger an email about Cambridge Satchels and a photo, in hopes of a shout-out. She would tell them, "I can't send you free samples—maybe in a year's time if it goes well, you can have one, but in the meantime, here's a photograph!"
When the leather supplier worked on a project with red and navy, Deane had some colored satchels made. She had refrained from bespoke colors before, since a minimum order would be six months' worth of sales: "If I'd picked a dud of a color, that would not have been good news for the school fees!" But Deane says the red and navy triggered a "lightbulb moment" for her. "The minute I offered red and navy, those really took off, and it became very, very clear that the way forward would be through different colors."
Over the years, Deane aggressively worked with fashion bloggers and prominent fashionistas, sponsoring giveaways and gifting satchels, which yielded organic buzz. Over the years, Cambridge Satchel built strong relationships with these bloggers—even asking them what color satchels the company should make next—and these relationships enabled the brand to skirt traditional advertising. Fully embraced as a fashion obsession, Cambridge Satchel grew thanks to social media and word of mouth, especially via blogs.

 

Photo: Courtesy of Cambridge Satchel Co.
In September 2011, Elle UK reached out, inquiring whether Deane could produce a brighter satchel for inclusion in an upcoming fluorescent trend piece. Always one to capitalize on a new opportunity, Deane produced these satchels and sent them to bloggers who were attending New York Fashion Week. "When the lights at the shows went down and the people started taking flash photography, the satchels really popped," Deane says. "So we got noticed, and The New York Times and the New York Post called us the 'street style of New York Fashion Week.'" 
The success of Fashion Week in 2011 beckoned Bloomingdales and Saks to bring the satchels stateside, where they were dubbed "The Brit It Bag" during Fashion Week in February 2012. "That was a big moment for us, when we really got noticed," Deane says.
Google Comes Calling
This new trend didn't go unnoticed. Just a few months after Fashion Week, ad agency BBH contacted Deane, asking for facts and figures about the business and the whole story of how she started it, to pitch Cambridge Satchel as part of a large media opportunity. "I had no idea what they were talking about, or who they were talking to, so it was making me feel really worried!" Deane recalls. After signing a NDA, Deane found out the client was Google, which was looking to do commercials for its "the Web is what you make of it" campaign. After Deane went to London to meet with the client, she had herself a high-profile television spot.
"Julie saw the Internet as a key to her success," says Rich Pleeth, consumer marketing manager at Google. "That's why we built Chrome—to provide people like her and businesses like this with the richest and best Web experience across all devices, combining speed, simplicity and security."
Deane had built great momentum for her burgeoning business through the Web, and, more specifically, Google. "Right from the moment of trying to source everything from my first suppliers—thread suppliers and rivet suppliers and property for the factory—up through the AdWords and the analytics and Google Translate (for foreign emails), we do use all of those things, so to be able to be part of something that's a very honest version of exactly how Cambridge Satchel started, I was very comfortable with it. It wasn't a stretch at all," Deane explains.
The ad ran in the UK and Ireland in late September and early October, then again from December 17 through 31.
"I've gotten so many fantastic emails about it," Deane says. But more than that, she's seen traffic and sales increase exponentially thanks to the ad, which ran on TV but also has surpassed 4.4 million views by YouTube's global audience.
While it's hard to pin down exactly how much Web traffic and sales are attributable to the Chrome ad, total sales from September through December 2012 more than doubled over 2011. In the UK alone, sales increased a whopping 400 percent. And the Google Analytics reports of Cambridge Satchel's Web traffic on an hourly basis show a big spike every time a commercial airs. (Google declined to comment on any of the advertisement's viewing data.)
As if Google hadn't been generous enough, the company incorporated Cambridge Satchel into a live experiment during IAB Engage 2012, when Mark Howe, managing director of agency operations Europe at Google, did a Hangout with Deane, who had Google pros at her office boosting her SEO, improving analytics, setting up a branded YouTube page, optimizing her site for mobile and upping her social media strategy.

RELATED: Is Adding Video to Your Site Easier Than You Think?
"It has been proven that companies that build their business online grow their business at four to eight times faster than those who don't," Pleeth says. "The Internet has given them a global reach they would never have otherwise."
Today, Cambridge Satchels are sold in 190 outposts in 100 countries, and the company does more than £8 million in annual sales, much more than the £600 tuition Deane started the company to make.
Giving Back to the Bloggers
As London Fashion Week approaches, Deane is prepping to open her first brick-and-mortar location in London's Covent Garden. It's a two-story space, with the lower level devoted to the Web-savvy cohort who made her famous: fashion bloggers.
"I really feel very strongly that the bloggers are the people who started my business," Deane says. "I'm really excited about the lounge because it feels like a tangible way to thank the community that has helped me so much."
Lessons Learned from Julie Deane:
Take risks.
Be resourceful—DIY as much as possible.
Know your audience, how they behave and where they spend their time.
Don't give your product away or sell it short, but strategic gifting can go a long way.
Seize opportunities.
Engage your fans; offer them a stake in your company.
Find valuable brand partners with whom to run competitions and giveaways.
Be authentic—Dean tweets about her dog, Rupert.
Embrace the Web and the platforms that live on it.
Want more startup inspiration? Check out these interviews with today's rising stars.

Photo: Courtesy of  Cambridge Satchel Co.