It was a Tuesday morning in April 2010 when a then 30-something Bryan Burkhart answered the phone inside the 80-square-foot office of his new startup H.Bloom, a flower delivery subscription service. (Note: H.Bloom was only a few weeks old at this point; Burkhart didn't know if the phone actually worked yet.)
Caller: Hello, is this Bryan from H.Bloom?
 
Bryan: Yes, who is this?
 
Caller: Oh, excellent. I'm the dentist that you delivered flowers to yesterday morning, and I'm calling to let you know that my wife just commented on what an amazing impact your arrangement is having on our lobby. It is making my office much more welcoming. I'm just calling to thank you.
Upon hearing this, Burkhart found himself wiping tears from his face as he thanked the dentist for his business and promised to deliver a new arrangement the following week. He hung up the phone, turned around in his seat and smiled at Sonu Panda, his co-founder. The call was validation that their crazy idea just might work.
Today, more than three years after that fateful phone call, H.Bloom is a thriving business. Burkhart and Panda have moved out of their pint-sized office and into a sprawling space in the middle of New York City's Flatiron District, where they manage a team of nearly 70 people.
The company provides specialized software to help top-tier florists fulfill flower subscriptions ordered through the H.Bloom site (H.Bloom reimburses a percentage of every sale). So far, the company is active in 10 cities and is on par to expand in the coming months, thanks to $18 million in funding.
OPEN Forum sat down with Burkhart to hear about his background, his business advice and how he decided to get into the flower business.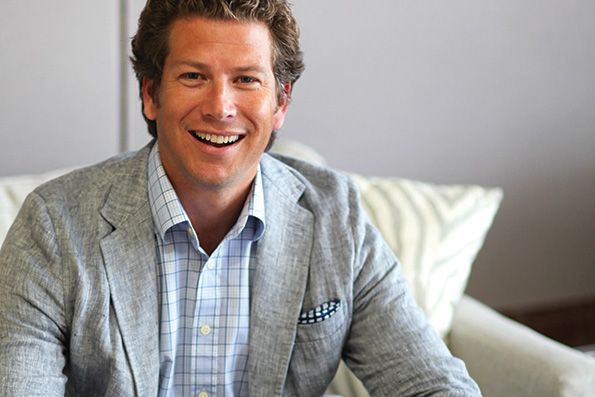 How did find yourself in the flower business? Were you wild about arranging flowers as a kid?
(Laughing) No, I didn't know anything about flowers before founding H.Bloom. I have a tech background. I went to the University of Pennsylvania and then moved to Austin, Texas, to work at Trilogy Software. I was there for a year and then moved to the Bay Area to work at Callidus, an enterprise software company. I started there in 2003 and left in 2009. After that, I traveled for a while and then decided to start H.Bloom with Sonu, a former colleague at both of my previous companies.
I wanted to start something that fit three industry criteria: It had to be large, it had to be antiquated and it had to provide a product that people actually liked. The flower idea was literally the first idea I had, but we didn't go with it right away. Instead Sonu and I would spend four days a week—for about three months—coming up with ideas and creating lists of businesses to start and then meet one day a week to discuss our thoughts. Ultimately we realized that we could generate lists forever. Flowers are a $35 billion industry that lacked tech innovation. It was a huge contrast from my work at Callidus, which provided back office payment software—pretty boring. 
How did you get started with no experience in the flower industry?
I put an ad on Craigslist in 2009 saying I wanted to buy a flower shop in New York City. It was part of my research. I got a bunch of responses and met with shop owners. I learned that most of them were highly creative and passionate, but didn't have as much knowledge about technology and running the operations of a business.
Shop owners told me that spoilage was one of their biggest issues; they had to throw away a third of their inventory at times. That concept led to the epiphany that a subscription service would be perfect because it would eliminate the spoilage issue.
How did the software piece come about?
We started by building our own flower shop and hired a designer. We would rent Zipcars and run around the city trying to fulfill orders. That was so crazy that we decided to start partnering with existing shops and create a software platform that would allow owners to be H.Bloom certified and fulfill orders that came through our site, which is what we do now.
Your training program, SEED, is getting a lot of buzz. Is it true that you groom recent college grads to run regional offices after they spend time in NYC?
Yep. SEED is our farm team. We hire people into the company and put them through a rigorous training and then send them out to "seed" new markets. We hire folks into our sales SEED program and train them on customer acquisition, customer service, account management and brand representation. They complete the program and then move to a new area of the country to launch an H.Bloom regional office. 
The program lasts between three to six months; not everyone graduates, but my view is that no company in the world hires with a 100 percent success rate. The thing I love about the SEED program is that it allows us to weed people out before they are in a position to make a real impact. The success stories are great, though. We have one graduate that we hired out of college who told us she wanted to move to Boston. She is now doing so well that Boston is one of our fastest growing markets right now.
 
Now that H.Bloom is experiencing success, what challenges do you face these days?
One of the biggest challenges we face is prioritizing our opportunities. We are in a really big market, we want to grow really fast and there are tons of ways for us to grow. The best companies out there focus on one thing and do it really well. That has been hard for us, but our management team has helped tremendously. We also have a great board that we meet with for two hours every Monday to talk about key priorities. It helps us stay on track.
 
What advice can you offer budding entrepreneurs?
If you really want to start a company, just do it. You could spend forever analyzing different business plans and researching different options, but my recommendation would be to just get going. Know that things can change along the way, but that is part of the fun. 
Read more articles on entrepreneurship.
Photos: Courtesy H.Bloom