Pearl Malkin, an 89-year-old woman living outside San Francisco, has a message for entrepreneurs of all ages: "Stick your little toe in the water, move it around, then jump right in the pool."
Malkin is in the midst of "jumping in" with her new business venture, Happy Canes, a company that will produce decorated canes for people with disabilities. The idea was born in mid-January when her grandson, New Yorker Adam London, stopped by for a visit and noticed that Malkin was using a cane she'd decorated with bright silk flowers. He loved the concept and presented the idea of launching a Kickstarter campaign to produce flowered-covered canes for the public.

RELATED: Meet Debbie Sterling of GoldieBox: Another Kickstarter Success Story

"She was really excited, so I taped a one-minute infomercial for the Kickstarter campaign. She did it in one shot," London says. "She is really extroverted and outgoing. We launched on January 22 with the target of raising $3,500."
Malkin hit that goal in early March, ahead of her Kickstarter campaign, which runs through March 22. At press time, she had raised more than $4,700 to help launch Happy Canes.

Have you always used a cane?

No, I just started using one in December after I had cataract surgery. I refused to get both eyes done, so when I came out of it, I had vertigo and had to get a cane. I picked one up at Goodwill and it was so ugly. I thought, "I can't walk like this; it isn't my style." So I went to the store and bought a few flowers and put them all over the cane.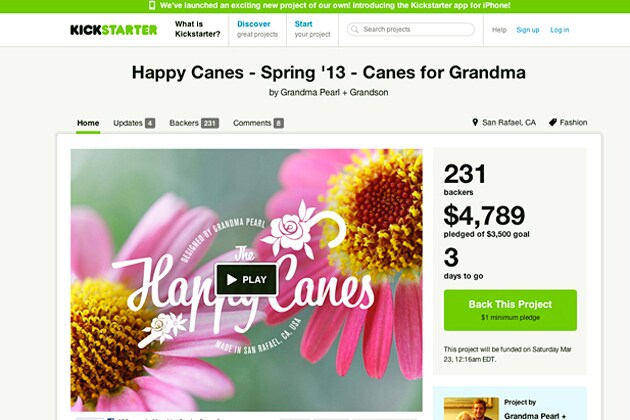 What happened after you put the flowers on the cane?

Oh my goodness, everything changed. People would stop me on the street to ask me where I got my cane. They would smile at me and talk to me more than they ever had before. It was wonderful.
Did you ever think of starting a cane business before your grandson brought it up?

Not at all. I live in a complex and, before Adam came over, I made a few canes for friends, but that was it. Now everything has changed.
What is your goal with the launch of Happy Canes?

Honey, I don't have a goal. I just want to be happy and to make other people happy. If I make any money at all, I will use it to help my family and to help people who need it around my town. I only live on $1,000 per month and I'm still happy. I will give any money I earn to people who need it more than I do.

RELATED: Meet Aaron Hirschorn of DogVacay: It's Like AirBNB for Your Pets
What has been the best part of this Kickstarter experience for you?

It has given me something to look forward to when I come home. Instead of watching TV and going to bed, I go into the kitchen and sit at my table and work on my canes. I really feel like it has given me something to live for.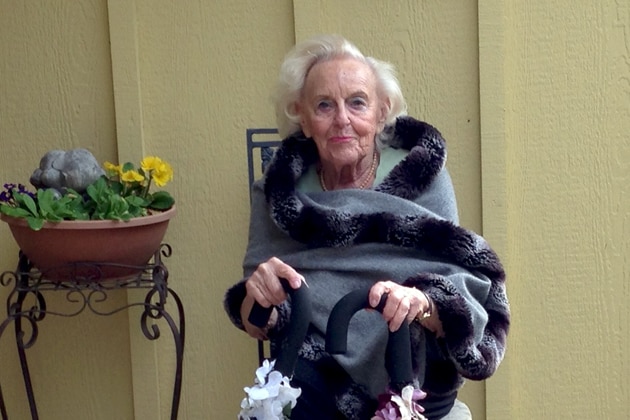 What kind of response have you gotten from your Kickstarter campaign?

My phone is ringing off the hook. Everyone wants a cane. I just got off the phone with someone who wants to pledge hundreds of dollars—can you believe it? For that price, I've promised to make him a four-course lunch!

Meet more inspiring entrepreneurs in our Building an Empire series.
Katie Morell is an independent journalist based in San Francisco. She regularly contributes to Hemispheres, USA Today, Consumers Digest, Destination Weddings & Honeymoons, Crain's Chicago Business and others.
Photo: Courtesy of Pearl Malkin