The secret to entrepreneurial success is to be bold and welcome feedback in all its forms, says Martin Keen, founder of KEEN Footwear and Focal Upright Furniture. "You are always going to be scared, no matter what," he says. "The key is to make the first step, go forward and have confidence in yourself."
Keen made a very bold move in 2003 when he entered the market with a product so ugly it demanded attention—a hybrid shoe/sandal with a large rubber bumper to protect the toe. Despite its looks, the product exploded in popularity; sales reached $1.5 million in just three months, and business hasn't slowed since. Today, the Portland, Oregon-based company has an impressive inventory of shoes, sandals, bags and socks and reported revenues approaching $200 million. People inside the company have just as much fun inside, with a culture that includes not lunch breaks, but recesses.
Keen, who lives in Rhode Island and worked remotely while at KEEN, stayed on until three years ago when he sold his share to business partner and current CEO Rory Fuerst. Since then, he has been working on a product for an entirely different industry: furniture. Tired of hunching over his computer, Keen fashioned an ergonomic desk that allows consumers to rest somewhere between sitting and standing. His company, Focal Upright Furniture, launched its first product, the Locus Workstation, last summer and has since won several awards in the furniture space. He now leads a seven-person staff out of an office in Portsmouth, Rhode Island.
How did you come up with the idea for the first KEEN shoe/sandal?
It was a product of necessity for me. By the time I came up with the idea, I'd already been designing shoes professionally for more than 14 years. And as a sailor [Keen sails competitively out of Newport, Rhode Island], I know that if you don't watch what you're doing, you're bound to bump your toes on things. I'd lost a couple toenails over the years, so I thought I'd develop a shoe to protect myself.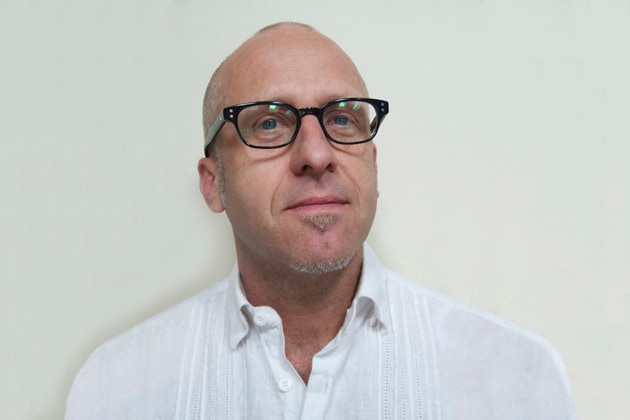 Photo: Courtesy of Martin Keen 
What challenges did you face when you went to market?
Our timing was rough. We launched only 18 months after the 9/11 attacks and by that time the shoe industry had cut way back on investment. We powered through anyway and went to a little-known outdoor products trade show in the middle of winter. Most people were showcasing parkas and ice climbing gear and we had innovative sandals. Luckily for us, our product caught on.

RELATED: Whole World Water—How This Clean Water Business Got Richard Branson's Support
How did you deal with a $1.5 million influx of orders in just three months?
It was a crazy and exciting time. Rory and I really didn't have an office early on, but we soon hired salespeople—many from that same trade show—and made it work, miraculously.
Did you have funding at this point?
We funded it all ourselves. Rory put in the majority; I put in the minority [total was between $4 million to $5 million]. We were in the black in less than two and a half years. By the end of the second year, we'd hit $15 million in sales.
Is it true that you gave away your advertising budget to charity?
Yep. We didn't need to advertise because the company was growing so well by word-of-mouth. So in 2004, we donated our entire advertising budget—about $500,000—to the American Red Cross and Medicine Global to benefit relief efforts around the tsunami in Asia.
What is the culture like at KEEN? Can you explain the recess policy?
We've always tried to design a product that could be worn seamlessly between work to play. The recess idea came out of that concept; we wanted to encourage people not to work through lunch, but instead to get outdoors and take a break from their busy workdays. KEEN employees seem to love it.

RELATED: How Tyler Florence Is Shaking Up the San Francisco Dining Scene
Why did you decide to leave KEEN to start a furniture company?
I felt like I had achieved all I could achieve in footwear. I'd actually come up with the idea for Focal Upright Furniture more than 10 years before; I just hadn't acted on it. Back when I was a shoe-designing consultant, I was working on a drafting table in my barn and didn't like hunching over all the time. I bought an old tractor seat, tipped it over, leaned it forward and tied it with rope to the desk. I then sat down on it—more leaned on it—and realized that my posture was still good and that my back was straight. That was the impetus for the company.
What does the future of Focal look like?
We are in four retail stores now and want to increase that number. We'd also like to build a social enterprise where we create kids' furniture for schools.
I'm working my way up the body from the feet [laughing]. I started with footwear and now I'm supporting more of the body. Honestly, though, I am putting all of my energy into Focal. It is exciting to see how we might be able to change an entirely different industry.
Read more interviews with successful entrepreneurs.
Katie Morell is an independent journalist based in San Francisco. She regularly contributes to Hemispheres, USA Today, Consumers Digest, Destination Weddings & Honeymoons, Crain's Chicago Business and others.