He's spent much of his career behind-the-scenes and front-of-the-house, building a restaurant empire that includes such New York City culinary hot spots like Babbo, Del Posto and Eataly. While his celebrity chef partner, Mario Batali, has been the more recognized name, Joe Bastianich has been building some brand awareness for himself, first as a judge on the incredibly popular television program MasterChef, seen in over 20 countries, and more recently as author of Restaurant Man.
In his memoir, Joe shares his path from his parents' first restaurant in Queens (his mother is Lidia Bastianich) to running his own restaurants and vineyards in a business that now extends across several countries.
Courtney Colwell: Why did you write Restaurant Man?
Joe Bastianich: I was at a point in my life when I was turning forty, and my father was going to pass. I wanted to document my thoughts at the time. It was basically a tribute to him and what he's taught me.
CC: Why open with "restaurant math," a chapter about the hard numbers of running a restaurant?
JB: This is really the difference between the glorified view of restaurants with rock-star chefs and celebrity clients. Too many people think running a restaurant is all about the food and forget it's a business and needs to be run like one, and that's why so many fail. Restaurant math is the fundamental formula for success, and it's one of the key things I learned from my father.
CC: In the book, you talk a bit about cutting out the middleman. Why?
JB: Cutting out the middleman helps to create efficiencies, especially in communication. I know exactly what I'm getting. I'm not opposed to a middleman who adds value, but I don't see having a broker just for the sake of having one. So as we've grown, we've added lines of business—such as linens, fish distribution, wines—to create more efficiency and also economies of scale. This gives us more money to invest back into the business. It's all about creating a better customer experience. We have better control over the product and at the same time, as well as the capital that allow us to continue to improve the experience.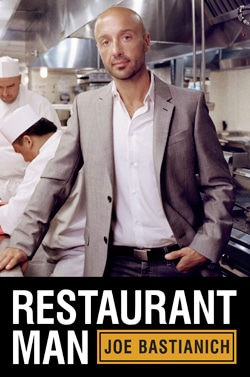 CC: You write a lot about partnerships. How important is it to find the right partner?
JB: It's essential. Finding the right partner can lead to great things, whereas the wrong partners can bring disaster. It's like a marriage. If you don't pay attention to it, it will go bad. For it to be good, you need true collaboration. You need people who bring something to the table you don't have. The best partnerships are those in which the whole is better than the sum of its parts.
CC: Was having the right partner essential to expanding into retail? 
JB: In the case of Eataly, the partner found us. Oscar Farinetti is an expert in retail, and he developed the first Eataly in Turin, Italy, in 2007. He came to Mario, Lidia and I to build one in the U.S., and it's worked great. He knows the retail side and has helped educate us, and we brought the restaurant knowledge. 
CC: How big is the company now?
JB: We now have over 3,000 employees across 25 restaurants and the Eataly operations. We just opened two restaurants in Hong Kong, and we're getting ready to open new Eataly locations in Chicago and Los Angeles in the U.S., plus Istanbul, Turkey and Sao Paulo, Brazil.
CC: With this growth, what has been your greatest management challenge?
JB: The greatest challenge is always the quality of the people. You never want to sacrifice the quality of the experience, so you have to make sure the people you're working with have the ability to communicate your message or, better yet, to make your message their own. You have to make sure they're invested, which is why at least one person in each of our restaurants is a partner. And you have to maintain a level of personal involvement, which is why we will only expand to locations that we want to go to ourselves.
CC: What's the end goal? Is there one?
JB: No, we want to just keep growing as long as it makes sense. We're proud of the fact that we're able to support so many employees and, by extension, their families. We provide livelihoods for our staff, and we've given starts to a number of chefs who have gone on to own their own restaurants, a few we've partnered in. And we're proud of the fact that we've been so successful in promoting Italian food, wine and culture all over the world.
CC: What piece of advice would you give to aspiring entrepreneurs?
JB: Surround yourself with the best people. Look for people who complement and elevate your own skills. Constantly reinvest in your business and yourself, and only undertake projects you feel truly invested in. If you're not passionate about it, no one else will be.

Liked our Q&A with Joe Bastianich? Check out our Restaurant Math infographic, drawn from the book.  And, check out more OPEN interviews.

Photos: Courtesy of Joe Bastianich