Rob Honeycutt's advice for entrepreneurs is straightforward: "Go into it with your eyes wide open and know that it isn't always pretty," he says. "And don't stop until you succeed."
This mantra served him well when founding and running Timbuk2, a messenger bag company based in San Francisco. For 13 years, Honeycutt worked more than 100 hours per week ("I was the most undateable person ever," he jokes), sewed through several fingers, almost starved a few times and lived out of his factory. It wasn't until 2000 that things started to turn around, thanks to his hard work and one key decision: to hire a quality salesforce. "Good salespeople are worth every penny," he says. In 2005, he sold the company for a reported $23 million. 
These days, Honeycutt is inventing other products, namely an ear bud Bluetooth attachment that allows users to detach headphones from smartphones and control electronics from a magnetic dock that clips onto clothing. The product is being made under Honeycutt's new company, Elroy, and just closed a wildly successful Kickstarter campaign—more than $144,000 pledged (quite a leap from his original $30,000 goal).
How did you come up with the idea for Timbuk2 messenger bags?
I'd been working as a bike messenger in San Francisco for about three years and was exhausted. I didn't want to work for anyone, so I decided to start my own thing, and bike messenger bags seemed like a good idea.
Did you have sewing experience, funding or a backup plan?
No, no and no. I just quit and dove right in. I purchased a home sewing machine for $89, bought some fabric and started sewing in my apartment. It was really hard because I was using heavy-duty fabric and had to use my own strength to feed it through the machine. My wrists were sore at the end of each day.
RELATED: Martin Keen—How Stubbed Toes and Bad Posture Led to Two Businesses
How long did you work from home, and when did you start hiring employees?
I worked from home for three years, making every bag by hand. By myself, I could make 10 to 15 bags per day. This was the late '80s, early '90s and the Internet wasn't around yet, so I would hand-draw pictures of bags on fliers and send them to bike shops along the West Coast. By 1993, I had about 50 bike shops selling my bags. I moved into a live/work space just outside San Francisco and hired one person. I grew slowly from there, but the biggest growth happened when I hired good salespeople.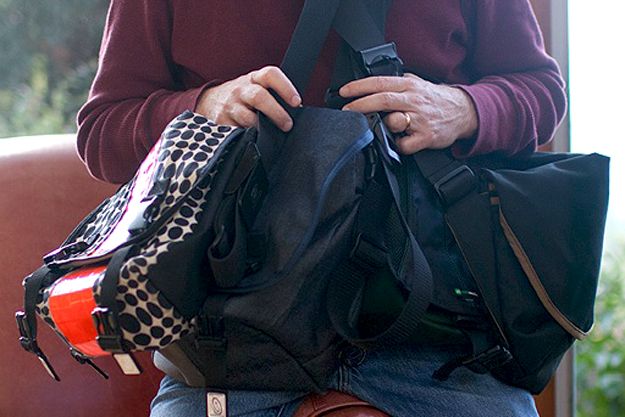 Why did salespeople change the game for you?
I had just moved out of my factory into a house with eight other people. I was living in a tiny room for $80 per month and commuting on my bike to work before dawn and home after dark. I had a business partner, and in 2000, we finally decided that if we were going to get bigger, we had to hire a sales manager to oversee the satellite salespeople we had selling bags around the country. We hired this guy and he fired 75 percent of our workforce on his first day, replaced them with his own superstars and our sales skyrocketed.
How did you finally attract investors and, eventually, a purchaser for the company?
In 2002, we finally started asking for money from VCs. They put in a real CEO, which changed everything, and our revenues grew quickly. I stuck around for another year and then a private equity firm bought the company—including my stake—in 2005. These days, I don't have anything to do with the company. Well, except for sometimes when the owning firm invites me to come over and talk about the old days, which is always fun.
RELATED: Don't Blow Your One Shot to Wow Investors
Thinking back, would you do it all over again?
Yes, but it was really, really hard the whole entire time. I truly didn't have a life for 13 years. I only started having a life after I left the company. I met someone and got married. I learned Cantonese. I got my pilot's license. And I've gotten back into the fray with other businesses.
Tell me about Elroy. How did you come up with a business idea around headphone cords?
I've always thought the ear bud cord was the Achilles heel of the smartphone. I love it and hate it. I love that you can hear in both ears without putting the phone up to your head, but I hate the lower part of the cord because it always gets tangled. So, in the middle of the night, I came up with the idea of just getting rid of the lower part of the cord and hooking the top part of the headphones into a magnetic dock. I put it on Kickstarter to get it going and have been flabbergasted by the response. Apparently, this is a huge problem.
What does the future hold for Elroy?
We are working with engineers now and are going through different stages to make sure it is ready to go to market. It should be ready in August.
What motivates you to be an entrepreneur? Have you ever thought about just retiring?
No way. My art teacher in college told us about a reporter who asked Picasso why he chose to paint. His response was, 'That is a silly question; why does a bird fly?"
That is exactly how I feel as an entrepreneur. I do it because I have to do it. It's who I am.
Read more interviews with inspiring entrepreneurs.
Katie Morell is an independent journalist based in San Francisco. She regularly contributes to Hemispheres, USA Today, Consumers Digest, Destination Weddings & Honeymoons, Crain's Chicago Business and others. 
Photos from top: iStockphoto, Courtesy of  Rob Honeycutt (2)