When I graduated from Cornell in 2013, I turned down full-time job offers to become the CEO of a one-person company, Practice Makes Perfect, which I started with a handful of friends in 2010. Practice Makes Perfect is a comprehensive summer education program that supports students from kindergarten through college matriculation. I had a lot of energy and a bold vision, but very little direction. It wasn't until I was advising a Cornell freshman on how to ace his first year that I realized I needed my own mentor who could help me ace my own first year of being a CEO.
Through an incubator called Beespace, I was introduced to Jacob Lief, CEO and founder of Ubuntu Education Fund, a nonprofit organization that provides support to orphaned and vulnerable children in Port Elizabeth, South Africa. I had expressed a desire to have a mentor guide me as I was scaling Practice Makes Perfect, and Jacob's experience building and growing Ubuntu over the last 15 years made him an ideal match for me. His advice, support and friendship have been invaluable for me as I have continued to grow my business. Not only is it comforting to share a big setback with someone who will tell you that they've been there, done that, but once you build trust, a mentor will share processes and documents that you can use as foundations for your own business—saving you hundreds if not thousands of hours over the course of the year.
For example, everyone knows how important it is to build a strong board of directors, but also how tricky it can be to build one that truly supports your mission. Jacob's advice helped me avoid many of the mistakes he had made over the years. He also helped me prepare for my first board meeting, which was incredibly invaluable. But it's been far from a one-sided relationship: My experiences have helped Jacob, too. Our conversations have inspired him to rethink how his organization integrates their values into their daily operations.
In tribute to National Mentoring Month, I interviewed Jacob on the topic of mentorship with the hope of sharing some insight that will help you propel your business forward.
Karim Abouelnaga: What is the best way to approach a mentor?
Jacob Lief: I strongly suggest starting with your personal network. Think through everyone you know, as well as the people they may be able to connect you with. When you're meeting a potential mentor, you should be pitching them on your vision rather than your day-to-day operational challenges. You want to be sure you're clear on why he or she specifically might make a good mentor, and how they might be able to assist in your growth and your business's growth. The most important thing is to do some self-reflection before approaching a potential mentor, so that you can be transparent about your strengths, weaknesses and needs. Be very honest and clear on the areas where you need the most help.
For example, Karim, when you first approached me, I simply asked you to tell me your story. I knew if I wasn't inspired and I didn't believe in your potential, I wouldn't have the attention and energy to work with you. I was instantly hooked by your charisma and your belief in your vision. Then, we started to build a foundation from which we could grow together.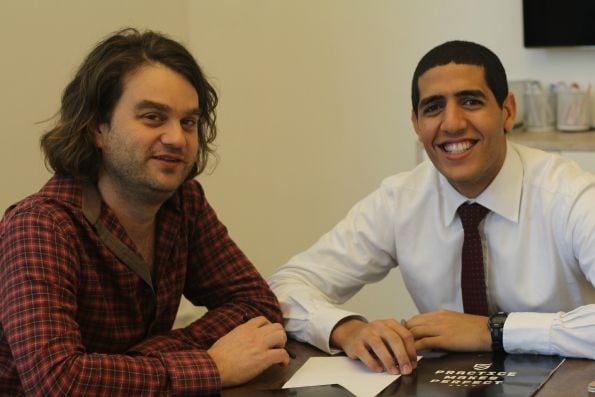 Jacob Lief and Karim Abouelnaga
KA: How do you select a mentor?
JL: The first thing you want to do is find someone who is accessible and in a relevant field. Mentoring takes time and energy, so you need to find someone who is able and willing to make a real investment in your development. There's a distinct difference between getting assistance or help on a specific issue and true mentorship. You must make sure you're picking someone with whom you feel comfortable and could grow to be 100 percent yourself—so you might have to approach and meet with a few people before you find the right fit. To be successful, the mentoring relationship will require work from mentor and mentee and it should feel like a good match for both people.
KA: What should you disclose to your mentor?
JL: Absolutely everything! The relationship will be most beneficial if you feel comfortable sharing successes as well as mistakes, frustrations and challenges. And you should also feel comfortable asking them anything. As the two of us spent more time together, you felt more comfortable with me and understood that I respected the confidentiality of so much of what we were discussing. And because of your transparency about your own shortcomings and insecurities, I was able to help you navigate quite a few very tricky board situations, as well as helping you dismiss some high level personnel—one of the hardest things you'll ever have to do in any business.
KA: How frequently should you meet with your mentor?
JL: You want to meet often, about every 10 days. For the experience to be meaningful for both people, you need to meet in person. Every time you meet up, it doesn't need to be about work. The reality is that when you become an entrepreneur, the lines between your professional and personal lives start to blur—and everything is very interconnected. The mentor gets just as much out of the relationship if they truly value the intellectual capabilities and respect the vision of the person they are mentoring.
I think our best meetings are when we're not in an office. It's in these environments that the conversation tends to drift away from our businesses and into a more social and personal realm, which adds depth and a new dynamic to our relationship.
KA: When is the appropriate time for a mentee to start having mentors of his or her own? And when should they start having mentees?
JL: There isn't one right or wrong answer to this—it can happen at different points in a mentee's development. The honest answer is that it is appropriate for the mentee to have mentees of their own—business or personal—when they have the time to give. The worst thing you can do is say you'll help someone and then not have enough time for them.
I also want to also emphasize that you have to be ready to be mentored. You need to understand what you're looking for and what you need. That takes time to think through. If you don't do the preparation, a mentoring relationship won't be sustained over the long term.
Photos from top: Shutterstock, Courtesy of Karim Abouelnaga