On a damp evening in November, about 40 people gather on the top floor of a stone building near downtown San Francisco. The group is transfixed on Catherine Hoke, founder of Defy Ventures, hanging on her every word.
"You all have a lot of amazing hustle that can be redirected," Hoke says. Half of the group consists of so-called entrepreneurs-in-training, or "EITs," formerly incarcerated individuals now looking to start their own companies with the help of Defy's nine-month business training program. Volunteer mentors from the local business community make up the other half. The purpose of tonight's event is to match EITs with mentors.
Hoke asks three EITs to stand up, explain why they spent time in prison and why a mentor should choose them. The EITs shift uncomfortably as they explain their offenses—drug charges for some, possession of explosives for others. One EIT tells the crowd, "You should pick me because there isn't a saint that doesn't have a past, and there isn't a sinner that doesn't have a future." 
The story behind Defy Ventures is as riveting as its mission. Hoke founded the New York City-based nonprofit in 2010 to help give a second chance to people who usually don't get one. "America isn't a country of second chances," she says. "Someone who comes out of prison usually can't even get a job flipping burgers. Defy is changing that."
Over a nine-month period, EITs participate in in-person events, online classes and one-on-one mentor meetings to hone their entrepreneurial ideas and learn how to run a business. The program ends with an on-stage competition where participants present in front of a panel of potential investors.
Hoke isn't messing around; a mix of Harvard professors and subject-matter experts (marketing expert Seth Godin is one instructor) teach Defy's online classes. The business competition at the end of each session attracts an equally impressive cadre of credibility—Silicon Valley venture capitalist Tim Draper is holding the competition for the current San Francisco-based class in his office come January 2015.
Second Chances
Hoke's belief in second chances runs deep. A Berkeley business grad who worked as a venture capitalist both in Silicon Valley and New York City, Hoke had a religious awakening in her 20s and decided to, as she says, "commit to living a life of love and service." When a friend suggested she visit a Texas prison in 2004 to spread religious teachings, she first balked at the idea but then decided to go along. That trip would drastically change the course of her life.
During her three-day visit, Hoke found herself struck by the business acumen of the prisoners she met. As the heads of drug rings and other illegal groups explained the sophisticated inner workings of their organizations, it hit her that, if directed to legal ventures, these people could probably run successful companies on the outside.
Hoke went back to the prison a few months later to teach a business course. Soon after, she quit her job in New York City, moved to Texas and launched the Prison Entrepreneurship Program, or PEP. The program was wildly successful, and things were going along well until late 2009 when news broke that Hoke allegedly had had inappropriately close relationships with graduates of the program who'd been released from prison. She resigned (PEP is still in existence and thriving), then moved back to New York City, depressed and unsure where to turn.
It took Hoke almost a year to resurface. "I needed to stay away from the public eye for a while," she says. But she also knew she'd been on the right track. "Right when I resigned, I started receiving a thousand emails of love and support. I made the conclusion to start something similar to what I'd done before, but this time to focus on people who were outside of the prison system and take the program national."
In December 2010, Defy Ventures—Hoke's second chance—was born. The original plan consisted of EITs attending free business classes in brick-and-mortar classrooms. The results were exceptional—within the first two years, Defy served 115 people, 71 companies were built, and those companies generated new employment opportunities for 84 additional individuals. 
The Big Pivot
It was late 2013 when one of Hoke's mentors suggested she make the model easier to scale. The conversation inspired Hoke to move to an online model that included tuition ("It's more of a blended learning program with online courses and in-person application," she says), and in March 2014, she launched a series of classes, including one titled "How to write a resume even if you've served 19 years in prison."
The pivot has been a huge change for Defy Ventures, and it seems to be paying off. Investors from around the country are showing more interest than ever before. Hoke and her team are about to open an office in San Francisco (January's national class served 174 people in 2014, with 19 from the Bay Area), and EITs seem increasingly engaged. "I think it really helps for them to have some skin in the game," she says of the new tuition model.
At the event in San Francisco, Hoke spoke with OPEN Forum about how to pivot with confidence, how she stays motivated and what she's excited about next.
Let's talk about your new business model. How did you have the courage to pivot to online classes and tuition? That's a huge change.
I was willing to take a risk, and I was willing to fail. Don't get me wrong—we tried out our idea before launching. We tested it over and over and created a minimum viable product. We asked for people's feedback on the online model and the tuition-based model every single day and tweaked things as we went.
How does the tuition work?
The standard package is $950 for the nine-month course. Students can also choose the gold package, where you get more individualized attention, for $1,700, and the platinum package for $2,500. What's really interesting is that 70 percent of our students chose the gold package.
What if a student can't afford tuition?
We'll help them earn the money they need. For example, the first four weeks of the course cost $125. It's our introduction training. If you can't afford that, we'll give you Defy T-shirts to sell on the streets. If you can't sell enough shirts to make $125, you probably shouldn't be an entrepreneur. We give them moneymaking opportunities every month, all designed to pay back their tuition.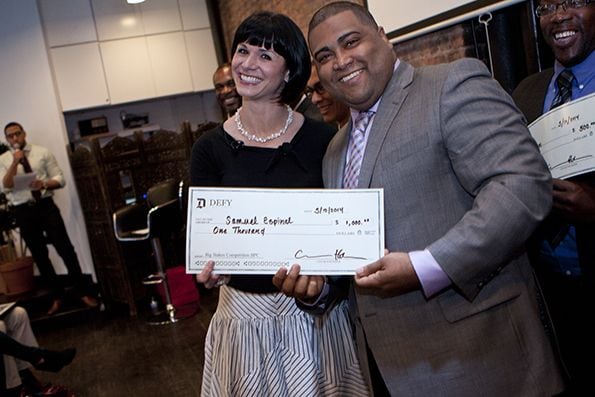 How do you find people interested in participating in your program?
We work with parole and probation programs, and peer-to-peer organizations, and we partner with other programs that serve this community. We also find a lot of our students on Craigslist.
Have you always had a soft spot for helping ex-cons?
Not at all. Two 16-year-old boys murdered my really good friend when he was just 12 years old, so I always thought anyone in prison was a total scum of the earth who should die. When my friend asked me to visit the prisons in Texas, I didn't want to go, but she explained to me that some of the most amazing stories of transformation she'd ever heard had come from inside prison walls. It wasn't until I went to Texas and met prisoners myself that my ideas started to change.
What's it like emotionally to run something like Defy Ventures?
It's really hard! I want to quit on a regular basis. We deal with a lot of disgruntled, strong personalities on a daily basis. Sometimes students quit or go back to prison—these are humans we've invested our time in—and that's difficult. But I don't quit, and I'll never quit because this is my life's work. I have a strong conviction, and I believe we have the potential to change the world.
How will Defy change the world?
We're changing communities and cultures. This is a fatherhood problem. We serve fatherless communities—90 percent or more of people who've been incarcerated are men who haven't had positive male role models in their lives. Nearly 70 percent of children of formerly incarcerated people follow in their parent's footsteps.
If we can transform the hustle of leaders of these gangs and drug rings, they'll go back and have influence on the followers and be able to pluck people out of the criminal world.  
What are you most excited about, moving forward?
I'm excited to open our Bay Area office. I'm excited that we're on target to enroll 1,000 people in 2015. By the end of next year, we plan to license our curriculum so that people from all over the world can participate. We're also exploring opportunities to provide training inside of prisons.
My really big vision is that we'll be able to use our results to lead some system reform and advocacy. The scalable nature of this excites me beyond anything in my life.
Read more articles on building an empire.
Photos: Courtesy of Defy Ventures