Anyone with a child can attest that feeding them during the infant stage isn't exactly fun. You strap your kid into a high chair, then try to entertain them with "here comes the airplane"-style antics until they finally agree to eat maybe half of what you were trying to serve them. Plus a few Cheerios. A few hours later, the charade starts all over again.
Neil Grimmer is here to change that dynamic and make life a whole lot happier (and healthier) for both parents and children. His company, Plum Organics, sells nutritious, organic food for babies and toddlers that's made with ingredients like quinoa, kale, carrots and blueberries. Founded with former Clif Bar CEO Sheryl O'Loughlin, many of the company's products come in easy-to-grab, colorful "spouted pouches," thereby making cleanup hassle-free and taking away the aviation-related highchair games of the past.
The idea came to Grimmer, a product design veteran with experience at Ideo and Clif Bar, in 2007 while trying to make healthy meals for his two daughters, Paxton and Izzy.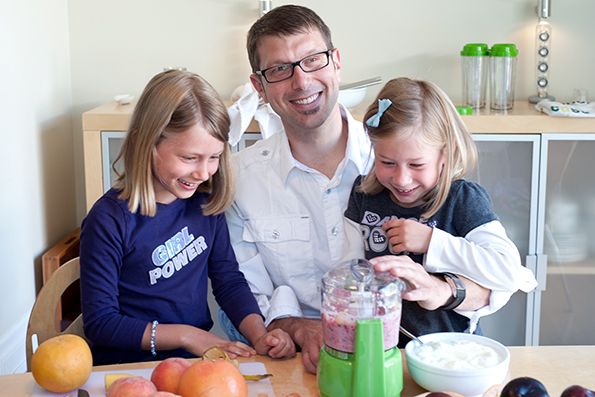 "My wife and I wanted to give them organic whole meals as much as possible, but we were both working," he remembers. "We'd be baking squash at 10 p.m. It finally hit me one day that there had to be a better way."
Although the partners launched Plum in 2007, it wasn't until a chance meeting with a buyer from Babies R Us in 2008 that things really got rolling for the company. That meeting, along with interest from a number of other major retailers, catapulted Plum into the consciousness of millions of parents and onto the radar of Campbell Soup Co., which purchased the company in May 2013, the first public corporation to acquire a public benefit corporation. (Note: A public benefit corporation is defined as a company that has a positive impact on society and is operated in a sustainable fashion. These companies are required to produce a yearly report on how they positively impact society and the environment at large.)
Today Plum employs about 95 people out of its Emeryville, California, office and, according to Grimmer, the company's CEO, growth plans are in the works for more hiring and an expanded product base (the company introduced 140 unique products between 2008 and 2013). 
OPEN Forum asked Grimmer about Plum's early days, how being acquired has changed his company and his plans for the future of his business.
How did you get Plum off the ground? Did you and Sheryl fund this by yourselves?
We put some of our own money in, but we also had a big angel investor early on: Jed Smith, the founder of drugstore.com. We'd been introduced to him and decided to pitch him over the phone. I remember sitting in Sheryl's basement office telling Jed about wanting to recreate the way kids eat in America, about the concept of offering healthy food in stylish forms that would resonate with modern parents, and that sustainability would be our underpinning.
It wasn't long into our conversation that he said, "Great, I'm in. I invest in great people and great ideas in that order." It was an amazing moment and really helped us get off the ground.
I imagine there are tons of food companies that would love to get into Babies R Us. How did you net that account?
That's a pretty crazy story. In 2008, we wanted to go to the Natural Products Expo East, but we didn't have enough money. We had the funds to register for a booth or to ship our booth materials, but we didn't have enough for both. So we rented a yellow school bus, shrink wrapped it with our branding and drove it across the country [so we could attend].
When we arrived, we were the buzz of the show. We met the buyer for Babies R Us at that show. He was looking for more healthy options for young families and liked our mission. He asked me to come back to New Jersey for a meeting, and I went a few weeks later. While at dinner with him, I explained that I was interested in creating a baby food pouch and that we were prototyping it at the time. He said, "Give it to me in three months, and I'll take it national and introduce you to everyone you want to know." It was a defining moment for our company.
Wait, three months? And you didn't even have the product in production yet?
Yep. I remember looking at him straight faced and saying, "No problem," while inside I knew that a six-month timeline for a new product was aggressive. The more typical time frame for something new is around 12 to 18 months, but I knew we had to jump on this opportunity. 
They wanted hundreds of thousands of units. The only way we were able to do it was by creating specific timelines and having faith that everything would go according to plan. We have a phenomenal team, and they executed flawlessly. It worked, and soon we were in Target and other stores.
I've heard that Plum is really dedicated to fighting childhood hunger. How did you start tackling that problem?
Back in 2012, I was exposed to an early screening of the film A Place At The Table, which discusses hunger in America. I was struck by the concept that families who go to food banks sometimes receive unhealthy snack products and that, even today, 16 million children go without regular meals every day. I knew we had to do something, so we decided to dedicate $250,000 of our marketing budget to coming up with an idea that would help.
We created the Super Smoothie pouches under our "Full Effect" initiative, which helps fight hunger in children. To date, we've donated more than one million Super Smoothies to families in need.
Let's talk about the Campbell's acquisition. How much at Plum has changed because of this agreement?
We are still our own company [O'Loughlin left the company in 2011]. One of the first things we did was re-incorporate the company as a public benefit company. This was the first time a public company would be associated with a public benefit company, and it afforded us the opportunity to develop our business around our hunger work. It's now core to our company and in our bylaws. Now, not only do we provide healthy foods as a profit center, but as part of our charter, we target infant hunger and malnutrition.
Campbell has helped us navigate this. Over time, I see us partnering with Campbell to put our products on their trucks. I think the acquisition will help us be more efficient in terms of freight and logistics and housing. The most important thing, though, is that we now have a seat at the table with them.
When you talk to budding entrepreneurs, what do you say?
I tell them to make their business personal. Everyone says you should separate personal and business, but I think, in order to drive phenomenal results, you need to do something that's really meaningful to you on a deep level.
What are you most excited about these days?
I'm super excited about the launch of our new line of women's nutrition products in Target stores. Our goal is to be a health and wellness nutrition company for the whole family. We know that a lot of women have been snacking on Plum products since the beginning. Now we have a product that's specific to their nutritional needs.
Read more articles on business startups.
Photos: Courtesy of Plum Organics