The so-called "slow movement" is gaining serious momentum as of late. Many consumers are choosing to eat at "slow food" restaurants rather than at fast-food joints for the farm-to-table experience, springing extra cash for higher quality products that have been grown locally.
The same goes for "slow fashion." As in the food industry, a number of fashion designers have jumped on the slow wagon and are opening factories stateside, using locally made fabrics and charging more for their wares.
One notable entrant in this illustrious group is Raleigh Denim, a company based out of Raleigh, North Carolina, that specializes in what co-founder Victor Lytvinenko calls "the ideal pair of jeans." The story of how the company got its start is nothing short of astounding.
In 2007, Lytvinenko and his then girlfriend (now wife), Sarah Yarborough, were bringing in just $11,000 a year between the two of them—he was working as a soccer coach in the evenings, and she was a design student at North Carolina State University. In their free time, the couple refurbished dilapidated sewing machines they were buying for cheap off of Craigslist, and then they started focusing on making pants.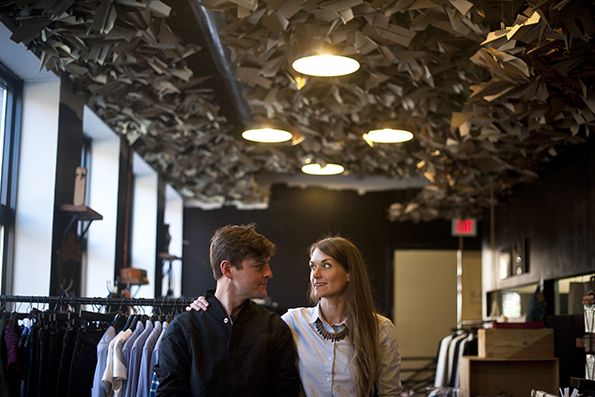 Victor Lytvinenko & Sarah Yarborough of Raleigh Denim.
Word spread, and soon they were taking custom orders for people around Raleigh. "We were making maybe one pair a month, so not much," Lytvinenko remembers. A few nearby consignment shops picked them up, and a local news crew interviewed them for a segment. Then magic happened: A friend of a friend asked them where they'd like to be in five years, and Lytvinenko blurted out, "I'd like to sell our jeans in Barneys."
Talk about manifesting one's destiny. It just so happened that the "friend of the friend" knew a buyer at Barneys and set up a meeting for one week later. After speaking with the couple, the retailer decided to sell Raleigh Denim in two of its stores. The jeans quickly sold out, and Barneys placed additional orders. Other shops took on the brand, and soon Lytvinenko and Yarborough had opened their own store in Raleigh, then another in New York City.
Fast-forward to today, and the company has 25 employees who make more than a few hundred pairs of jeans per week by hand out of a factory in Raleigh. The jeans have a near-cult following, and the couple was recently inducted into the Council of Fashion Designers of America.
OPEN Forum asked co-founder Lytvinenko about the early days, how to work well together when your spouse is also your business partner and the one thing every entrepreneur should know before starting a business.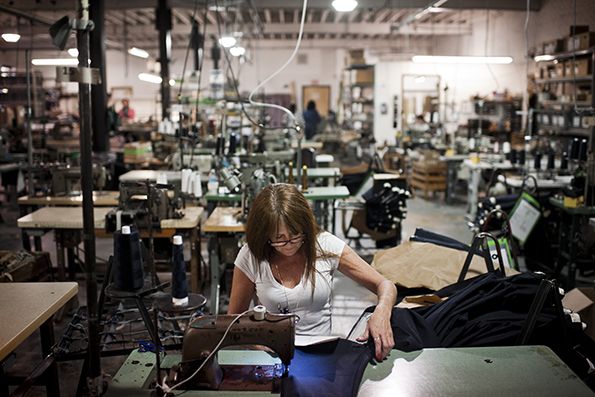 A seamstress works on a pair of jeans.
Let's start with your meeting at Barneys. How excited were you?
Yeah, that's a story. We found out that they wanted to meet us, and we had just one week to prepare by making a press book, business cards and re-making our samples. But here's the thing: We couldn't afford to go up to New York City. I'd never asked my parents for money, but I knew I had to. It turned out that my cousin from Ukraine was visiting, so my dad said he'd give us $300 and his minivan to get up there as long as we took my cousin around. And that's what we did. We stayed with a friend who lived outside the city.
The meeting itself was nerve-wracking. We'd never been to this kind of meeting before, and we had no idea what we were doing. They wanted me to try on every single pair, so I had to keep going to the dressing room and coming back out. Sarah was left to talk about [the jeans] without me. At the end of the meeting, they told us our stuff looked interesting but that they'd already spent their budget and they'd get back to us. It was a bummer. We wanted a resolution.
What happened after that? When did they put in an order?
We walked out of the meeting and laid down on the grass in Central Park and took a nap. We were so tired from driving all night from Raleigh; I think we'd slept for two hours. We got back to my friend's place, and just as we were going to sleep, they called us to say they wanted 114 pairs to put in their Beverly Hills and Madison Avenue stores for spring.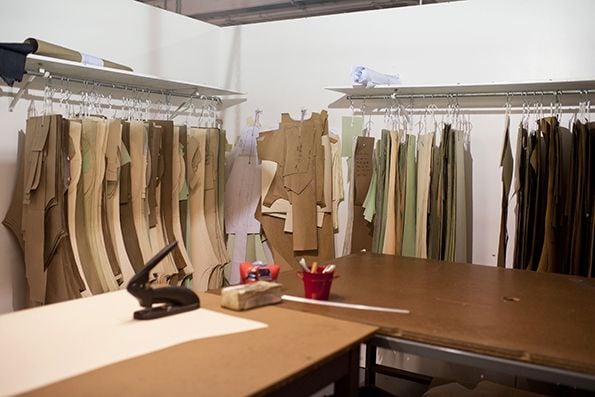 The design room is where patterns are cut and sized by hand.
So exciting! Did you freak out?
Oh my gosh, it was thrilling. We were so excited that we jumped around and danced and cried and went out and partied all night.
How did you prepare for this order? Did you have 114 pairs on hand?
No way. It was August 2009 when they put in the order, so we had until December to produce. Sarah and I cut and sewed every pair ourselves. Sarah's dad put in the rivets. We had friends pitch in. We were ready by the deadline, and in spring 2009, one of the worst retail quarters ever, our jeans sold out. Barneys called us back, saying they wanted to put us in six stores for the next season.
Did you have the money to fulfill that order?
No. Back in mid-2008, when we started the business, we'd gotten a $30,000 loan from the bank, but we needed way more for this. We ended up getting a $50,000 loan in March 2009 as part of the stimulus package to help small businesses. We used that to hire our first employee, who happened to be a former pattern maker for Levi's back in the '60s when Levi's had a factory in North Carolina.

An employee readies pocket liner material.
Without much money, how were you able to market?
Sarah and I got creative. In August 2009, JetBlue had this "All You Can Jet" deal, and we did that. We visited every Barneys store and told our story to every salesperson. To date, it's been the best marketing thing we've ever done.
Tell me about your own retail locations. How did those come about?
We moved into Raleigh's Warehouse District about four years ago and opened a store at that time. Back then, though, the neighborhood was horrible; today, it's up and coming with a brewery, restaurants, a contemporary art museum and a chocolate factory. We decided to open a store near Soho in 2012. It's such a cool space. We partnered with OMA, this incredible architecture firm that does all the Prada runway shows. They're building skyscrapers in China and Europe; they did a Coach store in Tokyo.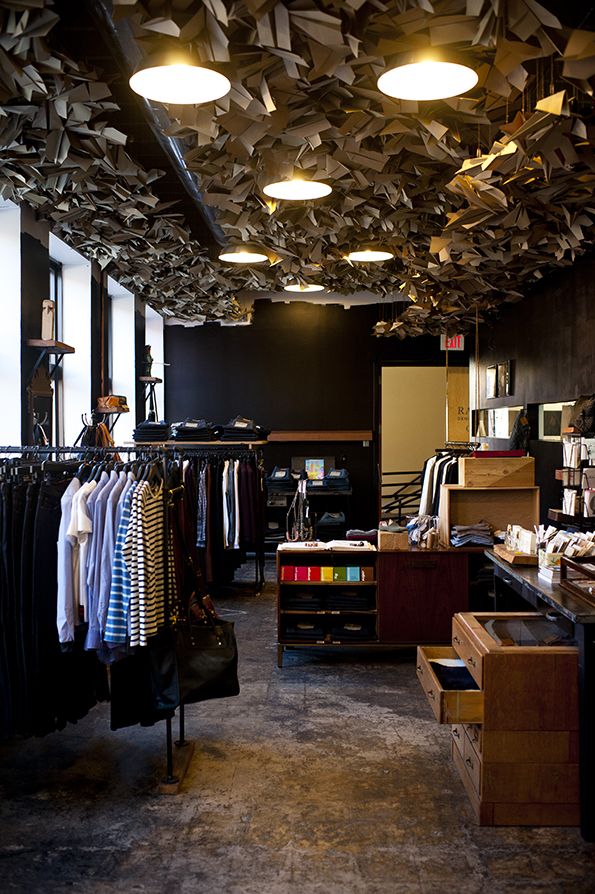 The store located in downtown Raleigh, North Carolina.
How did you get to work with them?
One of the guys who works there came into our Raleigh store and bought a pair of jeans. He liked them so much and loved our craft concept that he wrote us a long email saying he'd like to work with us sometime. Sarah and I couldn't believe it. Now we have this incredible space in New York City that incorporates the history of craft movements in its design.
What's it like for you and Sarah to work together every day? Is it difficult?
It's amazing! She's brilliant. We keep each other in check. It was hard in the beginning because we are both really passionate and stubborn, and back in the early days, we were naive. We had to learn to truly trust each other and communicate really well. Figuring that out has really helped our personal relationship. We do everything together—things are not split in any way. We give each other final say on everything that affects the business.
What is the one thing every entrepreneur should know before starting a business?
That persistence is everything. I love the Thomas Edison quote about inventing the lightbulb: "I have not failed. I've just found 10,000 ways that won't work."
We've learned almost everything through failure, and I think a lot of business owners go through that. You just have to find another way, and then another way after that, and not give up. Just pick yourself up and keep trying, even when it feels futile.
Read more articles on building an empire.
Photos: Carolyn Van Houten for OPEN Forum