Whether discarded at first sip or used to stir drinks, disposable plastic straws have long been taken for granted. Rather suddenly—due to shifts in consumer awareness, hospitality industry behavior and even policy—their ubiquitous days might be numbered. Following initiatives to reduce or eliminate single-use plastic water bottles and plastic shopping bags, disposable plastic straws are the next target in achieving the EPA's goal of trash-free waters.
In May 2018, New York City council members introduced a bill prohibiting single-use plastic beverage straws and beverage stirrers at food service establishments. Malibu, Seattle, and Miami Beach are among the U.S. cities that have already banned or limited them in restaurants. And internationally, the EU is proposing a ban on single-use plastics like straws, while McDonald's will start to replace plastic straws with paper straws in all U.K. locations.
Businesses of all types and sizes can join this turning tide by applying tips from organizations like Surfrider Foundation, a nonprofit dedicated to protecting oceans and beaches. Recently, Surfrider released a toolkit nationally for partners, businesses, and local governments to reduce plastic straw use and advocate for related policy.
And there are already business owners who have succeeded in eliminating plastic straw waste. With proactive behavior like theirs, a healthier marine ecosystem is just a few sips away—here's their advice on making this eco-friendly transition.
In April 2018, Grand Banks—New York City's floating oyster bar on a historic wooden schooner docked on the Hudson River—announced its upgrade to reusable stainless steel straws as part of a company-wide mission to eliminate plastic from every aspect of their business.
Grand Banks is now serving drinks with stainless steel straws.
Alex Pincus, a co-founding partner in Grand Banks and Summer Ops, its boutique parent company, is a lifelong sailor with a strong connection to the ocean. When he and his partners launched Summer Ops in 2014, they began with sustainability as core to their mission. "As we learned more and more about what goes into operating high-volume establishments in New York, we encountered some unanticipated issues, including the scary truth about our plastic straw waste," he says. "After seeing them pile up in our sinks, drains and trash, we made a company-wide objective to get rid of all plastic, not just straws."
In most cases, his team simply stopped serving straws with drinks this season. In certain cases—for drinks served with crushed ice, for instance—or upon request, they began using stainless steel straws. At about the same price per straw as plastic alternatives made with compostable paper, Pincus says he prefers the higher quality and durability of stainless steel. On Summer Ops' floating restaurants, these metal straws run through existing glass-washing machines, contained in a special canister for sanitizing.
It's worth doing things that are essential to our core values, even if they cost a bit more. It might not tangibly transfer into direct income, but there's some existential value in doing it.
—Alex Pincus, co-founding partner, Grand Banks and Summer Ops
Pincus admits that the company will lose some money on their investment in steel straws, but it's not an exorbitant amount. "Generally speaking," he says, "it's worth doing things that are essential to our core values, even if they cost a bit more. It might not tangibly transfer into direct income, but there's some existential value in doing it. Maybe you can feel it, maybe you can't—but I can, and I like feeling good about what we do."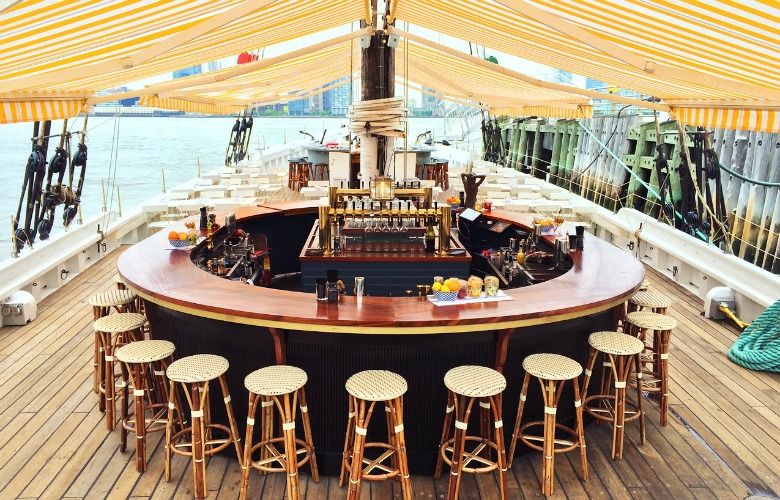 The main bar at Grand Banks.
Being on the water every day, Pincus and the Summer Ops team see all sorts of garbage wash ashore. "I don't consider myself a tree-hugger or anything along those lines," he says, "but when faced with such gross waste on a daily basis, you realize there has to be a better way of dealing with it."
Within the last few months, Chicago's James Beard Award-winning Boka Restaurant Group has also eliminated disposable plastic straws at its 19 establishments. Those include the popular trio of "Goat" restaurants, a subterranean Japanese izakaya, and a seasonal hotel rooftop bar with views of the city skyline and Lake Michigan.
Along with her team, senior operations director Erin Phillips researched and tested many alternatives to disposable plastic straws before settling on the right one. "Some actually have a taste that impacts the flavor of the drink," she points out. "Although it's slight, maybe imperceptible to some, the quality of the product we serve is really important. Having any type of flavor, smell or aroma would obviously be an issue."
After experimenting with a variety of paper straws that grew soggy, degrading mid-drink, a Boka beverage director discovered a dense, washable plastic straw with a long life span. When a straw enhances the drinking experience, like in a layered cocktail, Boka now uses those. In most cases, as with sodas and shaken cocktails, they simply stopped serving straws.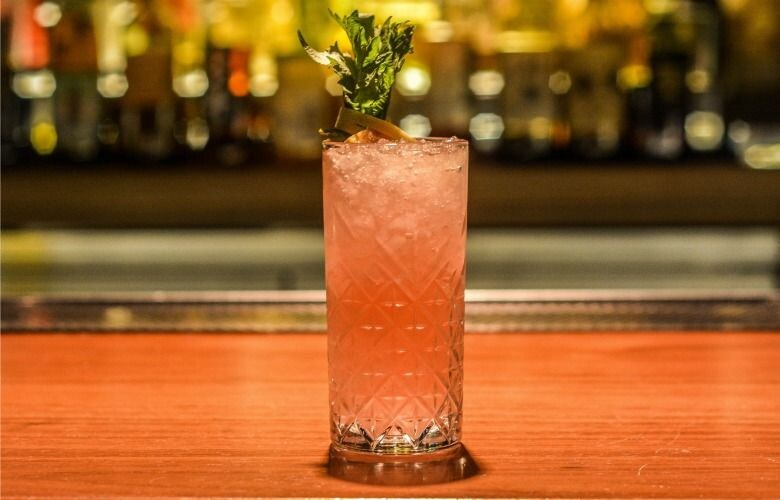 A cocktail at Boka Restaurant Group's Izakaya at Momotaro.
"Now that the public is really aware of the issue," says Phillips, "we hope that other restaurant groups follow our lead and know that it's not a difficult undertaking. We worked out any pain points, and feedback has been really positive."
Phillips is buoyed by the impact of eliminating plastic straw waste from even one Chicago bar on one night of service. Across the entire restaurant group, over time, that reverberates. "From a hospitality perspective," she says, "we as operators have a responsibility to think about hospitality extending not just to people sitting in our dining room that night, but the people living in our community and the planet they inhabit."
Photos from top: Getty Images, Courtesy of Summer Ops, Alexander Pincus / Courtesy of Summer Ops, Taylor Crowley / Courtesy of Boka Restaurant Group