Just 30 miles northwest of downtown Los Angeles along California's famed Highway 101, Calabasas Saddlery is a 46-year-old store that sells all things equestrian—from horse-riding gear and apparel to grooming supplies and horse-themed artwork. Based in a large old house later converted into a post office, the second-generation family-owned business counts many Hollywood celebrities and their kids among its clientele.
But in recent years, competition from online equestrian retailers and larger brick-and-mortar stores has heated up, spurring Calabasas Saddlery to do more to engage its customers online and offline and to remind them of the importance of supporting locally owned small businesses like itself.
"We want to show our customers the immense value they get by shopping with us," says Devon Cesmat, who oversees the 16-employee store's event marketing and IT.
For the second year in a row, Calabasas Saddlery plans to recognize and celebrate Small Business Saturday, which encourages consumers to support locally owned businesses. (This year, Small Business Saturday falls on November 29.) Around the United States, many small, locally owned businesses are using the day to offer promotions to their customers, hold trunk shows and special events, and showcase what makes locally owned businesses a treasure to their communities.
Strategies for maximizing the day differ from business to business—and some businesses find the best way to show their value is by connecting their customers with their product vendors.
At Calabasas Saddlery, Small Business Saturday this year will include a vendor fair on the store's front lawn. Nine of the store's suppliers—mostly all based in California—will sell and demonstrate their products directly to customers. These participants include the creator of nutritional supplements for horses and an artist who paints horse-related scenes on plates. The idea, Cesmat says, is for Calabasas Saddlery's customers to understand that when they buy from the store, they're supporting a host of other locally owned small businesses. 
Beyond the fair, Calabasas will also give Small Business Saturday shoppers a raffle ticket for each $10 they spend in the store. Those tickets can be placed in raffle boxes for about 20 different equestrian-themed prizes that the store will be giving away that day. The prizes, which were donated by various vendors, include a photograph by professional horse photographer Jennifer Glassman, Forco horse supplements and Heritage riding gloves.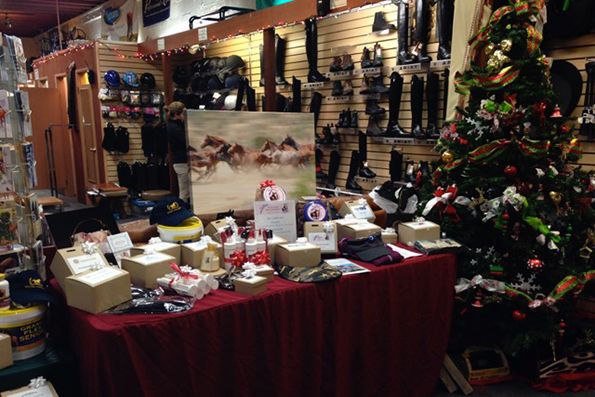 The prizes are an effort to create excitement around Small Business Saturday and help its vendors get the word out about their products. Calabasas hopes to build on the success it had during last year's Small Business Saturday event, which had a smaller vendor fair and raffle. "We got a lot of good feedback from [the raffle] last year," Cesmat says. "A lot of the kids had fun ripping off their raffle tickets and putting them in different boxes."
The buzz around those events "made for a really, really fabulous day," Cesmat adds. "We had customers all day."
This year, the store started marketing Small Business Saturday weeks in advance on social media and via email. It posted links to the vendors participating in the fair on its Facebook page and created a special page devoted to Small Business Saturday plans on its website.
Cesmat says they'd like to draw even more customers to this year's event—but also to help its small vendors attract more brand recognition and customers. The goal "is to make it even better than last year," she adds. That means making it "more profitable for everybody—not just us, but [for] all of the vendors coming."
Read more articles on Small Business Saturday.
Photos: Calabasas Saddlery