Facebook has 1.1 billion users, and approximately 70 percent of the site's monthly active users in North America are connected to a local business on Facebook. In fact, a Facebook rep says there are more than 2 billion connections between users and local businesses, and local business Facebook Pages garner 645 million views and 13 million comments weekly. If your business is looking to attract a bigger chunk of the voracious Facebook audience, you may want to consider Promoted Posts to get in front of current and potential customers.
There are several Facebook ad products, and Facebook has 1 million active business advertisers (all of whom have advertised in the last 28 days). While each breed functions slightly differently, Promoted Posts play in the content marketing space—you're promoting a specific piece of content, be it a photo or video, and not just throwing money at Facebook to try to get users to "like" your Page. More than 7.5 million posts have been promoted since launch last year, and growth is accelerating among the small-business set, which suggests it's money well spent.
Here's a primer on how your business can get the most out of Promoted Posts.
What is a Promoted Post?
Last May, Facebook shared that a Brand Page's content is only seen by 16 percent of the Page's fans. Promoted Posts launched a month later so businesses could pay to reach more than this 16 percent.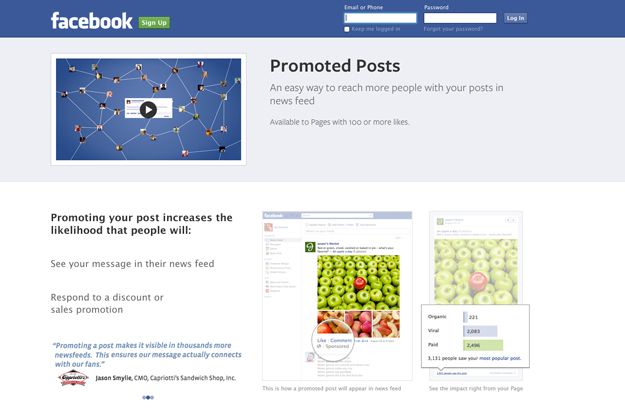 But that assumes, of course, that you have a solid fan base to start. So in August 2012, Facebook launched a feature to enable brands to promote content to "Friends of Fans" too—70 percent of consumers trust brand recommendations from their friends, so there's a good chance your fans' friends have already heard of you and will be interested in your product.
Facebook's Promoted Posts—in tandem with your consistent and well-executed content—will help you grow your reach. Hypothetically, more reach should drive more engagement with your business, thereby developing brand affinity. While more Facebook fans doesn't necessarily correlate with more revenue, a recent Syncapse study shows that a Facebook fan is worth $174, based on product spending, brand loyalty, propensity to recommend, media value, cost of acquisition and brand affinity. But having the right fans is important, and Promoted Posts let you tailor and target your content so your money isn't wasted.
Before we get into your Promoted Post strategy, it's important to note that there are rules for what can and can't be promoted. Businesses pursuing an image-based strategy, must be aware that an image within a Promoted Post cannot contain more than 20 percent text—your application to promote it will be rejected. Facebook offers a handy grid tool to help you determine whether you pass the 20 percent text rule on images and cover photos. If you have more than 20 percent text and your ad isn't approved, the post will still exist on your Facebook Page, and can be shared organically throughout Facebook—it just can't be boosted via paid promotion.
Targeting Demographics
When you're promoting a post, you can opt whether to promote to fans and friends of fans, or through targeting, which was introduced in June. The targeting option enables brands to post content to Facebook for its whole audience, but put some money to ensure it's seen in a specific market(s), or by a certain gender or age group. (Note that you cannot target Promoted Posts based on interest or category—you'll need to utilize other Facebook ad products to reach those audiences.)
To promote a post, you must first create and share a piece of content. Then click on the megaphone at the top of the post or "Boost Post" at the bottom—you can enter whatever budget you'd like. Select whether you want to target fans and friends of fans, or whether you want to target your promotion. The content itself doesn't need to be targeted to a certain demographic—you're paying to get more eyeballs from a specific demographic through Promoted Posts.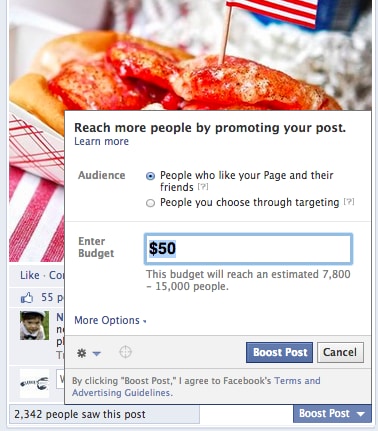 If targeting, select how you'd like to target—by location, age or gender.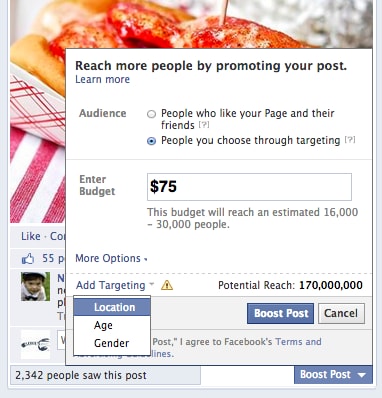 Location can be further broken out into countries, states/provinces or cities (you can add as many as you'd like).
Promoted campaigns run for one to three days from the first promotion, until it's "no longer eligible to be shown in News Feeds," to ensure that the content in users' feeds remains fresh and timely. (Of course, they still exist on your page and can share organically beyond that point.)
Click "Boost Post"—Facebook will start promoting the post unless the item breaks a rule, in which case you'll receive an email explaining that the item was not approved.
You can cancel a promotion at any point while it's live.
Do Promoted Posts Work?
If bootstrapped small businesses are contemplating putting money behind something, they want to know it works. After your Promoted Post campaign ends, Facebook emails an itemized receipt (above) that indicates how much of your budget was spent on fans and friends of fans, respectively, as well as how many clicks and impressions were driven by the promotion.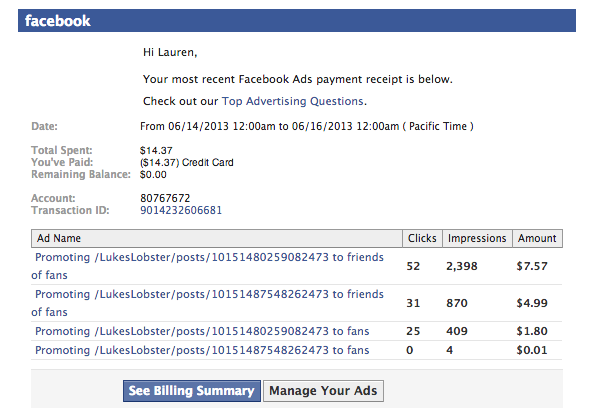 Of course, Facebook doesn't promise engagement, but the idea is that putting your content in front of more people within a relevant demographic is likely to drive engagement. The Admin Panel at the top of your Facebook Page shows organic reach compared to paid reach, so you can can see that impact of your promotion.

The screenshot below shows a small business with 7,764 fans that spent just $10 to promote a post, which nearly doubled the reach (more than 3,000 people) of the content by targeting the post Facebook users in New York and Brooklyn. You can also see how many likes, shares and clicks ("photo views"), were driven by people you reached via each Promoted Post, in addition to the number of people who liked your page after seeing your Promoted Post. It's clear that these micro-advertisements can have a substantial impact on a small budget, and it's a lot cheaper and more targeted than a billboard.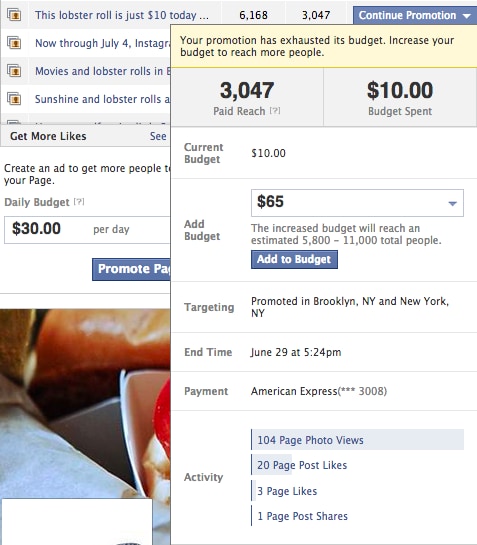 It's important to note, though, that $10 will go a lot further for a business with 7,000 fans than for one with 22,000 fans. Experiment with budgets, and if a piece of content is really resonating with your audience, you can dump some fuel on it in the form of Promoted Posts and watch it take off.
Results from several local businesses (courtesy of Facebook) indicate that Promoted Posts do indeed grow audience and even revenue. Sam's Chowder House, a local restaurant in Half Moon Bay, California, used Promoted Posts to drive a 19 percent increase in its monthly guest volume and gross revenue, trackable via promotions that were offered only on Facebook.
Meredith Manor, an equestrian career college in West Virginia, promoted a photo post of a student on her horse doing a challenging jump, and reached 4x more people and garnered 3.5x more engagement than a typical post, thanks to a paid promotion.
If your brand doesn't yet have a Facebook Page, set one up—it doesn't take long. The hard part, of course, is posting content on a consistent basis and engaging with the community daily. Once you build a core audience, Promoted Posts can help your content have a greater impact.
Does your small business utilize Promoted Posts? Tell us about your experience in the comments below.
Read more articles on social media.
Photo: iStockphoto