Certainly, you've entered characters in a CAPTCHA box when filling out an Internet form to prove you're a human and not a bot. You have Luis von Ahn to thank (or curse) for that. von Ahn, 33, helped develop CAPTCHA 12 years ago at Carnegie Mellon University, where he's now a computer science professor and hard at work on a new startup called Duolingo.
Those wavy, distorted characters drive most of us crazy, but for von Ahn, they led to a deep understanding of how the human brain is still far superior to computers when it comes to translation. He went on to launch reCAPTCHA, a company that uses the original CAPTCHA technology to help digitize books by sending words unreadable by computers into the reCAPTCHA system for human translation. Google acquired reCAPTCHA in 2009. By that time, von Ahn was already teaming up with his PhD student, Severin Hacker (yep, that's his real name) in pursuit of another pretty massive goal: "We wanted to translate the Web," says von Ahn, who received a MacArthur Fellowship (aka "genius grant") in 2006.
He plans to do that through Duolingo, an online language-learning platform where over 1 million students are currently studying Spanish, English, French, German, Italian and Portuguese for free. Here's the cool part: While they're learning, they're helping Duolingo translate existing Web content, such as Wikipedia entries and Creative Commons content through translation exercises. 
But just how accurate are the translations? "A single translation is not very accurate," von Ahn concedes. "But if you take 10 different people and they all translate the same thing and then you let them vote on the best translation, it becomes very accurate." This crowdsourced translation method, he says, has the potential to disrupt the $30 billion translation market by providing a cheap and accurate way for Web properties to translate content. Duolingo is currently working on a pilot program for a large news organization—the type of paying customer that von Ahn says will generate revenue for the startup beginning this year.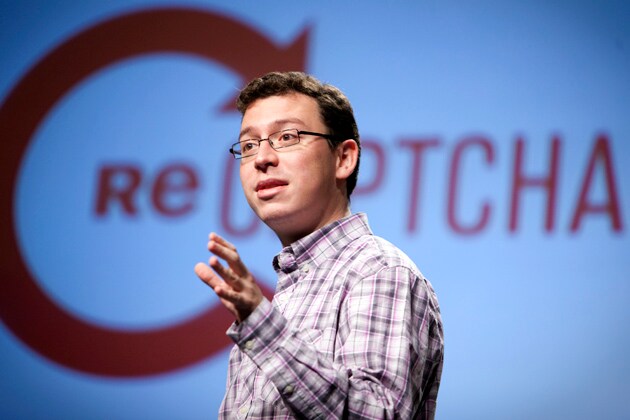 Photo of Luis von Ahn, courtesy of CAPTCHA
von Ahn and Hacker, who conceived their idea in 2009, stared working on Duolingo in earnest in September of 2011, having landed $3.3 million in Series funding from Union Square Ventures and Hollywood startup investor Ashton Kutcher. Kutcher, says von Ahn, saw a TedX talk about Duolingo that von Ahn gave in Pittsburgh, was fascinated by the concept and began tweeting about it. "He tried our product before he invested," von Ahn says. "I believe he's learning Spanish."
Beginning with Beta, Lessons Learned
In December 2011, Duolingo launched in private beta. Since then, von Ahn and Hacker have learned plenty about what it takes to start a highly complex Web-based company. Here are a few of their takeaways:
1. Tough problems attract great talent. Teaching language on the Web isn't easy. "We're tackling very complex engineering problems," von Ahn says. But hard problems have a way of attracting great talent to your company. "We do some very sophisticated stuff to figure out how well you're learning, and really good engineers like really tough problems," he says. He notes that 40 percent of his engineers are women, which is highly unusual for a tech startup.
2. You will always be tweaking, changing, adjusting. Duolingo's success is riding on user experience, so the company constantly analyzes data gathered from its students. How successfully are they conjugating verbs? How many times do they mouse over a word to get a definition? How many times are they repeating lessons? The company uses every minute piece of data to make its curriculum more effective, fun and user-friendly.
3. It pays to be in Pittsburgh. If Duolingo were situated in New York or San Francisco, it would be forced to compete with highly visible, well-resourced tech companies for employees. Not so in Pittsburgh, where Carnegie Mellon turns out 400 or so computer science graduates every year, many of whom want to remain in the city. "For us, being in Pittsburgh is an advantage," says von Ahn.
4. Users are sometimes irrationally passionate. "We changed our mascot from a two-dimensional owl to a three-dimensional owl and people actually boycotted the site," von Ahn says. The company also changed the flow of certain lessons, and started giving students four chances to fail a lesson before they had to start over rather than three. "People revolted and we had to change it back," he says. Which leads to...
5. You must make user communication a top priority. In most cases, Duolingo had good reasons for the changes it made to its programs. But if users weren't given an explanation, they were bound to push back. "We're careful about communicating changes we're making and we allow users to comment and vent," von Ahn says. "We usually have to give really good reasons for what we're doing." That may mean changes take a little longer, but the payoff is a more engaged and loyal user base.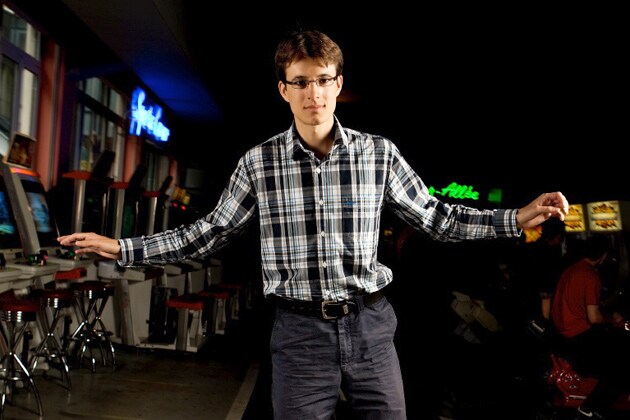 Photo of Severin Hacker, courtesy of Basil Stücheli
Staying True to the Mission
Duolingo moved out of beta to launch its full site in June of 2012, with another 15,000 to 20,000 users signing up every day. And the company's iPhone app, launched in November 2012, has been downloaded more than 550,000 times and has a five-star rating.
With another $15 million in Series B funding from venture capital powerhouse New Enterprise Associates (NEA), and emerging revenue streams from news organizations and others that will pay Duolingo to translate copyrighted content, von Ahn feels certain the company will stay true to its original mission. He says that users frequently offer to pay for the service, but he won't hear of it. "We're never going to go there," he says. "We strongly believe that education should be free."
Read more about fledgling startups.