This spring, small business owners are on a better path to achieving their long-term goals. According to the American Express OPEN Small Business Monitor, 54 percent of small business owners say they are on track to save for the retirement they want (up significantly from 37 percent a year ago) and fewer (65 percent, down from 73 percent a year ago) are worried about setting aside the estimated average $1,170,000 they say they need for the retirement they want.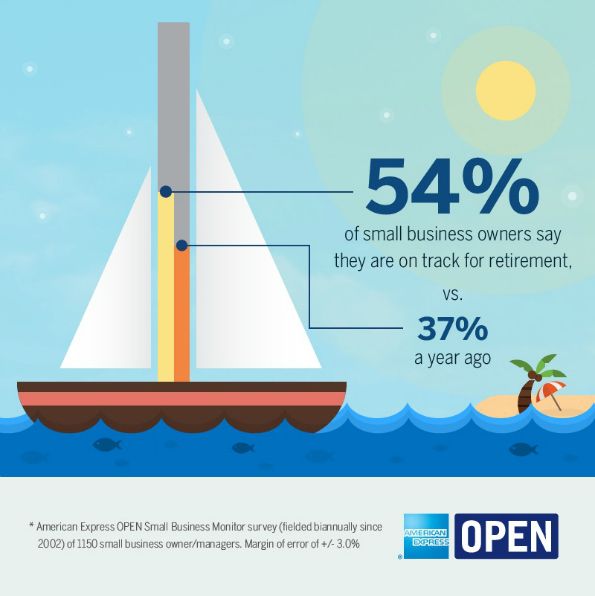 Cash flow concerns have fallen to pre-recession levels (49 percent, matching fall 2007 and down from a high of 66 percent in spring 2011). In addition, fewer business owners say they are "stressed-out" by the economy (56 percent, down from a high of 70 percent in spring 2011) and more feel confident in their ability to access the capital needed to grow their businesses (72 percent, the highest figure since the question was first asked in 2002). 
Small Business Growth Pursuits Are Well Within Reach Despite Economic Uncertainty
Regardless of the economic climate, growth plans are still in the cards. Small business owner optimism is holding steady with more than half of them maintaining a positive outlook on business prospects (54 percent, unchanged from last spring). Fewer say the economy has had a negative effect on their business and its survival is in jeopardy (13 percent, down from 18 percent last spring). More than seven in ten plan to grow their businesses over the next six months (72 percent, on par with 74 percent last spring), while more than half (55 percent, up slightly from 50 percent a year ago) of business owners plan to make capital investments over the next six months
"The recession's silver lining is that small business owners have become more adept at navigating an uncertain economy, gaining valuable experience and putting it into practice along the way," said Denise Pickett, president, American Express OPEN. "While they remain optimistic and confident in their ability to manage their businesses, entrepreneurs are realistic that challenges may arise and look beyond themselves—recognizing the importance of community and networking—understanding they do not have to go it alone."
As they look to expand, small business owners report that they appreciate the importance of connecting with peers and becoming part of a like-minded community. Eighty-one percent say they make it a priority to meet new people for their business. While more than two-thirds of entrepreneurs (68 percent) say membership in a community of growth-focused business owners would be helpful in growing their businesses, nearly four in ten (38 percent) say "connections"—understanding the power of networking as a key to running a thriving business—are most important to be able to grow
Hiring Flat, Productivity Up; Social Media Expert Trumps Accountant as Most Helpful New Hire
Examining the link between growth and hiring, more than three-quarters of business owners (76 percent) say they hire as needed when the business grows, as opposed to hiring in order to grow the business (just 14 percent). Hiring plans (35 percent) are on par with last spring (31 percent). For those that are hiring, a social media expert is the most sought after position (12 percent, up from 9 percent in spring 2011), surpassing accountant/bookkeeper (11 percent, down from 14 percent in spring 2011).
With hiring lower on the priority list, business owners recognize the value of their current employees especially as they serve customers. Nearly all (98 percent) say providing good customer service is essential to their business success. More than one-quarter (27 percent) say their business mantra is "you are only as good as your people" followed by "the customer is always right" (19 percent). Three-quarters (75 percent) say they communicate openly with employees about the health of the business. Sixty-eight percent of business owners say the productivity of their workforce has increased over the last year (up from 60 percent last spring).
Social Media Usage on the Rise, but Many Find It a "Time-suck"
Business owners continue to look for cost effective ways to reach customers and an increasing number are using social media for their business (58 percent, up from 46 percent last spring). Among all entrepreneurs surveyed, more than four in ten (43 percent) say they plan to increase their company's focus on social media over the next year. While nearly three in ten (29 percent) say social media has helped their business survive in a challenging economy, more than half (54 percent) find it to be a "time-suck" or a burden.
Those entrepreneurs currently using social media use it for a variety of reasons including: to attract new customers (66 percent), drive sales (49 percent), create customer dialogue (46 percent), gain insights from customers (41 percent), and create communities where customers can talk to each other (29 percent).
The Secret to True Happiness? Ask an Entrepreneur
Significantly more business owners say they are "very happy" with their lives (69 percent, up from 56 percent a year ago), In addition, women entrepreneurs are more likely to be "very happy" (73 percent, vs. 66 percent of men). Overall eight in ten attribute their happiness entirely or somewhat to being an entrepreneur (80 percent, on par with 76 percent last spring).
Download a PDF of the Spring 2014 American Express OPEN Small Business Monitor, the Industry Spring 2014 Fact Sheet, and the Women Spring 2014 Fact Sheet. Previous reports are available at the Small Business Monitor page.
Photos from top: Shutterstock, American Express OPEN